Best islands for backpacking in the South Pacific
Best islands for backpacking in the South Pacific
Who doesn't dream of a holiday on a South Pacific island? But if you think these come with a dream price tag then think again. It's definitely possible to visit the South Pacific Islands on a backpacking budget. Spend some time researching the best islands for backpacking in the South Pacific Islands and do a little forward planning – you'll be surprised just how far you can go with your backpack. Save money by visiting just one country although, you can island hop on a budget with the right itinerary. We recommend these islands.
Fiji
With accessibly-priced fares from Australia and New Zealand available especially in October and early November, Fiji has long been every backpacker's favourite South Pacific destination. It's a good spot for combining some volunteering work with a backpacking trip. Help build schools and medical centres or support marine conservation projects as well as enjoying diving, snorkelling and hiking adventures. From the main island of Viti Levu, it's easy to hop around the archipelago while backpacking hostels are widely available.
Tonga
Tonga is known as the 'friendly isles' and while luxury resorts abound, you can discover backpacker hostels and affordable guesthouses. Like all South Pacific Islands, Tonga offers both water and jungle adventures. While scuba-diving might eat into your budget, snorkelling can be just as enjoyable. One of the must-do activities on Tonga to budget for is a whale-watching trip. To experience Tonga at its best visit from May to October.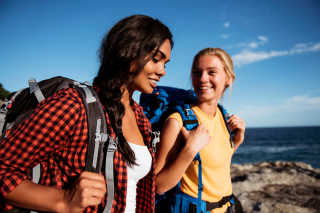 Vanuatu
If the culture of Pacific fascinates you then you will definitely love the rich heritage of Vanuatu. Affordable accommodation is plentiful, as are island activities include hiking, waterfall swimming and snorkelling. For the best snorkelling weather, visit from May to September. Espiritu Santo has two conservation reserves to explore while Mount Yasur is the most accessible active volcano in the world.
Samoa
A little more remote than Fiji and definitely more genuine in its Pacific culture, Samoa features a dramatic volcanic landscape. Dotting this landscape are natural water holes that provide a different swimming experience to the beaches. Cheap but charming accommodation in beach huts or fales is easy to find with Lalomanu Beach a favourite with backpackers. Samoa is regarded as a safe choice for novice backpackers while island hopping is possible on a budget. Visit during the dry season of June to October.
The Cook Islands
Despite being considered a luxury destination, the Cook Islands, especially Rarotonga, are also popular with backpackers. The islands are highly-rated as a safe place for women travelling on their own. There is a good choice of affordable accommodation along with activities especially for backpackers such as communal curry nights and backpacker rates for the hire of snorkel kit, surfboards and bicycles. To experience the real beauty of the Cook Islands visit during the dry season of April to November and be sure to spend some time on Aitutaki.
New Caledonia
Stretch your budget in New Caledonia by staying in a tribal hut in the Loyalty Islands or a small guesthouse on the Isle of Pines. You'll step out of your accommodation onto beaches of white sand lapped by deep blue water and fringed with tall slender pine trees. Swim among tropical fish in the seawater swimming pool of Piscine Naturelle or try your hand at stand-up paddleboarding in Kanumera Bay. Another popular activity is a trip in a glass-bottomed boat. New Caledonia is best visited during the dry season of May to October.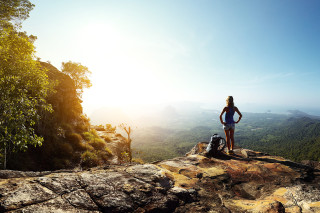 French Polynesia
French Polynesia can eat into your backpacking budget especially if you stay on the main island of Tahiti. There are, however, over a hundred other islands to choose from grouped into six archipelagos. Rent a bungalow on the islands of Bora Bora or Moorea and save money by visiting the local fish and food markets and cooking up your own island-themed dishes. During the day, take advantage of the excellent surf breaks or make new friends on the tropical beaches that surround the lagoons. Book your trip during the dry and balmy months of June to August.
Pack up your kit and start travelling
If we've awoken a wanderlust inside you and you're keen to start discovering the best countries for backpacking in the South Pacific Islands then visit CheapTickets.sg now to explore your travel options.
---
The best countries for backpacking in the world