Changi Airport Reveals New Touchless & Tech-based COVID-19 Measures
Changi Airport Reveals New Touchless & Tech-based COVID-19 Measures
Changi Airport Group has recently announced that they will be introducing a few new touchless and tech-based COVID-19 measures to ensure a safer journey for travellers. This is in preparation for when air travel to and from Singapore gradually resumes. Keep scrolling down to check out what the new measures are!
1. Proximity Touch Screens
To eliminate the need to touch the electronic screens when travellers are checking in or dropping off their luggage, more than 160 proximity touch screen booths, with infrared sensors to track finger movements, will be installed across Terminal 1 and 3.
Travellers will simply need to hover your finger over the screen for a contactless check-in and baggage drop process. Furthermore, an additional layer of long-lasting antimicrobial disinfectant coating will be sprayed on all the screens of these automatic booths which aim to mitigate the danger of the Coronavirus transmission.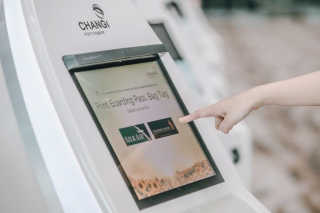 Image courtesy of Changi Airport Group.
2. Acrylic Screens
For travellers who prefer to use the check-in counter operated by the staff and/or require an assistance with their check-in, acrylic screens will be installed as an added barrier of protection between you and the airport staff. The acrylic screens will also be installed at immigration, customs, GST refund and the information counters.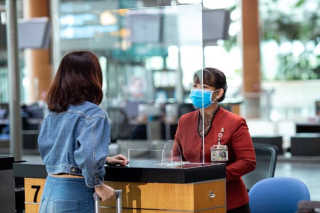 Image courtesy of Changi Airport Group.
3. Autonomous Cleaning Robots with new misting attachment
In addition to the everyday carpet vacuuming being undertaken by a set of cleaning robots equipped with a HEPA filter that catches fine particles including dust and pollen, Changi Airport will also be adding upgraded autonomous cleaning robots with a new misting attachment which will disinfect the carpets right away after cleaning.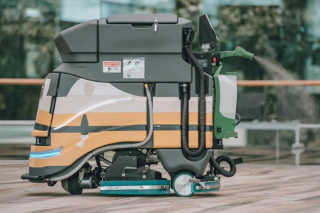 Image courtesy of Changi Airport Group.
4. Disinfection of Handrails & Contactless Lift Buttons
Changi Airport Group is conducting a trial for the use of ultraviolet-C (UV-C) LEDs to disinfect the handrails of escalators and travelers in a safe way. A trial is also being conducted for contactless lift buttons using infrared technology. Rather than pressing the lift button, travellers will just need to hover their finger over the lift button to activate it.
5. Multi-modal Biometric System For Immigration Clearance
For when it comes to immigration clearance, the traditional fingerprint scanning was previously the primary biometric identifier. Now, The Immigration & Checkpoints Authority (ICA) has implemented a multi-modal biometric system of facial and iris recognition to enable a contactless immigration process.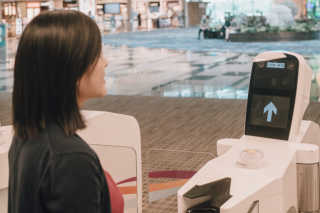 Image courtesy of Changi Airport Group.
6. Enhanced Cleaning Initiatives On High-touch Surfaces
Changi Airport has increased the cleaning frequency in the terminals as well as in Jewel Changi Airport on high-touch surfaces such as door handles, countertops, handrails and luggage trolleys. Furthermore, a long-lasting disinfecting coating is also sprayed on these frequently touched surfaces.
7. Contactless Toilets
Toilets in Changi Airport have already provided travellers and visitors with a contactless experience from the door-less entry, to auto-flush and auto-taps. While most toilets in the airport are already contactless, the remaining ones are being upgraded progressively.
Take a look at this video by Changi Airport Group highlighting the measures that are mentioned above: