48 Hours In Magical Macau
48 hours in Magical Macau
The island of Macau is well known for its casinos and bright lights due to its 33 casinos. However, what's less well known is that this former Portuguese colony actually offers so much more to intrigue travellers than just poker and baccarat. Having been colonized for 442 years – from 1577 till 1999 Macau has a rich history steeped in contrasting heritage and architecture. A casual evening stroll down the quaint streets might just leave you wondering if you've stumbled into old Europe, while a lion dance happening on the next street will bring you straight back to Asia. Macau is a perfect long weekend destination, time to squeeze in a combination of culture, shopping and of course plenty of eating. I spent only 48 hours discovering the magic of Macau but I will definitely be back for more.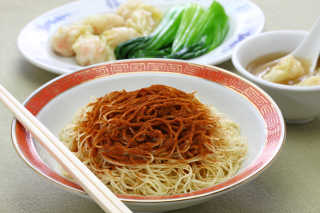 Taking an early morning flight from Singapore to Hong Kong on Cathay Pacific, I planned to have a leisurely on board breakfast followed by catching a couple of the hundred or so films on offer- however the heavenly new flat beds now on offer in business class stole away a couple of my hours to sleep. I still managed a light breakfast and a big latte to get my adventure off to a good start.
On arrival at Hong Kong International Airport it was a short 5 minute walk through the arrivals terminal where I easily found the ferry connection desk just before immigration. After a 50 minute cruise on the TurboJet ferry I arrived at Macau ferry Terminal where I jumped on the free shuttle to my new home at The Holiday Inn Macau and grabbed a map from reception and off I went on my adventure.
Having seen the iconic Ruins of St. Pauls in pictures for years I was happy to start my trip with a selfie there to share with my friends on facebook (it's important to share myself being cultural and not always shopping!) .This iconic monument is one of the most recognizable sights of Macau. Most of the old church was destroyed by a fire in 1835 and all that's left standing today is the front facade and grand steps. The ruins of St.Pauls has been listed as a UNESCO World Heritage Site since 2005 as part of the Historic Center of Macau! Ironically, just at the foot of the steps of the ruins is a huge Forever 21, and a starbucks… so naturally I had to check these out (where I met some fellow Singaporeans).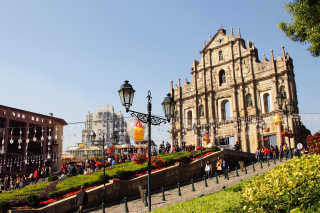 Next it was off for an afternoon treat- of Portuguese Egg Tarts. Ok, I dropped the first one whilst being overly keen to get a good picture of me tucking into it (serves me right?) but really, it was the best egg tart I have ever tasted… so I had quite a few. My favourite tarts being from the stall in the picture- I didn't catch the name but you can find it on the left on the way down the hill from St. Pauls ruins to Senado Square. On this hill you will also find at least 20 Bakkwa shops, you can easily get your fill by having tasters from each one, you will notice 50% of the other tourist have purchased bags of the stuff.
After realising quite how many calories were in the foods that I had just consumed and one of my KPI's of this trip to be to find baked duck rice I thought I had better get on with some exercise. The lovely people at Macau Government Tourist Office have come up with 4 walks around the city following different interest areas. From Senado Square I picked up the East Meets West Macau Walking tour taking in picturesque St. Lawrence's Church, St Josephs Seminary and Church and the contrasting culture of Mandarin's House and A-Ma Temple. The route highlights the cultural intersections of the influence of both the Portuguese and Chinese people.
As evening fell I took a cab across to the water to Taipa Southern Island of Macau to explore some of the big hotels and casinos. The bright lights of the tunnel to the City of Dreams attracted me to check out the 'city' inside. Unfortunately the cast of the water spectacular 'House of Dancing Water' whose show is based in the entertainment complex were having a couple of weeks off to recoup but instead we were treated to the 18 minute immersive experience of 'Dragons treasure'. This 360 show inside a 30 metre dome will have you marvelling at the special effects. At only SG$8 per adults and half price for children, it's a bargain entertainment. With showings every 30 minutes on the hour and half past from 12 noon to 8pm don't miss this show. If you eat at the City of Dreams restaurant, bar or shop and spend over MOP200 (around $34) you can redeem a free ticket to the show There are tonnes of shows and entertainment events in Macau to keep you captivated all year.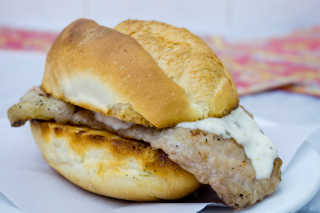 Post show I was famished and so wondered across and into the spectacular Venetian hotel in search of more food. Before wondering the streets of Venice I stumbled upon a huge food court in the hotel, I didn't manage to get the baked duck rice I had been so avidly searching for but the chicken pot rice certainly didn't disappoint. Still with more food to hunt for, there is always a reason to come back to Macau!
To end my perfect day in Macau I jumped in a cab back to Senado Square to capture the scene at nighfall where lights had perfectly illuminated the historic buildings for some final snaps. After a 10 minute stroll back to the Holiday Inn hotel I settled down at the hotel bar to reminisce about my day- and plan for my next adventure.
Check out my video of my trip to Macau here!
To help you start your search, CheapTickets.sg has found great deals to a few of your favourite destinations!
What are you waiting for? Hurry over to CheapTickets.sg to grab these awesome deals now!