Abu Dhabi for Every Type of Traveller
Abu Dhabi for Every Type of Traveller
Abu Dhabi has something for everyone, and you're guaranteed to find the perfect trip for you in this amazing destination. Maybe you're an adventurous traveller, looking to experience sandboarding in Abu Dhabi's incredible sand dunes, or a cultural traveller, ready to explore the emirate's many heritage sites and cultural landmarks - or perhaps you'd simply like to unwind on one the many tranquil, white-sand beaches. Together with Visit Abu Dhabi we have selected the top activities for every type of traveller in the UAE's incredible capital - available year-round, for you to experience at your own pace.
Abu Dhabi for...
Abu Dhabi for the adventurous traveller
Adventurous travellers have no chance of getting bored in Abu Dhabi, with endless excitement on offer! In Abu Dhabi's endless stretches of desert you can try dune bashing in a 4x4, or sandboarding, where you can soar down 300-metre dunes… both fantastic ways to discover the emirate's famed golden sands and get that adrenaline pumping. Or try out a safari tour at Al Ain Zoo, where you can discover the native animals and natural landscapes of the area, as well as spot African lions, white rhinos, ostrich, and zebras.
We all know that the desert can get quite warm, so after all the dune bashing and sandboarding, why not try a water sport? Abu Dhabi has many water sport centres where you can try wakeboarding, waterskiing, or even diving. So if you haven't tried one of them out before, why not do it in Abu Dhabi?
For those with a need for speed, head to Ferrari World Abu Dhabi, home to the Formula Rossa, the world's fastest rollercoaster - or swing by Yas Marina Circuit and test drive a supercar around the famed racetrack, which hosts the annual Formula 1 Etihad Airways Abu Dhabi Grand Prix.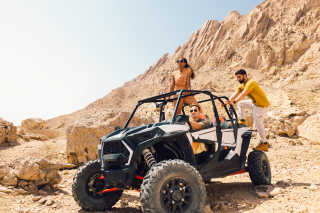 Abu Dhabi for the luxury traveller
If luxury is for you, then Abu Dhabi is too. Visit Avenue at Etihad Towers, one of the world's most high-end and exclusive collections of boutique shops. Or head to The Galleria Al Maryah Island, where you will find over 400 stores and can enjoy fine dining after your shopping adventure.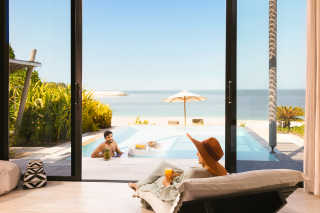 One thing you cannot miss when visiting Abu Dhabi is Zaya Nurai Island. This boutique hotel on a private island is the ultimate luxury experience. And the best part is that you don't need to book a villa to experience it! You can book a day pass, to enjoy the beaches, pools and other leisure facilities, or just head over for dinner at one of the island's several gourmet restaurants - and you'll even get a complimentary boat transfer to and from the island.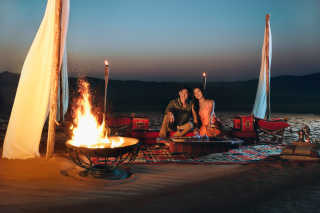 If you're looking for an authentic Abu Dhabi desert experience, you can do it in style at the Desert Rose Bedouin Desert Camp. At this ultimate luxury desert camp, you'll discover breathtaking sunsets, starry night skies, and the quiet serenity of the desert, while enjoying a taste of the UAE's traditional heritage. Ready to enjoy a luxurious cultural experience?
Abu Dhabi for the cultural traveller
Culture is at the heart of Abu Dhabi, and there are multiple activities that will inspire and immerse you in the emirate's fascinating heritage. Arabian Nights Village was created for visitors to unwind and enjoy the beauty of the surrounding desert, while discovering the traditional Bedouin way of life. If you'd like to stay closer to town, head to Heritage Village, where you'll also get to experience the traditional way of life, with handicrafts and cooking demonstrations.
What better way to experience the local culture than to do as the locals do? Head to one of Abu Dhabi's many souqs, or typical Middle-Eastern markets, for some retail therapy and shop your way through everything from carpets to clothing, spices, handicrafts and more. Not-to-be-missed is Souq Al Qattara, located in the UNESCO World Heritage Site of Al Ain, which helps preserve and promote Abu Dhabi's heritage through the production of traditional handicrafts.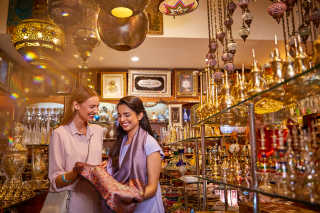 To fully immerse yourself in Abu Dhabi's culture, no trip would be complete without a visit to the breathtaking Sheikh Zayed Grand Mosque. One of the world's largest mosques, this architectural masterpiece combines Islamic design with regional influences. Fun fact, it contains the world's largest carpet! The mosque was created to be a cultural haven that welcomes and inspires people from all backgrounds.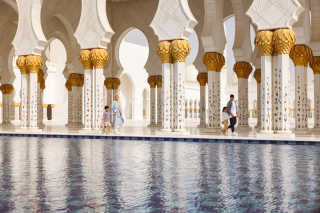 Abu Dhabi for the nature traveller
Ready to switch off and discover Abu Dhabi's many restorative experiences? The emirate boasts thousands of kilometres of coastline, and also contains part of the Empty Quarter, the world's largest uninterrupted stretch of desert, creating a diverse natural habitat that's ready to be explored. One can't-miss destination is Mangrove National Park, located right next to the city centre. Stroll the boardwalks and discover the beautiful native mangrove ecosystem at your own pace, or take a kayak tour to get up close and personal with the many birds and sea creatures that call the mangroves home. This park is ideal for families, bird watchers and nature lovers, or for travellers that would like to escape the bustle of the city for a little while. Best of all, entry is free!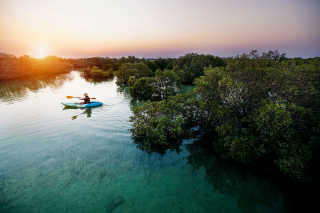 Did you know that Abu Dhabi is an archipelago made up of over 200 islands? Excitingly, many of them are accessible to visitors. But if you're here for nature, you must visit Sir Bani Yas Island. More than half of the island is made up of the Arabian Wildlife Park, one of the region's largest wildlife reserves. Here you'll be able to find more than 17,000 free-roaming animals, like the Arabian oryx, gazelles, giraffes, hyenas, and cheetahs, on your safari adventure.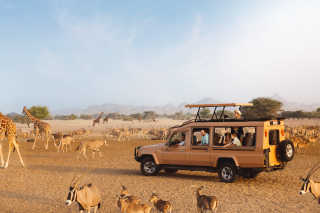 Abu Dhabi for the family traveller
Abu Dhabi is the ultimate family-friendly destination, offering life-long memories for both parents and children. For families that love the outdoors, head to Al Wathba Lake Camp, a new attraction for camping and picnicking. This campsite, only a 45-minute drive from Abu Dhabi, features 13 separate camping spaces, or free spaces for setting up your own tent and RVs, all with views of the lake or the desert. There are picnic sites where you can barbecue and enjoy fun activities like volleyball, multiple playgrounds, plus observation decks to enjoy the breathtaking scenery.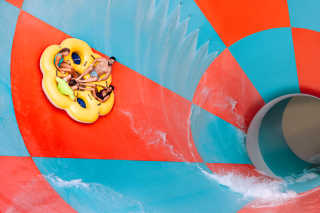 Yas Island is Abu Dhabi's ultimate entertainment destination, full of attractions the whole family will love. Try go-karting at Yas Kartzone, or visit the multiple theme parks around the island, like Warner Bros. World Abu Dhabi, Ferrari World Abu Dhabi - home to the world's fastest rollercoaster! - or Yas Waterworld, for a more refreshing activity during those hot days. Or relax and play on one of Yas Island's many beautiful beaches, enjoying the warm sun.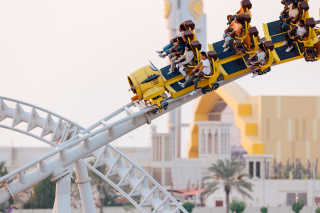 And lastly, there are hours of entertainment for families in Abu Dhabi's many shopping malls, such as Yas Mall, Galleria Mall or Marina Mall. Parents can enjoy a relaxing afternoon of shopping while the children go and play. KidZania, located in Yas Mall, is an interactive mini-city that combines learning and play in fun activities. Meanwhile, Marina Mall's Bounce is a safe space for children to let loose, where "the rules of gravity no longer apply". Afterwards, enjoy a movie together in the mall's state-of-the-art cinema.
Abu Dhabi for the romantic traveller
Why not plan a honeymoon trip to Abu Dhabi? With romantic beaches, gorgeous ocean views, and stunning sunsets, the city will have you feeling all lovey-dovey. You can mix love and culture by enjoying an afternoon at Louvre Abu Dhabi, the first universal museum in the Arab World. Browse world-class art and artefacts spanning millennia, then enjoy a romantic sunset from under the museum's iconic dome.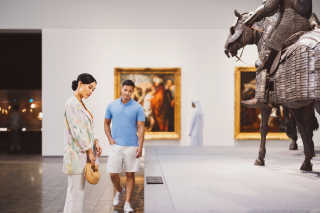 Speaking of sunsets, there are countless places in Abu Dhabi to enjoy the golden hour. Head up to the Observation Deck at 300 for uninterrupted views of the city skyline, a perfect location to grab a cup of tea or coffee and watch the sun go down. Or if heights aren't your thing, take a romantic stroll along the Abu Dhabi Corniche and enjoy the sunset from the waterfront promenade.
For a perfect romantic getaway, don't miss the Arabian Nights Village, mentioned above. At this ultimate couples' getaway, enjoy the beauty and serenity of the desert, and bond over unique activities like camel rides, quad biking or even morning safaris. Couples can enjoy the romantic package, designed to offer seclusion and relaxation.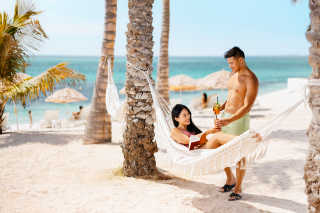 ---
Ready to visit Abu Dhabi?
No matter what you're looking for, Abu Dhabi has something for you, so start planning your trip now! Book with CheapTickets.sg and get our best flight deals. It's time for an Arabic adventure!
---
Need more ideas about where to travel? Check out our blogs!