Best Restaurants in Kuala Lumpur
Best Restaurants in Kuala Lumpur, Malaysia
Malaysia has a wonderful cuisine that is modern and ever-growing, while still remaining true to tradition. The food culture of Kuala Lumpur reflects the diversity of its people, with many influences from various different cuisines. For this reason, Malaysia is a melting pot of different flavours that'll be sure to satisfy your hunger for something new. Check out our top picks for restaurants in Kuala Lumpur to try on your visit.
Social Dining in KL
Fine Dining in KL
Mamaks in KL
Eating Brunch in KL
---
1. 海底捞 Haidilao Hotpot
Similar to fondue, a hotpot is not only comfort food, but also a great way to bring family and friends together for a shared meal, so if you're up for a communal dining experience, Chinese Hotpot is the way to go!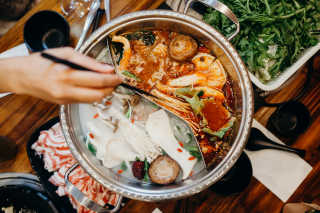 Hotpot, or otherwise also known as steamboat, is a pot of soup simmering on a burner in the middle of the table. You can order an assortment of ingredients to put inside: noodles, thinly sliced meat, meatballs, fishballs, vegetables and most restaurants typically provides a few sauces for dipping.
Thankfully, there are plenty of hotpot options in Kuala Lumpur! Haidilao Hotpot serves Sichuan style Hot Pot at the centre of the city, so bring your friends and family because they say that the best things happen over hot pot.
2. El Cerdo
This authentic Spanish restaurant has a fun, lively atmosphere seeing that it is situated right at the centre of the busy nightlife street, Changkat Bukit Bintang. El Cerdo is known for its suckling pig, served as a whole piglet on the table, roasted until its skin is crunchy and the meat juicy and tender.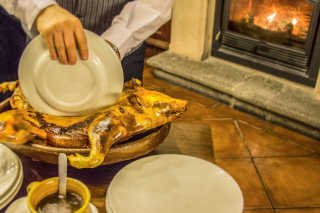 This restaurant also gives you the opportunity to smash plates, which may sound odd but is actually a part of a Spanish good luck ritual. The waiter gives you a plate to knock on the table 3 times, and with that same plate you are asked to chop the suckling pig into 3 parts: head, middle and end. This is said to transfer all the bad luck onto the plate, which you would then proceed to drop it into a bucket, therefore 'breaking all the bad luck'.
3. Dining in the Dark
Just a stone throw away from El Cerdo is a restaurant to try out if you're looking for something that isn't your conventional dining experience. Dining in the Dark is a unique dinner concept with a sensory experience like no other, where you are led to a room and seated down to have your 'surprise meal' in complete pitch darkness.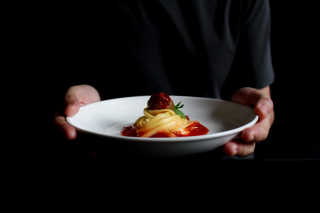 The idea behind this is that when your sight is taken away, your other senses are encouraged to take over, allowing you to pay closer attention to the taste and texture of your food. 9 times out of 10, you're going to be unsure of what exactly you're eating, but whatever it is you won't be disappointed as the chefs behind Dining in the Dark do a great job of giving you a feast for all your senses.
Make sure to inform the staff in advance whether you are vegetarian, vegan, or have any allergies, and they can make arrangements according to your food preferences.
4. Fuego at Troika Sky Dining
Named after the Spanish word for 'fire', this South American restaurant does not disappoint with its inventive, top quality food and unique variety of flamed, smoked and grilled dishes.
Fuego has a chic yet laid back atmosphere where you can dine al fresco on a balcony overlooking the Petronas Towers. In fact, the towers are perched right in front of you, making this restaurant arguably one of the best panoramic views of Kuala Lumpur's famous skyline. Make sure to book an early dinner, and a table close to the ledge, if you would like to catch the sunset from this spectacular viewpoint.
5. Fatty Crab
This no frills Chinese seafood Mamak restaurant has hands down the best crab in town. Fatty Crab is known for their crazy delicious crab, cooked to perfection and drizzled with spicy sweet sauce. The fried chicken also needs special mention, along with all the other typical Mamak orders such as fried rice and chicken or beef satay.
Our Tip: Have an early dinner to make sure you get a seat, as it is often completely packed with a massive queue. So if you choose to come late, be prepared to wait in line for an hour.
6. Nasi Kandar Pelita
Nasi Kandar Pelita has made itself a staple eatery among the street food in Kuala Lumpur. As the city's biggest mamak chain, Pelita is a great go-to option when you're looking for good and affordable mamak food. Whichever chain you go to, the restaurants are always packed with people, so make sure to avoid peak times.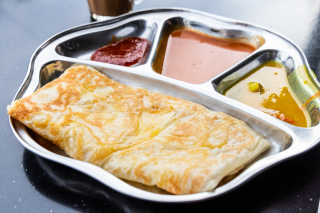 Mamaks open until late hours at night, so this is a definite go-to for relieving your late night hunger.
7. Ho Kow Hainanese Kopitiam
Ho Kow Hainanese Kopitiam is an old school kopitiam that has been serving hungry customers for decades.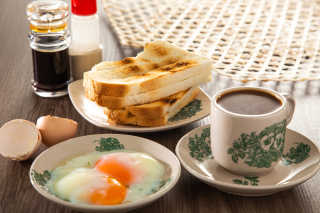 A typical order at any Kopitiam (a traditional Malay coffee shop) is Roti bakar- grilled white bread, and a nostalgic comfort food to many Malaysians, often eaten as a light breakfast or a snack during the day. A local staple to have at a kopitiam is a toast spread with kaya and cold butter, wedged between two long rectangular strips of toast. The toast is toasted to perfection, which has a crunch before reaching the delightful sweetness of the kaya, and the cool of the butter. This is very often eaten with soft boiled eggs, accompanied by a warm beverage such as teh tarik or a coffee. The perfect example of a simple, yet perfect breakfast.
8. Breakfast Thieves
Breakfast Thieves offers Melbourne-style brunch in a gorgeous spot, where a rustic industrial ambience meets a Malaysian flair of rainforest. The hip and happening atmosphere is what attracts most people to have their weekend brunch here.
Breakfast Thieves serves a wide variety of dishes and drinks, including the classic brunch dishes such as eggs benedict and croque madame, to creative dishes along with a few that have an asian twist.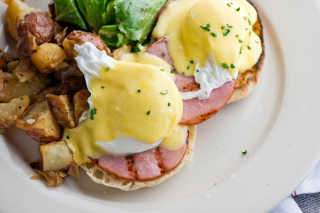 ---
Of course, Kuala Lumpur have other wonderful dining options, but we hope we've provided you a list for starters. When you're ready to make the flight booking, don't forget to check and compare our flight deals to Malaysia on CheapTickets.sg.
---
Want to read more?