Caravan and Camping with Kids
Caravan & Camping with Kids
Heading out in the caravan and camping with kids might seem like it has gone out of fashion in recent years, but as more of us look for budget-friendly alternatives to conventional holidays, the draw of the campsite is hard to resist. Although camping requires some proper organisation, sticking to a basic checklist can take much of the hard work out of the planning and preparation. Eager to show the kids what they have been missing out on all these years? Our guide has plenty of great tips for planning a memorable camping holiday.
---
Why choose a family camping holiday?
Holidaying in a caravan and camping with kids can be a great alternative to a conventional getaway. A camping holiday truly allows you to leave the rat race behind, cut off from the usual trappings of modern life. If you struggle to engage your children when at home, a camping holiday can be the perfect way to break the ice and get them talking again. A camping holiday encourages self-sufficiency and independence, while the great outdoors fosters a sense of adventure and exploration. With fewer immediate amenities at your disposal, you will also be forced to make your own fun. If you opt to stay at a campsite, you can also look forward to a real sense of camaraderie with fellow campers that can bring a rich social experience to your camping adventure.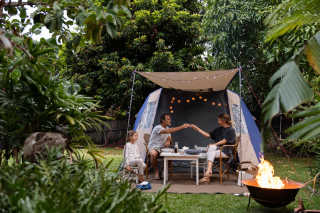 How to prepare for camping with young kids?
Although camping with older children tends to be an easier experience than camping with babies and toddlers, that doesn't mean you can not enjoy a camping holiday when travelling with younger children. Travelling anywhere with a baby can be difficult and camping with a much younger child is daunting. However, provided you have prepared for the trip, camping with your baby can be straightforward. You will obviously need to ensure you have enough food for your baby so you can stick to their feeding schedule. Clothing is also important. Babies can lose a lot of their body heat during the night, so you should have enough warm clothing to keep them comfortably warm when sleeping in a tent. Knitted hats and mitts will help take the edge off chilly nights. You will be exposed to the elements when travelling in a caravan or camping with kids. Therefore, make sure you have plenty of loose clothing and wide brim hats to help keep the sun from burning sensitive skin. Toddlers and youngsters can also be difficult. To keep them entertained, think about packing a board game or two, a deck of cards and some reading and craft materials.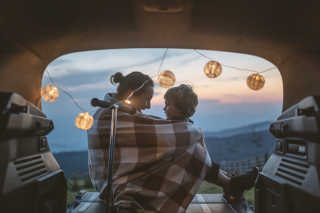 Essentials when travelling in a caravan & camping with kids
There is a lot to remember when it comes to packing for a camping trip.
What to pack for camping with kids?
A large enough tent to house the entire family.
Sleeping bags and sleeping mats for everyone in your party. Pillows are also good to have.
A camping stove with spare fuel is essential.
Cooking utensils, pans and cutlery are also required if your campsite does not provide such items.
A water carrier is also useful to have with you when camping, although it may prove easier to source one of these when you arrive at your destination.
Collapsible camping chairs will also make your trip more comfortable.
Some form of torch or camping lantern is also a must.
Toiletries and basic cleaning products are also crucial, but it may be easier to purchase these closer to your campsite venue.
Putting together your camping essentials checklist may be complicated by any flights you will be taking to get to your destination. Unless you want to pay for excess baggage, you may need to make some sacrifices when packing and purchase additional items after you touch down. Some items, such as fuel for camping stoves, may also be classified as prohibited items with some airlines if your family is planning an outing abroad.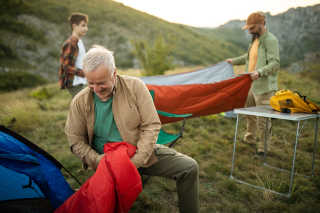 How to feed the family on a camping trip
Provided you have the means to prepare food, putting together meals when travelling in a caravan and camping with kids is fairly straightforward. A camping stove, a couple of pans and some basic cooking utensils are all you need to whip up a delicious meal on the go. However, you will want to ensure your food larder is in order. Make sure you stock up on food as close to your camping venue as possible, as this will save you having to travel long distances with a heavy cargo. Look for items that will be easy to store and require no refrigeration. Tinned goods and sealed packets are your best friends in this regard, although dried goods like pasta are also good for bulking out meals and filling stomachs. You can also make use of a cooler box in the short-term for certain items like dairy products. A clean water source is also essential when it comes to preparing meals when camping.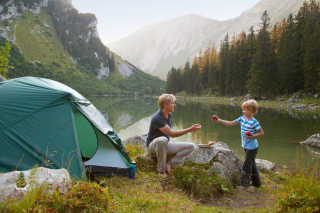 Picking the right venue for a camping holiday
Even if you have all the essential kit and gear, picking the right destination is vital when it comes to enjoying a great camping holiday. If you are planning on taking a particularly long camping holiday, make sure your camping spot is within easy reach of attractions to keep you and the family entertained during your stay. If you want to get back to nature, pick a spot that provides you with breath-taking views, lakes and rivers for fishing and watersports, and plenty of opportunities for hiking and orienteering. If you would prefer a more comfortable experience with modern amenities close to hand, opt for a designated campsite that provides you with some basic services. These include freshwater sources, mains power supplies, shower blocks and toilet stalls.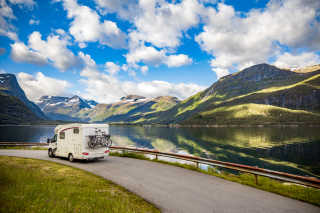 Keen on taking the family further afield for a camping holiday? Browse flights and destinations for your next camping trip with CheapTickets.
---
Want to read more travel tips?