Cathay Pacific Hand Baggage Allowance
Cathay Pacific Hand Baggage Allowance
When flying, Cathay Pacific often has restrictions on how many pieces of hand baggage travellers can bring onboard with, how big, how heavy and what it can or cannot contain. As a treat, we have provided you with a guide on Frequently Asked Questions regarding hand baggage allowance - now, all you have to do is read on and we guarantee a smooth check-in for you!
Hand Baggage VS Check-In Baggage - aren't they both the same?
Also known as Cabin Baggage, Hand Baggage are typically your smaller bags filled with your more personal items (camera, laptop) that you are allowed to carry onboard the plane with you. You will then stow these hand baggage in either the storage compartment above your seat or place it under the seat in front of you.
On the other hand, Check-In Baggage would be your bulkier and bigger suitcases that you will check-in with the check-in counter before your flight. You will then collect these luggage at the baggage belt at the airport upon your arrival.
Frequently Asked Questions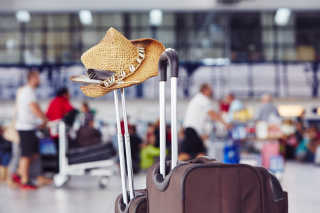 How many bags can I carry as hand baggage with Cathay Pacific?
Additional Items allowed onboard:
Besides your cabin baggage, passengers are allowed to carry one small item onboard Cathay Pacific flights as well. Some examples include: small handbag/ backpack, camera bags, laptop bags and briefcases.
All bags mentioned as small items should be able to fit under the seat in front of you and hence, must not exceed the maximum dimensions of 15 x 30 x 40 cm.
Note: There are exceptions for direct flights on Hong Kong to/ from Auckland/ Christchurch so do check out Cathay Pacific's guide.
What is the combined maximum weight of my hand baggage?
Cathay Pacific states its standard allowance of hand baggage to consist of 1 bag + 1 small item. Different class passengers will then enjoy different maximum combined weight limits of this exact hand baggage allowance.
*Note: Marco Polo Club members are permitted different weight allowance from the standard cabin classes based on their membership tiers so do check out [Cathay Pacific's website](https://www.cathaypacific.com/cx/en_SG/travel-information/baggage/cabin-baggage.html) if you are one!*
How big can my hand luggage be?
The maximum size of the cabin bag is the same across all travel Classes and must be able to fit in the overhead storage compartment.
[Back to top](#backtotop)
What happens if my hand luggage exceeds the weight/ size limit?
Extra baggage charges will be issued by Cathay Pacific either by weight or by piece concept. Piece concept will only apply if your bags' combined weight is within the limit and you have an additional piece of cabin baggage.
Note: Cathay Pacific will not accept a bag that exceeds 32 kg or has a sum of total bag dimensions of over 203 cm.
Tip: Enjoy up to 20% off when you purchase prepaid extra baggage allowance at least 24 hours before your departure on selected routes!
What can I not bring along with me in my hand baggage onboard Cathay Pacific?
Banned Items
Banned items are not allowed to be carried in both checked and hand baggage.
Some examples include:
Controlled Items
Specific items may be carried in both check-in and cabin baggage, in check-in baggage only or in cabin baggage only. Please refer to this guide and ensure your luggage complies with Cathay Pacific's regulations.
Liquids, Aerosols, Gels & Powders
Cathay Pacific follows a strict set of guidelines regarding the amount and types of liquids, aerosols, gels and powders that you can bring onboard. Do take note that there are also route exceptions which may affect the quantity and types of liquids, aerosols, gels and powders you are allowed to carry. Do refer to Cathay Pacific's full guide to avoid complications when checking in or transferring flights at various airports.
Spare Batteries
Read for Cathay Pacific's regulations if you are travelling with spare batteries of any kind: batteries for cameras, laptops, watches and mobility devices.
When travelling with infants (aged 7 days to under 2 years old) onboard Cathay Pacific, you can purchase an infant ticket without an assigned seat for your baby. With this ticket, you will receive a check-in baggage allowance of 10 kg only*.
Alternatively, you can purchase a child ticket for your infant whereby they will then have their own assigned seat and will get to enjoy standard hand baggage allowance as an adult.
Note: Passengers are only allowed to bring onboard up to 2 kg of powdered infant milk or infant food. These food items must not require refrigeration before consumption, have intact packaging and is a product of a packaged proprietary brand.
You can also check in a stroller and a car seat as an infant's additional check-in baggage allowance.
*This quote is for travellers not travelling to New Zealand or the Americas. If you are flying to New Zealand or the Americas, the check-in baggage allowance for an infant ticket would be 1 piece only.
When travelling with children (aged between 2-12 years old), do remember to purchase their own tickets. Children with reserved seats will then enjoy hand baggage allowance according to their travel Class.
Note: Information provided is correct as of April 2019.
---
Now, you are ready to beat the crowd this travel season with all these reminders! Do keep in mind that rules concerning baggage are subject to change, so do check out Cathay Pacific's website for the latest guide!