Cosmetics In Your Hand Luggage
Cosmetics in your hand luggage: the rules
Carrying cosmetics in your hand luggage is often considered a thing of the past. The last thing you want is for security to throw all of your expensive makeup and perfume in the trash before you start your journey. What can you take in your hand luggage and what can't you take? We have compiled a list for you:
Not allowed
All containers larger than 3.4 oz are not permitted in your hand luggage. If your shampoo, toothpaste, makeup, etc. are in large bottles (more than 3.4 oz), buy small refillable bottles. Nowadays, you can find these in many pharmacy and travel stores.

Products that are sharp or pointed and can be seen as a 'weapon'. Think nail scissors, nail files, pintail combs, razors, etc.
How should items be packed?
Liquids can be taken in refillable bottles with a maximum capacity of 3.4 oz each.

BUT you can fill a 1-quart bag with these small bottles. This means that you can take several 3.4 oz bottles.

You must put your cosmetic products in a clear plastic resealable bag. For forgetful travelers: you can get these at security at many airports.
When you arrive at the security point, remove your (transparent) bag of liquids from your hand luggage and place it separately in a container. The products are checked here. All liquids that are in containers larger than 3.4 oz or are prohibited will be discarded here. It's easier to stick to the rules - it would be a shame to have to throw your new expensive perfume in the trash.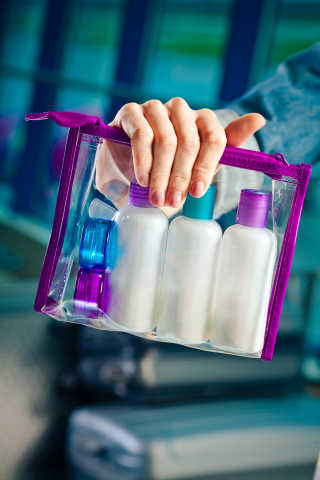 Forbidden and permitted cosmetics
Sometimes it is difficult to know which products fall under the term 'prohibited' and which don't. Below you will find an extensive list of products that you may or may not carry in your hand luggage.
May be included in your hand luggage:
Makeup (lipstick, lip gloss, foundation, eyeliner, mascara, etc.)
Shampoo, conditioner, soap
Facial cleanser and toner, face cream, eye cream
Hair gel and hair spray
Sun lotions and aftersun lotion
Lip balm and lip care products
Toothpaste
Deodorant
Medical ointments
Contact lens solution
Nail polish
Perfume
Take note! All of the above products fall under the liquid category and, therefore, the rule of 3.4 oz per container applies.
Beard trimmer
Electric toothbrush
Tweezers
Cleaning wipes
Mirror
Hair straightener, curling iron, and hairdryer
Disposable razors
Nail clippers
So, now we know which products are allowed in hand luggage. But which cosmetic products are prohibited? Sharp or pointed objects are generally not allowed. Now, the interpretation of sharp and pointed can sometimes vary from airport to airport. If you want to play it safe, it is best to leave the products below at home.
May NOT be taken in your hand luggage:
Nail scissors
Nail file
Pintail comb
Straight razor
So, with these handy tips, nothing can go wrong. Now: get packing!
So, that is all you need to know about cosmetics on the plane! Ready to put it into practice? Search for your flights now.