Discover Japan Kobe Kyoto Nara
Discover Japan - Kobe, Kyoto, Nara
After our adventures in Osaka, we are now heading down to Kobe, only about 30 minutes away via the Hankyu Railway, from Umeda Station (Osaka) to Sannomiya Station (Kobe) at a cost of 310 yen (Approx. SGD $4).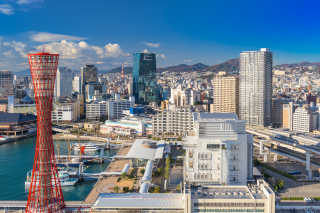 Kobe
Kobe's Nada district is Japan's top sake (rice wine) producing region due to its availability of high quality rice, purity of water filtered from streams and good weather conditions. You can spend half a day just exploring some of the breweries there. I would recommend for you to visit the Hakutsuru Sake Brewery Museum which is about a 5-minute walk from Hanshin Sumiyoshi Station. The museum offers comprehensive English coverage, including pamphlets and video clips of sake production. Visitors can also enjoy a taste of Hakutsuru sake that cannot be found elsewhere. With free admission, what are you waiting for?
If you are visiting in the winter, why not check out the Kobe Shushinkan Brewery, where you can see the brewery in action. About an 8-minute walk from Ishiyagawa Station, where reservations have to be made one day in advanced for a free guided tour to its sake cellar and brewery.
Kyoto
Now that we have toured Kobe, it's time to experience some Japan's traditional culture! And the best city to truly experience that is none other than Kyoto – a world of traditional beauty! You can get to Kyoto easily in about 30 minutes from Kobe via Shinkansen (Japanese Bullet Train). Kyoto is home to many World Heritage sites, as well as temples and shrines. Many shops here also allow visitors to try their hand at traditional pastimes like tea ceremony, flower arranging or even wearing kimonos!
One temple that you must visit is the Kiyomizu-dera (literally "Pure Water Temple"), located in Southern Kyoto. Established in 778, Kiyomizu-dera houses many important cultural monuments, and has 15 colourfully-painted halls and pagodas. The two most famous places of the temple are the Main Hall (Hondo) and the Kiyomizu Stage, which is a porch of the Main Hall. The Main Hall has been designated as a national treasure, where it houses the Eleven Headed and Thousand Armed Kannon Bodhisattva. The Kiyomizu Stage offers a great spot to have a spectacular view of Kyoto's city centre. During Spring (mid March to mid April) and Fall (mid November to early December), there will also be special evening illuminations that enhance the beauty of Kiyomizu-dera.
Another district that you must visit is Arashiyama, located at the western outskirts of Kyoto.
The landmark of Arashiyama, Togetsukyo Bridge is famous for its views of cherry blossoms and autumn colours. It is also a romantic place for couples to stroll at. Surrounding the bridge are many small shops, restaurants and other attractions, including some historical shrines, temples and even the famous bamboo groves.
If you would prefer a serene experience here, I would recommend you to visit the bamboo groves in the night. Can you imagine how splendid it would be to walk along this path while being surrounded by a forest of tall bamboos in the night? It would definitely be an experience you can't forget!
Nara
Since you're in Osaka, your trip wouldn't be complete without visiting Nara Park in central Nara. To get to the city, you can take the Miyakoji Rapid Service from Kyoto and connect to Nara in about 45-50 minutes.
At Nara Park, you can find Todaiji (Great Eastern Temple), one of the most famous and historically significant temples in Japan), and a landmark of Nara. It was constructed in 752 as the head temple of all of Japan's provincial Buddhist temples. Todaiji's main hall (Daibutsuden) is the world's largest wooden building and houses one of Japan's largest bronze statues of Buddha.
Nearby Todaiji, be in for a unique experience as you get up close to the deer – yes, you saw it right! – deer that roam freely around the park! With nearly 1200 of them, these deer have become a symbol of the city and have been designated as a natural treasure of Japa. Don't worry, these cute little creatures are calm and friendly, so you can safely feed them with deer crackers that can be purchased around the park for about 150 yen (Approx. SGD $2). Some of these deer have even learned to bow to visitors in order to be fed!
Join us for the Japanese trip today!
To help you start your search, CheapTickets.sg has found great deals to a few of your favourite destinations!
What are you waiting for? Hurry over to CheapTickets.sg to grab these awesome deals now!