Discover the best of Qatar
Discover the best of Qatar
Qatar's rich culture, diverse landscapes, bustling atmosphere and incredibly diverse population makes it a world beyond your imagination. Which is why there's no excuse for you not to visit this amazing country. In cooperation with Visit Qatar, we will help you discover the best of Qatar and everything you can do in this wonderful country.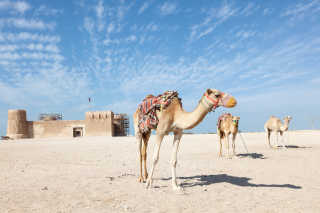 Qatar's breathtaking nature
One of the top reasons to visit Qatar is its breathtaking nature. From the Sand Dunes to the beautiful mangroves at Al Thakira beach, there are many outdoor activities you can do in these amazing places, like dune bashing, camel rides, scuba diving, rock climbing, etc.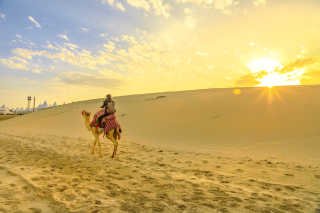 Top 5 natural wonders of Qatar
Khor Al Adaid: also known as the 'inland sea', is located in the south-east of the State of Qatar. Khor Al Adaid has features that create a diverse landscape of exceptional, undeveloped natural beauty, in what remains a 'wilderness area'. This place is really a wonder as it's dominated by sea at one end and by sand at the other. The two top activities to do at Khor Al Adaid are safari tours containing dune bashing, quad biking and camel rides to observe the panorama, or you can observe the wilderness around you, from the marine life to the rare animals of Qatar and the migratory life arriving.

Ras Abrouq rock formation (Zekreet): 70 km west of Doha, you can find the Ras Abrouq rock formation. This place is famous for its unspoiled sand beaches, preservation of wild deers, and the landscape of the rock formations shaped like mushrooms. The top activities to do here are trekking, for the adventurous, but also family picnics and overnight campings, where you can watch the sunset and the sunrise from the top of a rock.
Al Thakira Mangroves: about 5 miles away from the city of Al Khor, you can reach the Thakira Mangrove Forest by car. What makes this place so special is that these plants are able to survive Qatar's harsh environment for so long. Mangroves are a unique ecosystem both above and below water. Under water, the tree branches get covered with salt, seaweed, and seashells. For those who enjoy kayaking the Thakira Mangrove Forest is perfect! You can enjoy a kayak trip while admiring the flora and fauna.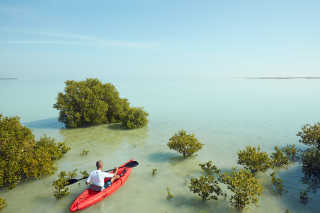 Dahl Al Misfir Cave: located in the west of Doha, the Dahl Al Misfir Cave is one of the most exciting natural wonders of Qatar. This cave is the largest and deepest accessible cave in Qatar, being 40 meters deep. This attraction is perfect for hikers, but be cautious as you will need warm clothes as the temperature drops the deeper you go inside. But Dahl Al Misfir Cave is also perfect for birdwatchers as you can look for nightjars, wagtails, bee-eaters, Eurasian hoopoes and more.

Dunes of Qatar: the undulating sand dunes of Qatar's desert proffer a stark beauty. The Qatar's desert is a representation of their history and culture, as Bedouin tribes would move across the desert, setting up camp while grazing their animals and engaging in trade. Today the desert is visited for relaxing in a tent side to dune-bashing or parasailing, making this desert anything but gray.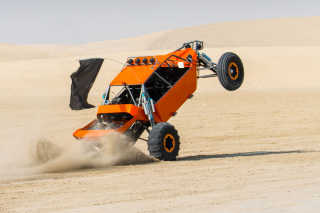 ---
Qatar's thriving arts and culture
Throughout history Qatar has always tried to keep its culture alive and thriving, making it one of the most important cultural countries on both an international and local scale, having its capital Doha chosen in 2010 to be the Arab Capital of Culture by the Arab League under UNESCO's Cultural Capitals Program. Qatar if full of traditions and cultural events with the aim to share its culture with the world.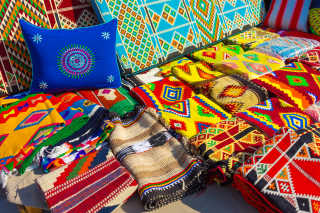 Qatar's traditions
Majlis: the majlis is one of the most important spaces in Qatari life. It consists of a room inside the house, which would be the most decorated room and was traditionally the only room with windows opening onto the street. In this room, only men are allowed and its objective is to allow visitors to gather in a more private space in the house. Guests in the majlis are offered dates and served Arabic coffee in a pot (called dallah) in tiny cups with no handles.

Ramadan traditions: the Ramadan lasts a whole month, which is the ninth month of the year, and the most important month for the Islamic lunar calendar. During this time, all Muslims around the world quit food & drinks from sunrise until sunset. This time is also a time of reflection and spirituality as it brings together individuals in the common act of fasting.

Eid traditions: the two Eid holidays are the most festive holidays of the Islamic calendar. Right after Ramadan, comes the Eid Al-Fitr, which translates to "Festival of Breaking Fast", where Muslims from everywhere in the world celebrate the end of Ramadan. But this two-day festival also commemorates all the virtues that unifies the Islamic faith. About two months later is the Eid Al-Adha, which means "Festival of Sacrifice". This festival lasts four days and honors the willingness of Ibrahim to sacrifice his son Ismail as an act of obedience to Allah, as the story goes, Allah told Ibrahim to sacrifice his son, Ismail, to see if he would be obedient. And to show his devotion, Ibrahim grabbed a knife and was willing to sacrifice his son but then Allah stopped him and told him to sacrifice a sheep instead, as Ibrahim had showed he was obedient to Allah. But these two holidays are also a time for community, to meet your family and friends, share food and give Eid money to children.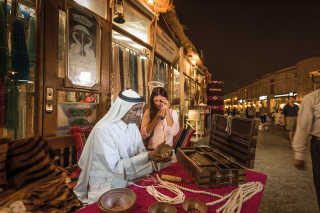 Qatar's museums & events
Museum of Islamic Art: designed by the Prizker Prize-winning architect, I.M. Pei, the Museum of Islamic Art is one of the most famous landmarks in Qatar. This museum displays ancient artifacts from all over the world, all connected by Islam. It also holds multiple exhibitions throughout the year.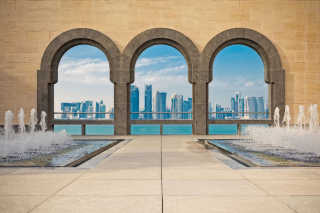 Katara Cultural Village: Katara, "where the grace of the past meets the splendour of the future". The Katara Cultural Village was built to reprensent Qatar's cultural and architectural heritage. Multiple events and exhibitions are held here, but it's also home to the Qatar Philharmonic Orchestra, houses galleries, art societies, an opera house, an amphitheatre, a wide beach, and lastly, a large number of restaurants and cafes.

Qatar International Art Festival: held for 6 days in Doha, the Qatar International Art Festival gives a chance to artists from all over the world to expose their art and take part in a creative exchange. With more than 200 artists participating, the festival includes live painting displays, workshops, panel discussions, a fashion show and exhibitions.
---
Qatar's cuisine: all major tastes of the world
Arabic coffee & dates are the main products used in Qatar, as said before, this is what Qatari households offer to their guests or in the majlis. But Qatar has become a hotspot for international cuisine, as it holds the Qatar International Food Festival every year. But even so, when visiting Qatar, you should try their local food, like the Saloona, the machboos, or the Luqaimat.
Qatari cuisine is a combination of Indian, Persian & Lebanese, and North African influences, which keeps evolving through time. Usually in Qatar, breakfast is light typically including yoghurt, cheese, olives, and coffee, while lunch is the heaviest meal of the day, with mezze as a starter, followed by the main course with chicken stews or lamb. And dinner, same as breakfast, is a light snack. But this changes during Ramadan, as they're fasting from sunrise to sunset, dinner in the only meal they eat, making it heavier than how they normally eat it.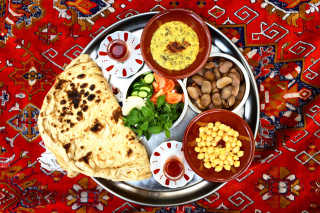 ---
Discover the art of shopping in Qatar
From luxury malls to souqs (a market in an Arabic city), you can find anything you need in Qatar. Qatar's malls are a must-see, even if you don't need to buy anything, they are world-class shopping malls, including restaurants & cafes, supermarkets, cinema, arcades, indoor play areas, ski slopes and live entertainment. Doha Festival City is the largest entertainment, fashion and dining destination in Qatar. On the other hands, in souqs, you can experience the traditional Qatari markets, where traders and merchants exchange products, services and information. They reflect the true traditions and art of its people. Here you can find a bit of everything, from knick-knacks to fancy decoration, to food like Arabic spices and sweets, to even jewelry and clothes.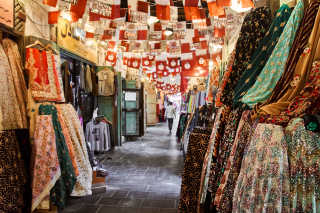 ---
Experience Qatar's warm hospitality like no other
Hospitality for Qatar is really important, as Qatar wants to turn into a prime destination in the region. This is why, for 6 consecutive years, Qatar has been hosting Hospitality Qatar, a trade show aiming at the latest developments and prospects in hospitality.
In other words, Qatar's hospitality is aiming to be the best, meaning that going to Qatar only to stay in their hotels would be a good enough option to go. You can even go to Qatar as a stopover and enjoy for a couple of days their amazing hospitality.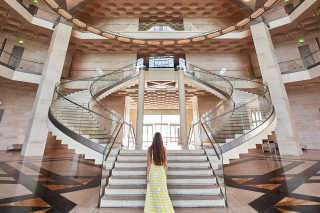 ---
Plan your trip to Qatar!
Now that you know the best of Qatar, are you ready to book your ticket and experience it yourself? If yes, check out our best deals to Qatar with CheapTickets.sg.
Want to know more about Qatar and cheap flights there? Check out our page Qatar