Dream Explore Discover Taiwan
Dream, Explore & Discover Taiwan
Are you already planning how to celebrate New Year's Eve or even Chinese New Year? Taiwan is one place you shouldn't miss, boasting impressive scenic sites, vibrant centres of culture and entertainment as well as the famous Taiwanese cuisine.
Whilst most trips from Singapore to Taiwan start in Taipei but don't let that stop you exploring the rest of this beautiful country. There are of course some 'don't miss' moments of Taipei to take your breath away. Return flights to Taipei starts from only $247 at CheapTickets.sg.
Taipei 101
Did you know that one of the worlds most famous and iconic pieces of architecture is the Taipei 101? It stands at 1667 feet and has the fastest ascending elevator speed, which travels as fast as 16.83 metres per second! If that is not fascinating enough, it also has the largest countdown clock which is displayed during New Year's Eve. If you are like me, planning to spice up the coming New Year's Eve, then ringing it in at Taipei 101 is a fantastic choice. Not only do you get to witness the spectacular vibrant display of the fireworks, you can get your energy pumped up and feel the adrenaline rush as you join in the wild crowd. It is truly a once in a lifetime celebration worth travelling to.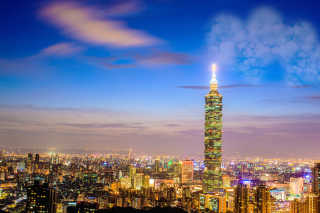 Shilin Night Market
A trip to Taipei wouldn't be the same without a shop, take a trip to check out the Shilin Night Market in Taipei. It is one of the largest, most popular night markets in Taiwan, and when it comes to the food...It is located in Taipei's Shilin District, just a mere 70 meters from MRT Jiantan station between Dadong Road, Danan Road, Wenlin Rd, and Jihe Road. The maze of alleyways is filled with a wide array of local, traditional, and international merchandise that appeals to both local and foreigners. How great is that!
Have a taste of the unique flavors of the traditional recipes such as the giant fried chicken steak, tempura, the most notorious Taiwanese goodie, Stinky Tofu and the most popularly recommended food in Shilin Night Market is the Oyster Omelet (蚵仔煎), pronounced by everyone in Taiwanese as ó ā jiān.
You can get there by MRT by taking the Red Line to Jiantan Station (劍潭站) Take the Exit 1, diagonally across the street to the left to enter the night market.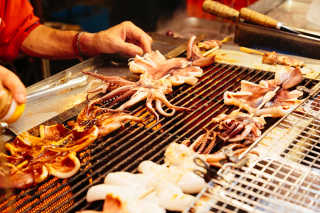 Sato Hotel
Want to stay in by far the coolest hotel in Taipei? Check into the Sato Hotel and be treated like a princess for a night (of a few more…) with their themed rooms. Sleep in pirate boat, between the Man United goal posts or shoot into the future with their incredible rooms. Being a princess my pick is the fairy tale room where you can sleep in Cinderella's pumpkin carriage complete with horse…rooms start from only $148 at CheapTickets.sg. Book now!
Taichung
Taiwan is more than just about Taipei. With over 36,000 square miles of beauty to explore, take a trip down to Taichung. Get to Taichung via the bullet train which takes only an hour and costs $30 SGD for an adult ticket!
National Museum of Natural Science
Don't miss out on the opportunity to visit Taiwan's first remarkable museum of science. Even though it lacks in the English explanations (except for display titles), it is still worth visiting. It has a visually interesting dioramas, models and exhibitions. You will definitely be in awe when you see the life-size dinosaur skeletons and the moving and roaring dinosaur automatons.
Carton King- Dakeng
Travelled all the way to Taiwan but feel like taking in some world monuments? At Carton King Dakeng you can visit international landmarks such as the Leaning Tower of Pisa, Arc de Triomphe or the windmills of Holland, houses and even a zoo, all of which are made out of corrugated cardboard. Even the chairs in the restaurant (which are surprisingly stable) are made out of cardboard. Half of your $8 SGD entrance fee can used to buy yourself a take home souvenir. Carton King can be found at 2 Second Alley, Tungshan Road, Beitun district, Taichung 406, Taiwan.
Now that I've covered both Taipei and Taichung, there is only one more stop left on this journey. If you guessed it to be Kaohsiung, you're right! You can get there by taking a 1 hour train journey from Taichung to Zuoying, in the Kaohsiung region. With a journey cost of only $35 SGD. How cheap is that?
Kaohsiung
Now that I've covered both Taipei and Taichung, there is only one more stop left on this journey. If you guessed it to be Kaohsiung, you're right! You can get there by taking a 1 hour train journey from Taichung to Zuoying, in the Kaohsiung region. With a journey cost of only $35 SGD. How cheap is that?
Escape 41
After my exhilarating journey through the country, I decided to take some time to relax and unwind. Imagine having a drink or two and chilling somewhere on the mountain, or rather, just down the slopes of it, a few meters above the blue sea? With good attention to food, Escape 41, in the Gushan district is worth the effort to get here. Pizza is the best dish but there are good veggie options, and a broad cocktail and wine selection to hang out in the evenings. You get to enjoy the breath taking view of the sea!
Love River
How about taking a slow and relaxing walk along the Love River or locally know as the Ai River? The river is of great cultural significance to the people of Kaohsiung, central to its economy and tourism. Witness the clean water flowing as you walk by, occasionally, sitting on the bank-side promenades with their benches, shady trees and outdoor cafes which are popular hangouts for both locals and visitors. Alternatively you cruise along parts of the 12 km river day and night taking in the Holy Rosary Cathedral and Kaohsiung Bridge. (20-minute boat rides $3.5 SGD).
Getting back to Taipei for your return flight is cheap and easy with a 2 hour train ride priced at only $67 SGD from Zuoying to Taipei, enjoy the beautiful countryside as it wheezes past you. Truly an amazing ride!
If all of this adventure has got you pumped up and eager for a fun filled journey CheapTickets.sg has an exclusive online promotional return flights from Singapore to Taipei from only $497 with Eva Air.If you are feeling very romantic you can book a long weekend in Taiwan over Valentine's Day from only $500 with Eva Air.
See more, do more, feel more with CheapTickets.sg!
To help you start your search, CheapTickets.sg has found great deals to a few of your favourite destinations!
What are you waiting for? Hurry over to CheapTickets.sg to grab these awesome deals now!