Emirates Hand Baggage Allowance
Emirates Hand Baggage Allowance
When flying, Emirates often has restrictions on how many pieces of hand baggage travellers can bring onboard with, how big, how heavy and what it can or cannot contain. As a treat, we have provided you with a guide on Frequently Asked Questions regarding hand baggage allowance - now, all you have to do is read on and we guarantee a smooth check-in for you!
Hand Baggage VS Check-In Baggage - aren't they both the same?
Also known as Cabin Baggage, Hand Baggage are typically your smaller bags filled with your more personal items (camera, laptop) that you are allowed to carry onboard the plane with you. You will then stow these hand baggage in either the storage compartment above your seat or place it under the seat in front of you.
On the other hand, Check-In Baggage would be your bulkier and bigger suitcases that you will check-in with the check-in counter before your flight. You will then collect these luggage at the baggage belt at the airport upon your arrival.
Frequently Asked Questions
How many bags can I carry as hand baggage with Emirates?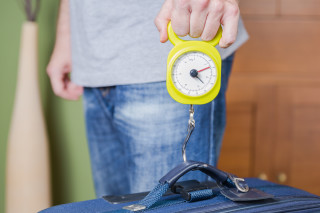 What is the maximum weight of my hand baggage?
How big can my hand luggage be?
What happens if my hand luggage exceeds the weight/ size limit?
Emirates will weigh your baggage at check-in and if your baggage exceeds the weight or size limit, travellers are able to purchase additional baggage allowance at the check-in counter or online (up to 4 hours before departure). Emirates calculates additional baggage charges accordingly by either weight or piece concept.
Note: Purchase of additional baggage allowance is only available for adult and child tickets.
What can I not bring along with me in my hand baggage onboard Emirates?
Restricted Items
Restricted items that may cause injury or represent a safety threat are allowed onboard Emirates flights as checked-in baggage only, not in cabin baggage. Some examples include: letter openers, knives, knitting needles and metal cutlery. Click for Emirates's listed restricted items.
Dangerous Goods
Dangerous goods are items/ substances that may pose health and safety hazards to both themselves and other passengers. Dangerous goods are not allowed to be carried in both checked and cabin baggage. Some examples include: fireworks, poppers and items containing explosives. Click for Emirates's guide to dangerous goods before check-in.
When travelling with infants (under 2 years old) onboard Emirates, you are allowed to carry a baby on your lap. In addition to your standard cabin baggage allowance, all travellers may carry onboard 1 handbag for inflight necessities and infant food for free, up to 5 kg.
Additional Infant Baggage Allowance (Maximum Weight)
Additional Infant Baggage Allowance (Maximum Size)
Passengers are also allowed to bring a fully collapsible stroller or carry-cot as a carry-on item, as long as cabin space is available and you are not bringing a child seat. Travellers will also be given an infant kit of useful essentials (nappies, bibs and wipes).
When travelling with children (aged 2 - 12 years old), do remember to purchase their own tickets. Children with reserved seats will then enjoy standard adult hand baggage allowance according to their travel Class.
Note: Information provided is correct as of April 2019.
---
Now, you are ready to beat the crowd this travel season with all these reminders! Do keep in mind that rules concerning baggage are subject to change, so do check out Emirates's website for the latest guide!