Experience Qatar on a Budget
How to enjoy Qatar on a budget
Qatar is known to be one of the richest countries in the world, but this does not mean you have to spend a lot of money to enjoy it. So don't get discouraged, there are many activities you can do on a budget. In collaboration with Visit Qatar, we're going to help you experience Qatar on a guilt-free budget. Just keep on reading and you will find the best affordable things to do!
---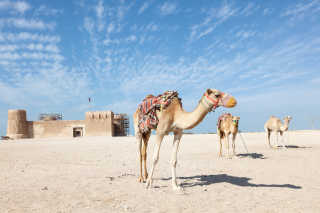 ---
What to do in Qatar
1. Promenading around Doha
Wander around the Souq Waqif: this market alley represents the traditional street life in Qatar, making it a must-see to have a better view of the culture. Located in Doha, this market is a hub of activities, where commerce and gossip collide.
Stroll around the Pearl-Qatar: the Pearl-Qatar is a man-made island, near Doha's West Bay District. While strolling along the Pearl you can see Mediterranean-style yacht-lined marinas, residential towers, villas, and hotels, taking a sneak-peak at Doha's luxurious side. The Pearl also has modern dining spots - from refreshing ice creams to five-star culinary experiences.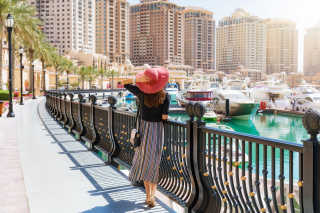 Walk along the Corniche Promenade: the Corniche is Qatar's most beautiful waterfront promenade. Walking along this promenade is the perfect introduction of the Arabian Peninsula city, Doha. At the southern part of the Corniche is the Museum of Islamic Art and the Doha Port, so you can start walking from the Four Seasons Hotel and end up in the must-see Museum of Islamic Art.
2. Must visit museums
Throughout history Qatar has always tried to keep its culture alive and thriving, and you can see this when visiting its many museums. Here are the top 5 museums you should check out during your next trip to Qatar!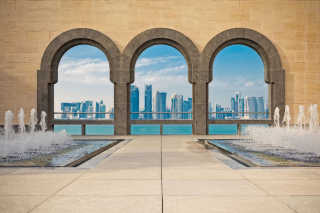 3. Take a trip to the wildlife
Qatar is known for its wildlife, as these animals and plants can survive living in a dessert all year long, which makes them unique and a must-see.
It's flora and fauna is a combination of mangroves and 21 different species of mammals. The mangroves are located in the forest of Al Thakhira and Qatar's mammals consist of the Arabian gazelle and the Dugong, which is Qatar's largest mammal. Furthermore, for the bird lovers, Qatar has 215 common birds, as the desert and the shoreline are an important resting site for a number of migratory bird species during autumn and spring. Which is perfect for bird watching lovers!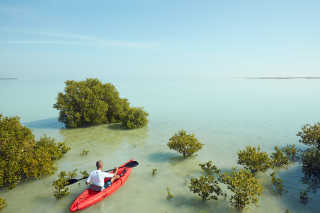 Here are the top places to enjoy Qatar's flora and fauna:
Al Dosari Zoo Game Reserve: the Al Dosari Zoo is one of the most famous zoos in Qatar, privately owned by the Dosari family. This zoo keeps some of the exotic animals of Qatar, like the Arabian oryxes, ostrich, Arabian wolves, etc.
Irkaya Farm: the Irkaya farm is an untouched beauty and a paradise for bird watchers. With its panoramic view and the rare sight of reptiles and birds, this farm is one of the most beautiful attractions to discover. Perfect for photographers.
Al Thakira Mangroves: Mangroves are a unique ecosystem both above and below water. Under water, the tree branches get covered with salt, seaweed, and seashells. For those who enjoy kayaking, the Thakira Mangrove Forest is perfect! You can enjoy a kayak trip while admiring the flora and fauna.
Al Reem Reserve: this is the only biosphere reserve in Qatar and it provides a natural habitat for the country's ecosystem. You can take a wildlife tour inside the reserve and spot wild Gazelles and Oryx, as well as other native species of Qatar.
4. Dhow cruise across Doha
A Dhow is not any ordinary boat, it represents an important part of Qatari culture. This is why cruising from the Doha City to the Al Safliya Island is a must when visiting Qatar, but only if you're boarding a Dhow.
Just imagine yourself cruising through Doha, while enjoying the beautiful panoramic view, and doing all of this in a Dhow, something you can't do at home. So when visiting Qatar, don't forget to book your Dhow tour and enjoy the panoramic view of Qatar.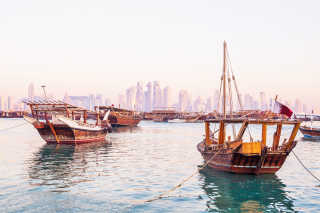 5. Souqs in Qatar
When in Qatar, shop like a local. For this instead of going to the many luxury malls you can find in Qatar, try and go to the souqs (in english, "a marketplace"). As it has many different souqs, and even if you are not planning to buy anything, its a must-see to understand Qatari culture.
Here are the top souqs you must visit during your next trip to Qatar:
Souq Waqif: apart from being a good place to promenade, the Souq Waqif is one of the best and most popular souqs in Doha. The Souq Waqif is known for its fun activities, traditional markets, and for the fact that you can find practically anything.

Gold Souq: for the Gold Souq be prepared and bring your sunglasses, with all that gold and the sun shining through, the light might blind you. This souq is a must-see as everything around you will be gold, which is something you don't see everywhere. You will feel transported into a magical world.

Filipino Souq: this souq, also known as the "Kabayan Souq", is quite unique as it sells traditional products from the Philippines. You can ask any taxi driver, and they will know exactly where it is. The best part is that the souq is also surrounded by restaurants and cafes traditionally from the Philippines.

Falcon Souq: this souq is full of everything you need to train a falcon, falcons included. Is a must-do-to as you can also see how they train the falcons. And if you have any question about what they do, or anything related to falcons, just go and ask and they will be happy to answer.

Souq Haraj: the Souq Haraj is known for selling second-hand products, like furniture, home decor, household appliances, and a lot more. This souq is Qatar's busiest souq as it has everything you need at the lowest cost. You should come here and see how locals are able to bargain a lower price with the merchant.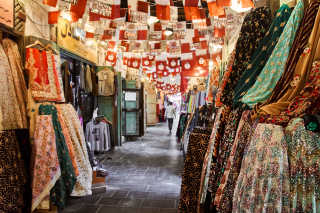 Start planning your trip to Qatar!
Now that you know what to do in Qatar while being on a budget, start booking your flight to this exciting city! Check and compare our best flight deals to Qatar on CheapTickets.sg.
---
Need more ideas about where to travel? Check out our blogs!