A Family Holiday Getaway to Fiji in 2022
A Family Holiday Getaway to Fiji in 2022
Thinking about treating you and your family with an unforgettable trip to an incredible destination? It's time to pack your bags and start discovering the world all over again! Finding family-friendly destinations is never easy especially when you want to travel safely and stress-free. This is why you should consider Fiji as your next travel destination.
Fiji: the perfect family-friendly destination
---
Why is Fiji a family-friendly destination?
Why, out of all the places on Earth, is Fiji one of the most interesting and convenient destinations for families? Other than being amongst the most dreamy and desired places, how can it also be a part of the 'suitable for kids' category? Travelling with kids has never been so fun and easy, here's why:
Variety of activities: Fiji offers an incredible variety of fun and unique experiences that can bring the family together and be unforgettable for both kids and adults.

Fiji is a small country: this set of islands doesn't stretch out that much. However, this turns out to be positive as it makes it easier to get around, do some island hopping discovering the unicity that every region has to offer and allows you to spend less time travelling and more quality time with your family.

Kids Clubs: almost every resort in Fiji offers a Kids Club service in order for them to have fun activities planned daily while meeting other kids from all over the world.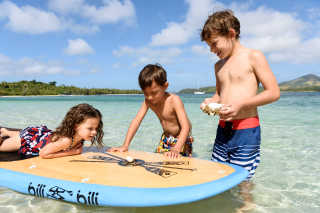 Top 7 family activities to do in Fiji
Here are just some of the activities that you can enjoy with your family to make your stay in magical Fiji unforgettable for you and your kids.
1. Denarau Island
On the main island of Viti Levu you will find the small private resort development of Denarau Island. Here you can find everything you could ever dream of. Big Bula Waterpark, Whitetip Marine Adventures, cruises, golf clubs, kids clubs and, of course, golden sandy beaches and dreamy waters.
2. River Tubing
Are you willing to experience a unique and fun adventure with your family? Then river tubing might be the thing for you! Encounter the Navua River with its breathtaking waterfalls and green mountains. Cross this incredible natural canyon and make some great family memories!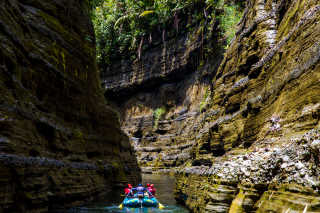 3. Kula Wild Adventure Park
If your kids have that little explorers attitude, you should definitely spend a day at the Kula Wild Adventure Park. Here, they will have the chance to interact with exotic and unique animals such as snakes, iguanas and chameleons! Moreover, you can take a tour of the park across the green forest, hand feed sea turtles, enjoy the water slides and much more!
4. Water sports
Obviously, a must-do for Fiji is experiencing the crystal clear waters in any possible way: Go scuba diving, take a snorkel tour to enjoy the lively and colourful coral reefs, or try stand up paddle boarding. For the bravest adventurers, an exciting experience could be to snorkel along with the reef sharks (don't worry they are harmless!) at Kuata Island.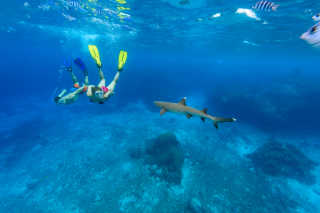 5. Fire Show
If you're willing to merge with the Fijian culture and traditions and relax after a long day of experiencing, enjoy a fun fire show during the evenings. This is a must-do activity when visiting Fiji that will you make you dive into a magical and lively atmosphere.
6. Experience the jungle
Need to take a break from the beach? Take your family to spend a fun day in the jungle! Here, you can choose from a variety of different activities to do. For example, you could ride a quad in the middle of the green wilderness to experience some of the best views of the islands. But if you're looking for something even more adventurous and unforgettable, you should perhaps attempt at zip lining across the jungle with your family!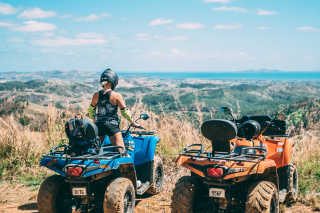 7. Ecotrax
If you're the adrenaline junkie type of family then Ecotrax is definitely the experience for you! Ride electrically assisted bikes mounted on the rails and take the chance to see what the real Fiji looks like, biking around an incredible changing scenery: unspoiled beaches, rainforest, big rock cuttings and villages. The tour also includes stops to swim, snorkel and enjoy some typical Fijian refreshments. This is the smartest way of discovering the incontaminated beauty of this magical destination.
---
Travelling to Fiji post-pandemic
Travelling has been a rather problematic topic lately, however you shouldn't miss the opportunity to visit places that offer safe and pleasant stays. Fiji has recently reopened to fully vaccinated travellers and managed to set up and organize a secure and no-risk environment in order for you to enjoy properly and without worries your holiday.
---
Are you and your family already packing everything you need for Fiji? Start rediscovering the world from places that can guarantee a safe and relaxed stay away from daily worries and preoccupations.
Find out how you can travel safely and stress-free with CheapTickets.sg. Plan your trip now and let us help book your flight to start you dream Fiji holiday!
---
Want to read more about Fiji?