Flying while on your period
Flying while on your period
Does flying affect your period? How can I manage a heavy period when I am travelling? These concerns are both completely normal and entirely understandable, and luckily we have all the answers. Flying while on your period can affect when it starts and even the flow, but good menstrual management will always help you have a comfortable and stress-free journey.
Can travel affect your period?
It may come as a surprise, but travel really can affect your period. Indirectly the stress and fatigue caused by travelling can affect the hormones in your body that regulate your period. But whilst a period may come slightly later or earlier than expected when travelling, a bigger concern be how much your period impacts your travelling, rather than the other way round. Luckily there's plenty you can do to reduce the impact that your period has on your holiday.
Can high altitude affect your period?
The high altitude may cause your period to be lighter for a short amount of time, as might the air pressure in the cabin. However, the effects of jet lag or stress are far more likely to have a noticeable effect.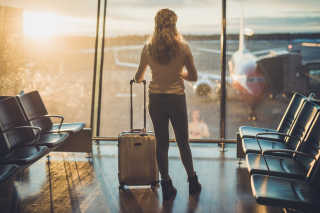 Can jet lag affect your period?
In some cases, it is possible for jet lag to affect your period. The menstrual cycle is dependent on the body running in 'normal' mode. Changes in your mood that arise from travelling, such as stress or even excitement, can alter the levels of melatonin and cortisol hormones in your body. Changes in time zones also impact our internal body clock, known as the circadian rhythm, which can also change the levels of these hormones. In turn these hormonal changes influence when your period starts. There's not a lot you can do about this, so just be prepared for all eventualities. However, it is far less likely that your menstrual cycle is affected if you take the contraceptive pill.
Can flying delay your cycle?
It might be that the effects of jet lag do actually mean your period is delayed, but you can never rely on this and you should always be prepared for your period to start any time when travelling. It might be possible to delay your period with the contraceptive pill, but you should always speak to your doctor first if you intend to change how you take your medication.
Does it get heavier while on a plane?
Your period will not get heavier during a flight, and the good news is that there is some evidence it may even get lighter. This is due to both the air pressure and the high altitude. One or both of these might then cause a short instances of heavier flow upon landing. For those taking a short flight, small changes to the flow might easily go unnoticed.
What to remember if you're travelling during your period
As soon as you arrive somewhere new (i.e. departure lounge, gate, arrivals, on the plane, etc.) familiarise yourself with the location of the toilets. Always use the toilet and change your sanitary wear when you get the chance rather than waiting until it's urgent. This includes in the time before you board the plane and shortly before you land. Also make sure you keep anything you need (i.e sanitary products or painkillers) in an easy-to-access compartment of your hand luggage.
How to travel with a heavy period
No-one is going to pretend that travelling with a heavy period is fun, but there is an upside to it. It's certainly preferable to be sitting on a plane or train with access to a toilet during the heaviest part of your period, than when you're hiking a mountain or hitting the bars. Anyone who regularly has a heavy period will already know what they need to manage it, including a good supply of both pads and/or tampons, as well as spare pants.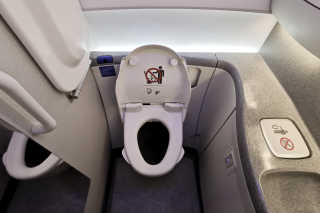 Flying while on your period
If you're expecting your period during your travels, be sure to pack painkillers, pads and/or tampons. If you do get caught out, try not to panic, finding a pharmacy is usually easy as most pharmacies display a green cross outside. Remember other female travellers and staff are usually happy to help too. Half the population of the world menstruates at some point in their life, so there's nearly always someone you can speak to if you need to.
What happens if my period suddenly starts while in the air?
Don't worry, as long as you've packed sanitary items then this is no problem. Simply retrieve what you need from your hand luggage and use the toilets on the plane. Upon landing, take-off and sometimes when there is turbulence, you will be required to remain in your seat. This rarely takes longer than 10 minutes. In the unlikely event that you feel your period start during lift off, landing or turbulence, simply wait it out. If you're really worried about starting your period during one of these small windows of time, then consider wearing a panty liner to 'hold the fort'.
Do some airplanes have sanitary napkins/pads onboard when asked?
Some airlines may have some sanitary pads onboard for emergency use, but it is best to assume not and pack your own. You may simply also ask the female flight attendant for assistance if you are not prepared.
Can I bring feminine hygiene products onboard?
Yes, you can. Access to clean feminine hygiene products is a basic human right and no airline can prevent you from bringing them onboard. If you're already on your period or there is even a slim chance that your period might start during your journey, you should always pack a good supply of pads and/or tampons. Some airlines do require that pads or tampons need to be unboxed and stored in a transparent zip lock bag, so make sure you check the rules first. Wherever you fly, be sure to book your next journey with CheapTickets for competitive prices on flights all over the world.
---
Want to read more travel tips?