Grand Pacific Coast & Southern Highlands Drive
Grand Pacific Coast & Southern Highlands Drive
With more than 20,000 miles of coastline, Australia is renowned for its breathtaking seaside drives and the Grand Pacific Coast Drive is one of the most remarkable. Starting and finishing in the thriving New South Wales capital of Sydney, and including the beauty of Jervis Bay and country charms of the Southern Highlands, this 200-kilometre loop takes in lush rainforest, spectacular national parks, inviting seaside hamlets, incredible marine and native wildlife, and Aboriginal culture. Capture a flurry of Instagram-worthy pictures as you visit acclaimed wineries, award-winning restaurants, beachside cafes and picturesque towns.
🛣️Route: Sydney > Royal National Park > Wollongong > Kiama and Shellharbour > Jervis Bay > Bowral > Sydney
🚗Total distance: 200 km / 124 miles
⏲️Total drive time: 6 hours, 30 minutes
---
Days 1 – 3: Sydney | Arrive via Sydney Airport
Itinerary: Explore the spectacular beaches – cuddle native wildlife at Taronga Zoo – sample fresh seafood at the Sydney Fish Market – visit the world's most Instagrammable café in Bondi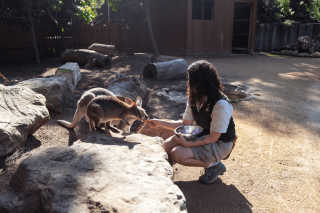 Sydney is a coastal metropolis and home to some of the country's most popular attractions. Explore the city's famous beaches and glistening harbour, dotted with iconic landmarks such as the Sydney Harbour Bridge and Sydney Opera House.
Another notable harbourside attraction is Taronga Zoo, home to more than 5,000 animals, including Australian natives such as the koala, kangaroo, bilby and platypus. As well as a conservation hub, the zoo also features stunning accommodation, allowing guests to enjoy the unique experience of sleeping among the natural landscape and wildlife. The zoo's designer Wildlife Retreat at Taronga boasts elegant and spacious rooms with expansive views, while the Roar and Snore experience includes safari tent accommodation, intimate after-dark animal encounters and fascinating zoo-keeper talks.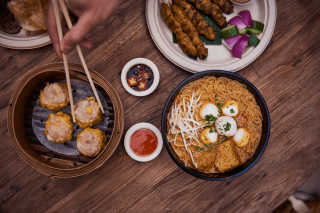 Sydney doesn't have a dining scene, it has many, and each has a unique vibe and flavour. From the sophisticated eateries of the inner city and the on-trend options in the inner west to the waterfront eateries right along the coast, Sydney can cater to all tastes and budgets. Not surprisingly, seafood is a speciality and the Sydney Fish Market is a hub of activity. Absorb the sights, sounds and scents as you wander through the bustling marketplace before deciding where to settle for a freshly caught lunch. In Chippendale, Spice Alley celebrates Asian cuisine under the beautiful lantern light while, in Bondi, Speedos Café is one of the best, serving up meals as delicious as they are attractive. The café has been voted one of the world's most Instagrammable!
---
Days 3 – 5: Wollongong | 1 hour, 20 minutes from Sydney
Itinerary: Walk or drive across the Sea Cliff Bridge – explore Australia's oldest national park – take a dip in an ocean pool in Wollongong – go skydiving above the beach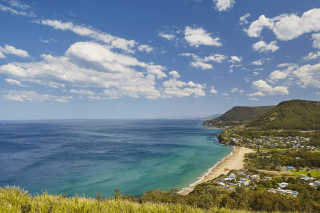 Just over an hour south of Sydney, Wollongong is another energetic city surrounded by sparkling beaches and verdant bush. The second oldest national park in the world – and Australia's oldest – the Royal National Park is a must see. Enjoy an Australian flat white (espresso-style coffee) at the historic café, set up a picture-perfect picnic, or enjoy the varying scenery along one of park's many picturesque walking trails. Enlist the help of a guide to explore the park's countless riches safely – it's the best way to ensure you see the best beaches, whimsical waterfalls and magnificent rockpools.
One of the most incredible views along the Grand Pacific Coast Drive will be unveiled while cruising along the 665-metre-high Sea Cliff Bridge. Take in the sweeping coastal outlook from the car or park your vehicle and take a stroll along the Bridgewalk. You might even spot resident sea birds and manta rays. To catch this famous bridge from a different angle, head up to Bald Hill Lookout.
At Symbio Wildlife Park, you will see all your favourite Aussie animals as well as a large range of amazing exotic animals, which include cheetahs, ring-tailed lemurs, red pandas, meerkats and monkeys. After working up an appetite, enjoy the juicy spoils of a fruit-picking experience at Darkes Glenbernie Orchard, where nectarines and peaches begin to flourish from mid-November, while apples are from late January to the end of April.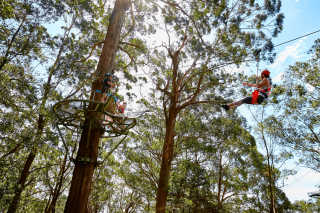 For thrill seekers, Wollongong is the place from which to jump out of a plane, if you are so inclined. Considered one of the country's premium skydiving spots, you will never forget flying gracefully towards the magical Wollongong coastline with Skydive Sydney - Wollongong. Alternatively, soar above the rainforest on a zipline tour or treetop walk at Illawarra Fly Treetop Adventures.
Back down on earth, Wollongong's ocean pools are the perfect way to soak in the salt water. Favourites include Coalcliff, Woonona, North Wollongong and Austinmer. Refuel at Diggies Café, where breezy brunches are served surfside for the ultimate in coastal chill. Steamers Bar & Grill is another waterfront favourite, the extensive menu featuring the likes of in-house dry-aged beef and wild-caught seafood, or try award-winning eatery, Lagoon Seafood Restaurant.
Further south, marvel at the architecture, art and culture of Nan Tien Temple, the largest Buddhist Temple in the Southern Hemisphere.
---
Days 5 – 6: Kiama via Shellharbour | 35 minutes from Wollongong
Itinerary: See the spectacular blowhole in Kiama – surf in Gerringong or Gerroa – bushwalk in Budderoo National Park – stay in luxury at Shoalhaven Heads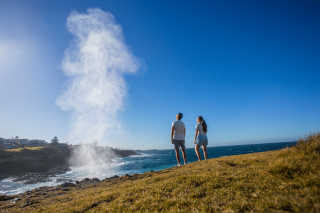 Small yet mighty, Shellharbour is another seaside escape well worth the stopover. Just 25 minutes' drive from Wollongong, Shellharbour offers a range of activities – think: surfing, golfing, rainforest walks, fishing, boating, scuba diving – but is equally suited to doing not much at all.
A little further south, Kiama is also sure to impress with its natural wonders, seaside dining and laidback atmosphere. The Kiama Blowhole is truly a sight to behold – the natural rock formation dramatically shoots seawater into the air, sometimes as high at 20 metres! You'll find the blowhole along the beautiful Kiama Coast Walk.
Surf culture is ingrained in Kiama and surrounds with Gerringong, Werri Point and Gerroa delivering some of the best surf breaks in the country. For beginners, the surf at Seven Mile Beach offers a gentler introduction to the sport. If horse riding is more to your liking, Bangalay Luxury Villas at Shoalhaven Heads can arrange an unforgettable beach ride. Why not stay a while? As well as luxe accommodation, Bangalay Luxury Villas offers innovative coastal dining with a menu that celebrates local and native ingredients.
Ready for a change of pace? Bushwalkers will love it here, too, with Budderoo National Park ripe for exploring. The subtropical backdrop of Minnamurra Rainforest worth seeking out. On the eastern edge of Budderoo, tumbling waterfalls and resident wallabies, platypuses and king parrots will leave you in awe.
Don't leave without a meander down Kiama's main street. Peppered with quaint cafes and boutiques, there are plenty of ways to spend an afternoon in this laid-back seaside town.
---
Days 6 – 8: Shoalhaven Coast including Jervis Bay | 1 hour, 12 minutes from Kiama
Itinerary: Embark on one of the hiking trails in Booderee National Park – go swimming at the white sand beaches in Jervis Bay – spot bottlnose dolphins and humpback whales at Jervis Bay Marine Park – try a fresh Sydney Rock Oyster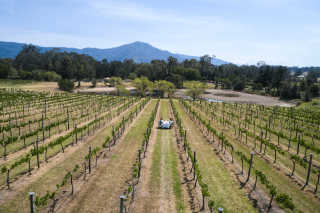 White-sand beaches, turquoise waters and incredible marine life – this is the Shoalhaven Coast. A 100-mile stretch of the New South Wales South Coast, which includes the natural wonderland of Jervis Bay, the Shoalhaven boasts some of the country's dreamiest landscapes.
Coolangatta Estate is a flavourful pitstop in the Shoalhaven region. The five-star winery, which also produces its own beer and cheese, offers various tasting experiences from the beautiful cellar door. Alternatively, drive further inland to Cambewarra Estate Winery for an exquisite high tea experience in a giant tea cup.
At Booderee National Park, in Jervis Bay, expansive forests sit beside glorious beaches with numerous hiking trails to set you on the path from A to B. The Munyunga waraga dhugan walk is a great introduction to Booderee, not only for the abundant flora and fauna, but also for the indigenous culture and history you will discover – there is a wealth of information signposted along the route. The White Sands and Scribbly Gum tracks in Jervis Bay National Park are also popular choices.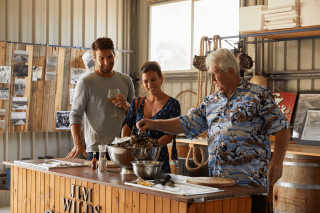 One of the major drawcards is the 100-or-so resident bottlenose dolphins often spotted at Jervis Bay Marine Park. Plus, between May and November, dolphins share the spotlight with humpback and southern right whales as they migrate south. Fur seals and little penguins are also common here, as are kangaroos – on land, of course. At night, keep an eye out for the rare natural wonder of bioluminescence at night when the sea glows from marine-life producing light.
Swimming, stand-up paddle boarding and kayaking are all popular activities in the Shoalhaven region, where some of the world's whitest beaches can be found. Compare shades of white at gems such as Murrays Beach, Honeymoon Bay and Hole in the Wall Beach. For foodies, don't miss the indigenous – and delicious – Sydney Rock Oyster. The South Coast is sprinkled with oyster farms. Try Jim Wild's Oysters at Greenwell Point – one sample of these plump morsels and you'll be hooked.
---
Days 8 – 10: Southern Highlands | one hour, 42 minutes from Jervis Bay
Itinerary: See the Bradman Museum in Bowral – indulge in a tasty donut in Berry – dine at an award-winning restaurant in Berrima – visit one of the 60 wineries – paddle down the river in Kangaroo Valley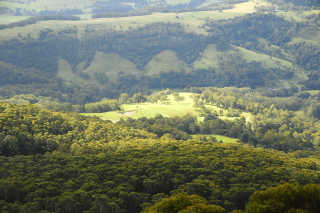 It's time to head back to Sydney, but not without travelling via the beautiful Southern Highlands for a taste of quintessential country charm. Located about 70 miles south of the capital, the Southern Highlands is a haven for nature lovers and epicureans alike. It's a year-round beauty, but the autumnal aesthetic is not to be missed.
The historic town of Bowral is one of the region's most popular spots, thanks to an inviting collection of cafes, a treasure trove of homewares and antique stores, and sprawling gardens. The Bradman Museum and International Cricket Hall of Fame is also located in Bowral and includes a vast collection of Don Bradman memorabilia, arguably Australia's favourite sporting hero. Bowral Beekeeping is another key attraction, offering regular workshops and experiences, including do-it-yourself honey harvesting.
Neighbouring Berrima is another highlight, renowned for shopping, dining and village vibe. Consider an overnight stay at The Loch, especially if truffle is to your liking; seasonal truffle experiences are available. Still in Berrima, award-winning restaurant Eschalot has been a favourite for 20 years, creating incredible flavours from the freshest local produce. Speaking of fresh, farmer's markets are held across the region, including in Bowral, Berrima and Moss Vale. Then there's the Famous Berry Donut Van, a local institution serving delicious fresh cinnamon donuts. You can't stop at one!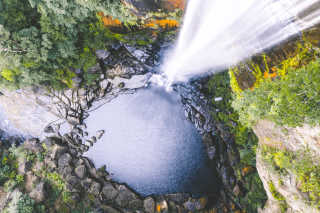 A Wild Food Adventures tour will allow you to explore regional flavours in even greater depth, whether you'd rather 'Paddle, Dine and Vine' in the quaint Kangaroo Valley (complete with a canoe excursion), or embark on a mushroom hunt with a master forager.
The Southern Highlands sure knows how to throw a party, with numerous festivals held across the year. Admire the curated display of around 75,000 tulips, nestled among spring blooms and cherry and magnolia trees, at Bowral's annual Tulip Time festival (September/October), or visit in June for Pie Time, a celebration of the humble, yet scrumptious pie.
Meanwhile, there are more than 60 wineries in the Southern Highlands, where cool climate varieties are consistently impressive. Centennial Vineyards is one to add to the shortlist. The French Provincial-style cellar door creates the perfect atmosphere for a cosy tipple, while the sustainable practices are worth supporting. If you like your wine tasting with a side of olive oil pressing, PepperGreen Estate is the place for you.
Before you leave, lock in one last wildlife encounter at Morton National Park, where the spectacular sights of Fitzroy Falls and Belmore Falls will make a lasting impression. Plus, the resident wombats, wallabies and echidnas will bid you the cutest farewell.
---
Are you ready to hit the road to discover the best experience of Grand Pacific Coast and Southern Highlands? Start planning your next journey and find your flight tickets straight away at CheapTickets.sg.
---
Want to read more about driving around the world?