Hong Kong Budget Under 400
Hong Kong Budget Trip Guide - Travelling under $400
Do you love dim sum? Do you love cities with skyscrapers? Do you love to shop? If your answer to all these questions is a resounding YES, then Hong Kong is a fantastic choice for your next budget friendly holiday. With so much to offer tourists, Hong Kong is the perfect city for a short getaway to escape the routines of your daily life and enjoy some quality time with your partner.
1. Cheap Flights to Hong Kong (from as low as $250)
The first part of your trip planning for your upcoming trip to Hong Kong will definitely be searching and booking your flights to Hong Kong. The key to getting cheap flights are to keep an eye out for special deals and promo fares. CheapTickets.sg offers you the best fares and prices and a smooth booking process, whether you're on your laptop, tablet or smartphone. Another important tip to getting cheap flight deals is to start searching for your flight well ahead of time, for Hong Kong, we recommend you to book your flights at least 6 months in advance so you can get the most savings. As it's a popular destination for Singaporean tourists, prices tend to go up closer to the date of travel so book in advance to keep your budget in good shape.
2. Cheap Hotels in Hong Kong (from as low as $150 for a three-night stay)
Whenever you visit Hong Kong, you'll notice that there's a wide range and a great variety of hotel accomodations for every type of traveller. From five-star luxury hotels to boutique establishments to budget accomodations like hostels, guest houses, small inns and simple no frills hotels, we're sure that you'll be able to find exactly what you're looking for.
CheapTickets has done our research and would like to feature these hotels that offer you a great value for money stay in Hong Kong (from as low as 150 SGD for a three-night stay). The first hotel on our list is 3D Inn Hong Kong - Romance, a cozy guest house, located near iSquare, Harbour City, Kowloon Park and the Avenue of the Stars. This great location makes it easy to go around and explore the sights and sounds of the city. 3D Inn Hong Kong - Romance is rated as a top favourite for couples on a weekend getaway.
Also located near Tsim Sha Tsui, is another popular guesthouse for budget travellers, Hong Kong Premium Guest House. Apart from its simple no-frills accommodation, it's offer the convenience of 24 hour concierge and front-desk service, so if you need some advice, just give them a call. This guest house is popular for a getaway with friends and family.
Or if you are travelling solo and prefer to make new friends by staying at a hostel with fellow backpackers, we'd suggest you stay at Beepackers - New Comfort Hotel, also located in the great location of Tsim Sha Tsui. Beepackers is also located near a 7-11, so you'll be able to get some late night snacks and beer to share with your new buddies. Beepackers is also a short walk from the airport bus stop, which is one of the most affordable ways to get to and from the Hong Kong International Airport.
Alternatively, if you're looking to stay at another great location, Timehouse, which is owned and operated by the Hong Kong Hostel Group, is an excellent choice for budget travellers wanting to stay in the Causeway Bay Area, one of the most lively spots in Hong Kong Island.
Search and compare hotels at CheapTickets.sg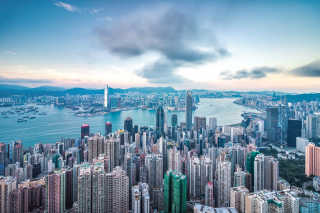 3. Cheap and Delicious Food in Hong Kong
Hong Kong has an amazing selection of food at every price point, ranging from Michelin star restaurants offering fine dining to simple neighborhood coffee shops offering a piping hot bowl of wanton mee or a bamboo basket filled with delicious dim sum. Houston Street, more commonly known as Food Street is one great location for foodies to head to. A small street hidden in the busy business area, you'll find many budget options here, from noodle shops to small cafes to dim sum establishments.
Another popular choice for foodies is Stanley Market, one of the most popular markets in all of Hong Kong, and you'll find a great selection of vendors selling delicious street food. If you wish to save money on alcohol, don't go to a bar and instead head to a 7-11, like many of the locals do, and get an inexpensive bottle of beer to relax and unwind after a long day of eating and shopping.
4. Sightseeing and Attractions in Hong Kong
Even if you're on a tight budget, there are many sights and attractions that you can visit in Hong Kong for free. One of the top things to do as a budget traveller is to get in touch with nature and hike up a trail for great views of the surrounding city landscape. The most popular trails are the spectacular hike up to Victoria Peak or the trail leading to the Po Lin Monastery. Both these iconic attractions are free to visit as well. If you're looking for more challenging trails that have less tourists, then, check out Lantau Trail, Maclehose Trail and the Wilson Trail.
If you're looking for a short break amidst all the shopping and eating, visit Hong Kong Park for some respite. You can also visit the aviary there to see many rare and exotic birds. On Wednesdays, the Hong Kong Museum of History is free for visitors, and here you can trace the history and developments of this bustling city.
When night falls, you just have to head down to the Victoria Harbour to watch the amazing Symphony of Light show. It's a free attraction, so head down an hour before the show starts at 8pm to get a good spot and get your cameras ready. A great viewing point is along the Avenue of the Stars at Tsim Sha Tsui.
5. Shopping in Hong Kong
Hong Kong is well known the world over as a shopper's paradise and there's an endless variety of things to buy here. Good news is that there is no sales tax, and with high competition of having so many shops located near one another, you'll often find great bargains if you take the time to seek them out. The two most popular areas for fashion in the city are typically Tsim Sha Tsui and Causeway Bay, but you'll find smaller boutique shops as well as malls scattered all across the city as well.
For true shopaholics who love the bustle of a lively street market, you just have to visit the Ladies Market, a 1000 metre long stretch filled with hundreds of street shops, offering everything from t-shirts to decorations to bags and handicrafts. The best time to go is in the night time after dinner, where you can really feel the energy of the place.