How Does Wi Fi Even Work On The Plane
How does Wi-Fi even work on the plane?
Do you dread it - the lack of internet while in the air, especially during a long flight? According to research, 54% of passengers deem broadband connectivity to be more important than food - more than half of us are hungry for the internet than for food!
Luckily, here's a piece of good news: many airlines have since started to offer internet to travellers during their flights. Read on to find out all there is to know about internet on the plane!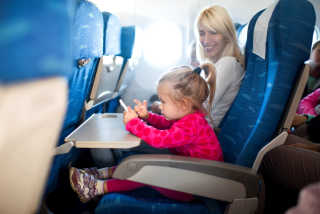 How does it work?
Enjoying internet access while exploring the skies at a height of 30,000 feet and above. How is that even possible?
Basically, we use 2 types of internet connections while on the plane. When flying above the seas, satellite connection is available through the network of orbiting satellites nearby, allowing conversion into a Wi-Fi signal within the aircraft. Conversely, air-to-ground based networks are used instead when flying above land, sending signals into the aircraft from cell tower transmitters.
How is the quality of the Internet?
What about the Internet speed? Is it truly worth it to give up your in-flight meal in advance for the supposedly uninterrupted Facebook updates? Internet speed found aboard planes is definitely not as fast as on land, but you can still use it to continue Whatsapp conversations, engage in email correspondences and even idly scroll through Instagram. Unfortunately, tasty Netflixing is not yet available for many airlines, although some do offer stream packages. Yet, since 75% of passengers do not mind a slow Wi-Fi connection, so long as it remains reliable, seems like most of us will be satisfied as long as our Facebook timeline is able to load with our favourite memes.
How can I see if there is Wi-Fi during my flight?
When searching for flights, CheapTickets.sg will indicate if there is internet available onboard your flight. In the flight search results, you can view the in-flight services offered for each available flight in your selected route. In addition to WiFi availability (indicated by the network symbol in the middle), the amount of legroom provided is also displayed.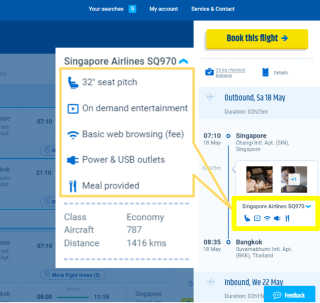 Likewise, you can check if there is an in-flight entertainment system, an outlet or USB connection and if in-flight meals would be catered during your flight.
Which airlines offer Wi-Fi on board?
In response to this growing demand of having the world at our fingertips, many airlines have started to offer in-flight Wi-Fi services. Below, you will find a small selection out of the many other airlines that offer in-flight Wi-Fi, either for free or for a fee. Do remember to check in advance through the website of the airline you are flying with for Wi-Fi availability!
Recognized as the World's Best Airline in 2018, Singapore's flag carrier is not without its world class amenities. Priced Wi-Fi plans are readily available and complimentary Wi-Fi sessions are given to Business, Suites and First Class travellers, as well as PPS Club members.
This giant of an airline offers in-flight Wi-Fi on many flights. Currently, all travellers can enjoy up to 20MB of free Wi-Fi within 2 hours of logging in to their network. On the other hand, upon logging in with their membership number, Emirates Skywards members get to enjoy either free Wi-Fi or lower priced data plans, subjected to their member tier and cabin class. Members travelling in Business or First Class are entitled to unlimited in-flight Wi-Fi - a true luxury!
You can also use in-flight Wi-Fi when flying with Turkish Airlines, albeit for a fee. If you have a short flight, you can opt for a Wi-Fi package, which costs USD$9.99 per hour. Alternatively, passengers onboard longer flights can choose the 24 hour package priced at USD$14.99. For those flying in Business Class or are a Miles & Smiles Elite or Elite Plus member, you can enjoy the Wi-Fi service for free.
Note: Rate is correct as of April 2019.
If you fly with United Airlines, to or within America, you can pay for the use of in-flight Wi-Fi while onboard. You can even take out a subscription if you wish to! Prices start at a monthly rate of USD$49 aboard America regional flights and USD$69 for global flights. Frequent fliers can also opt for the yearly subscription going at USD$539 for America regional flights and USD$689 for international flights.
Note: United Airlines has restrictions on their support for selected streaming services (Netflix, YouTube, Hulu, HBO, etc.) and Wi-Fi provision when flying over certain regions.
Note: Rate is correct as of April 2019.
As Germany's flag carrier, Lufthansa offers in-flight Wi-Fi on both long and short flights. Onboard short haul flights, you can select from 3 types of internet services: Flynet Message (€3), Surf (€7) or Stream (€12), all differing in speed and streaming service access. On long haul flights, passengers can choose from yet another 3 kinds of internet services: Flynet Chat (€7), Mail & Surf (€17) or Mail & Surf Plus (€29), all differing in speed and streaming service access as well. Members have the choice to pay with award Miles too!
Note: Rate is correct as of April 2019.
---
Do you belong to the 54% who prefer the Internet over a meal while flying? Now you know which airlines to look out for - so why wait? Book your flight today.
---
This article is adapted from CheapTickets.nl.