Packing tricks to save space in your suitcase/luggage
Packing tricks to save space in your suitcase/luggage
If you know a few packing tricks to save space in your suitcase/luggage, you can make travel an easier and more enjoyable experience. Deciding what comes with you on your travels and what stays at home isn't always easy. Don't be overwhelmed. With these simple packing trips, you can ensure your most prized possessions don't get left behind.
How to pack your suitcase
1. Roll your clothes
2. Place shoes at the bottom of your suitcase
3. Wear your largest items
4. Make a list
5. Avoid luggage pouches
6. Plan to launder clothes
7. Don't leave it until the last minute
8. Use soft-sided luggage
9. Buy toiletries on arrival
---
1. Roll your clothes
Rolling clothes can help you to save a little space in your suitcase. However, you will probably need access to an iron when you arrive at your destination. Place garments that tend to crease easily at the bottom of your case — flat out. Identify which clothes don't crease, and roll them into cylinders. Thin garments such as T-shirts can be rolled up in groups of five or six.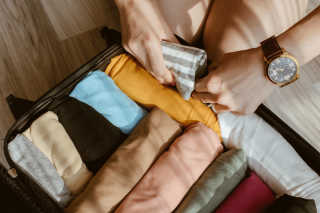 2. Place shoes at the bottom of your suitcase
The first thing you should always pack is your shoes. As long as your shoes are clean, you can pack your clothes around them. But don't forget to utilise the space inside your shoes — which is perfect for socks, ties and other small items.
3. Wear your largest items
Bulky items such as coats and sweaters take up an enormous amount of room in the average suitcase. You can save a lot of space simply by wearing these larger items when you travel. Of course, this depends on the weather conditions at the time. If it's hot, consider carrying your jumper or coat, as these items don't count as part of your carry-on allowance on flights.
4. Make a list
Before you pack anything, make a list (or simply just checkoff the items from our packing list) of what you're going to need for your trip. Start by adding only the essentials to the list. Once you've packed these items, you'll know how much room you have for luxury and non-essential items. This will leave you with a list of must-have items you can return to every time you travel.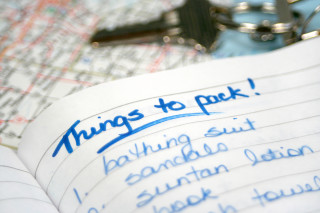 5. Avoid luggage pouches
The average item of luggage features a range of storage pouches, designed for items such as hairdryers and electrical equipment. But beware: using these storage areas can make your luggage bulkier than it needs to be. Instead look for gaps and crevices in the main area of your luggage.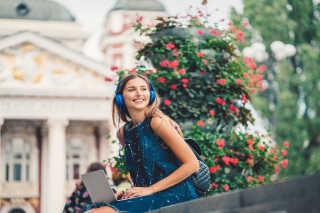 6. Plan to launder your clothes
If you can wear everything in your luggage twice, you might be able to halve the amount of clothing you need on your travels. Washing your clothes while you're away might allow you to do this. However, you'll need to plan ahead. Are there laundry facilities in your hotels? Is there a laundromat where you're going? Does your hotel offer dry cleaning services?
7. Don't leave it until the last minute
Hurried, last-minute packing often leads to overpacking. And this can increase the chances of an excess baggage charge at the airport. Start the packing process at least a week before you travel. If certain configurations don't work, you'll have time to try different ones. For example, your shoes might use less space if they're packed in a different place. You might be able to save some room by folding your shirts differently.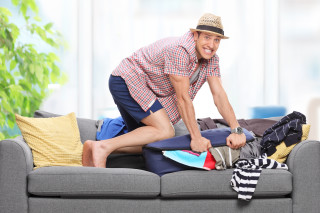 8. Use soft-sided luggage
A hard suitcase might provide a little extra protection for fragile items, but it won't leave much room for excess stuff. There's very little give in the average hard suitcase, which can be frustrating if you need to find extra space for that one extra jumper you want to take. A soft-sided suitcase, however, will expand to give you an inch or two extra space.
9. Buy toiletries on arrival
Some of the heaviest, bulkiest items packed in a suitcase are toiletries. Shampoo bottles, hair products and hygiene products tend to be large and heavy. Keep these items to a minimum. And if possible, buy them when you arrive at your destination. It's also a good idea to check if there are electrical products available at your accommodation. Hairdryers, straighteners, irons and other essential tools take up a lot of space in a suitcase. Planning ahead is essential when packing — and when travelling. Plan your next trip in confidence with the help of CheapTickets.sg, and ensure your travel plans aren't left to chance.
---
Want to read more travel tips?