Must Do Weekend Markets Down Under With Great Vibes
Weekends are best spent with a flat white in hand, wandering through weekend markets in Australia
Say what you like but there is absolutely nothing like spending your weekends with a flat white in hand while winding your way around a weekend market in one of Australia's vibrant neighbourhoods. Not only is it the perfect antidote to a big night out but it is also a great place to score a bargain, pick up a one-of-a-kind trinket and taste fresh pickings from a farmer's garden.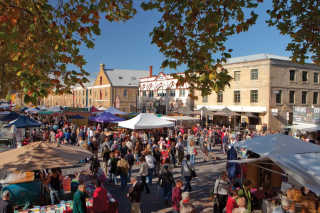 Salamanca Market, Salamanca Place
Credit: Tourism Tasmania and Hobart City Council
Here's the lowdown on where to get your coolest weekend market fix in Australia.
Carriageworks Farmers Market, Sydney
Take a less than 10-minute walk from Sydney's Redfern station, just outside the Sydney central business district (CBD), for a taste of organic and biodynamic foods at the Carriageworks Farmers Market.
Open every Saturday, this all-weather marketplace also sells fresh flowers, artisan cheese, freshly baked goods, local oysters and, of course, great coffee, which is sure to excite the Singaporean foodie in you. Bring your brightest mood and learn more about sustainable food practices from local farmers and producers who will be more than happy to tell you about them.
We've put together our favourite six markets in Sydney for your travel inspiration.
Salamanca Market, Hobart
Salamanca Market is one for the artsy crowd. Held every Saturday in the cobblestone square of Salamanca Place in Hobart, the market sells handmade Tasmanian pieces, from woodwork, to jewellery, glassware ceramics and souvenirs. Have a passion for fashion? Browse quality Tasmanian fabrics and a collection of quirky accessories to brighten your outfits.
Round off your weekend with delicious market delights from food stalls lining the market, including Smith's famous scallop pies, spit-roasted marinated lamb, apple chocolate and freshly roasted grounds good enough to satisfy the fussiest coffee snob. While there, pick up a jar, or two, of pure Leatherwood honey, sourced from the deep wilderness of Tasmania. This locally produced honey makes a fabulous, healthy spread, which can be drizzled on toast for a yummy snack. Alternatively, mix it into your tea as a delicious natural sweetener.
Old Bus Depot Markets, Canberra
Travelling to Canberra? Be sure to visit the Old Bus Depot Markets at Kingston Foreshore on the southern shore of Lake Burley Griffin. Open every Sunday, the Old Bus Depot Markets has more than 200 stalls selling art, homeware, clothing and accessories alongside some excellent regional produce and wine. Lunch here is a local tradition, so fuel up for the day with a delectable spread featuring wood-fired bread, alpine berries, cheese and gourmet jams. Then, wash down these yummies with a delicious cuppa!
Setting the Old Bus Depot Markets apart from other weekend markets is its 'Themed Sundays' tradition. Most Sundays carry a theme, with stalls rotating according to the topic of the day. To experience specialty or themed stalls, mark these days down: Multicultural Sunday is held on every first Sunday of the month, Designer Sunday on every third Sunday of the month and Collectable Sunday on the fourth Sunday of the month. Pick the Sunday that best tickles your fancy and have a blast!
Wondering what else you can do during your trip to Canberra? Check out our top picks here.
Want to make sure you get the best deal on your trip to Australia? Book with CheapTickets.sg now to help you save more and travel more. Enjoy!