Must Visit Places With Your Bff In Korea
18 Must-Visit Places with your BFF in Korea
The most fun way of experiencing Korea is with your besties! They understand your passion for shopping, your need for relaxation and health, as well as all those sweet cravings. Check out our top 18 to go with your best friends on shopping sprees, dessert shops to satisfy your sweet tooth, and spas where you can pamper yourselves.
1. Cafe Aboong, Seoul
Search cheap flights to Seoul>>
This cafe serves the upgraded version of bungeoppang, which is Ice cream bungeoppang. The fish-shaped delicacy is usually served during the cold months of fall and winter but now it has a summer option, filled with either ice cream or frozen yoghurt.
Address (Ewha Univ. Branch): 10, Ewhayeodae 2-gil, Seodaemun-gu, Seoul
How to get there: Get off at Ewha University Station (Seoul Subway Line 2) Exit 2, go straight and turn left at Ewhayeodae 1-gil. Then, go straight.
2. BIFF Square, Busan
Search cheap flights to Seoul>>
The square is lined with shops, movie theaters and an abundance of street food stalls and restaurants. It is also home to the ssiat hotteok, a variation of the normal hotteok, which is a popular street food in Korea. Hotteok is the korean style sweet pancake, usually filled with brown sugar, but the ssiat hotteok is stuffed with nuts and seeds.
Address: 20 BIFF gwangjang-ro, Jung-gu, Busan
3. Sulbing, Seoul
Search cheap flights to Seoul>>
One of the most popular Korean dessert cafés in Korea specializes in bingsu, a traditional shaved ice dessert, which can have many toppings, although the original is Milk Red-bean Snowflakes Sherbet. It is guaranteed to satisfy your sweet tooth!
Address: 22, Myeongdong 4-gil, Jung-gu | Namgyeong Bldg. 2F, Seoul 04536
4. Blind Alley, Seoul
Search cheap flights to Seoul>>
Korea is famous for it's uniquely themed cafes, which let you pet cats and dogs, or do crazy things. But did you know you can also go to a cafe and pet racoons? Take your best friend and head over to Blind Alley, where you can play with two fluffy racoons while sipping your drink.
Address: Yongsan-gu, Cheongpadong 2(i)-ga, Cheongpa-ro 47-gil, 76, Seoul
5. Remicone, Seoul
Search cheap flights to Seoul>>
This unique and bizarre shop is home to one of the most instagrammable desserts in Korea. Located on the ground floor of a shopping mall, the truck-lab shop offers the famous Thunder Bomb, a vanilla ice-cream with minty cotton candy and pop rocks which will entertain your senses. Although they have a great menu of ice creams, you have the option to customise your own.
Address: 547-12 Sinsa-dong, Gangnam-gu, Seoul
6. Penguin Macaroon, Seoul
Search cheap flights to Seoul>>
Penguin Macaroon was the first ice cream shop to offer macaroon ice cream sandwiches in Korea. The delicious macaroon ice creams are made fresh every day and come in five flavours: green tea, fresh cream cheese, strawberry, banana and chocolate. Just make sure you get there early if you want to get one, because long lines form as long as it opens.
Address (Daehangno Main Branch): 258-15, Changgyeonggung-ro, Jongno-gu, Seoul
How to get there: Get off at Hyehwa Station (Seoul Subway Line 4) Exit 4, go straight for 50 meters and turn right.
7. Myeongdong, Seoul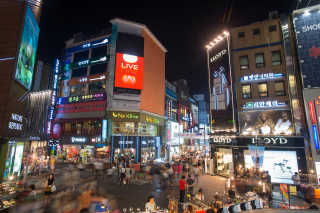 Search cheap flights to Seoul>>
With the amount of shopping areas and market in Korea, it would be a shame to not go on a shopping spree. Myeongdong is only one of the paradises for shoppers, although it is the largest and 'hottest'. You can get there skincare and cosmetic products, as well as clothes and fashion items.
Address: Myeongdong-gil, Jung-gu, Seoul 서울특별시 중구 명동길 (명동1가)
How to get there: Go to Myeong-dong Subway Station by taking the Seoul Subway Line No. 4. One of the shopping streets begins there.
8. Lotte Department Store, Seoul
Search cheap flights to Seoul>>
Another place with an array of skincare and cosmetic brands is the Main Branch of Lotte Department Store. They carry all the famous brands and you can get discounts on many products. You and your friends can stock up on your favourite beauty products without paying a fortune. How great does that sound?
Address: 30, Eulji-ro, Jung-gu, Seoul 서울특별시 중구 을지로 30 (소공동)
9. Namdaemun market, Seoul
Search cheap flights to Seoul>>
Namdaemun is the perfect place to get lost and land your hands on a bargain item. The traditional market offers a variety of objects, including stylish clothing items at reasonable prices.
Address: 21 Namdaemunsijang 4-gil, Namchang-dong, Jung-gu, Seoul
10. Goto mall, Seoul
Search cheap flights to Seoul>>
Gangnam Terminal Underground Shopping Center, often called "Goto mall" in short, is home to over 600 stores. You can find almost anything here, from clothing and fashion accessories, to flowers and cosmetics. It is frequented mostly by locals so the prices are much lower compared to Myeongdong.
Address: Seoul, Seocho-gu, Banpo 4(sa)-dong, Sinbanpo-ro, 지하 200
11. Hongdae (Hongik University Street), Seoul
Search cheap flights to Seoul>>
Hongdae is full of fashion shops and a great place to visit, known for its youthful and romantic ambience, underground culture, and freedom of self-expression. Apart from the local designers' fashion shops, it has unique cafes and clubs, cozy galleries, accessory stores, art markets, and gourmet eateries.
Address: Eoulmadang-ro, Mapo-gu, Seoul 서울특별시 마포구 어울마당로 일대
12. The Shinsegae Centum City Department Store, Busan
Search cheap flights to Seoul>>
Seoul is not the only city boasting of shopping opportunities. Busan is home to the Shinsegae Centum City Department Store, registered in the Guinness World Records as the largest shopping complex in the world. Here you can find countless items all under the same roof. But don't worry if you feel exhausted after a shopping session, the complex has 22 spas to choose from.
Address: 35 Centumnam-daero, U-dong, Haeundae, Busan
13. Spa Land, Busan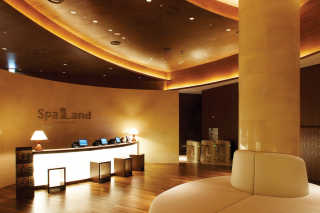 Search cheap flights to Seoul>>
Located in Shinsegae Centum City, Busan, Spa Land can offer you all the benefits of a traditional Korean Spa, and more. The 22 spas are there for you to relax after a long day of shopping. Spend some quality girl time with your best friend in one of their traditional Korean 'Jjimjil-bang' or opt for a traditional sauna from around the world. You can experience the ancient roman bath, recreated using modern technology in the heat-based 'Roman Sauna,' or the all natural traditional Finnish Sauna.
Address: 35 Centumnam-daero, U-dong, Haeundae, Busan
14. Sulwhasoo Flagship Store & Spa, Seoul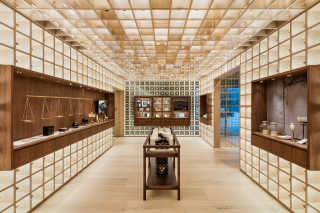 Take your girls to the Sulwhasoo Flagship Store & Spa to be pampered with unique Korean herbal medicinal techniques in a treatment rooms filled with natural sunlight and relaxing music. Located in Gangnam, the beauty uses methods inspired by Asian traditions which will awake your five senses.
Address: 18 Dosan-daero 45-gil, Sinsa-dong, Gangnam-gu, Seoul
15. Aquafield Jjimjil Spa
Search cheap flights to Seoul>>
Aquafield Hanam is a high-end modern spa facility with endless possibilities to heal your body and mind. Here you can become one with nature in the cypress room, get a 360-degree panoramic visual pleasure in the media art room, have fun with vapors in the cloud room, vitalize your skin in the salt room, or refresh yourself in the charcoal room.
Address: Starfield Hanam 3F-4F, 750, Misa-daero, Hanam-si, Gyeonggi-do
How to get there (there are two ways): Option A: from Jamsil Station (Seoul Subway Line 2), Exit 7. Walk approx. 1 min. to Jamsil Bus Stop → Take Bus No. 9302 to Starfield Hanam Parking Lot Bus Stop Walk approx. 1 min. to Starfield Hanam.
Option B: from Paldang Station (Gyeonggui-Jungang Line), Exit 1. Walk approx. 1 min to Paldang Station Bus Stop → Take Maeul Bus No. 50 to Starfield Hanam Bus Stop → Walk approx. 2 min to Starfield Hanam.
16. Tea Therapy, Seoul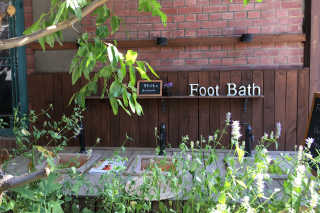 Search cheap flights to Seoul>>
Turning away from the conventional concept of a tea shop, Tea Therapy offers not only healthy tricks for home-brewed tea,s but also a relaxing foot bath experience. The healing restaurant has many products promising to reduce your stress, prevent colds, help you lose weight and cure your hangover. Give it a try and see the results yourself.
Address: 16, Eonju-ro 173-gil, Gangnam-gu, Seoul 서울특별시 강남구 언주로173길 16 (신사동)
17. We Wellness, Jeju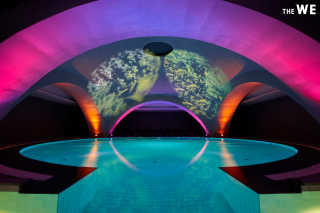 Search cheap flights to Seoul>>
Head over to the We Hotel Wellness Center and have your dream bath that will rehabilitate both your mind and body. Located in the in the midst of the pure forests of Jeju, the health resort offers also outdoor activities such as yoga, trekking, and hiking, apart from their wellness facilities which use water rich in minerals.
Address: 453-95 1100 Ro, Seogwipo Si, Jeju Do
18. Healience Seonmaeul, Gangwon
Healience Zen Village is a place for rest and rejuvenation. Healing and science are combined to create the base for healthy food and training. It is more than a simple resort offering programs which can help you live a healthier life by improving your life habits.
Address: 122 Jongjasan-gil, Seo-myeon, Hongcheon-gun, Gangwon-do
If this post has inspired you to visit South Korea, be sure to check out CheapTickets.sg for travel deals including a $30 off coupon for return flights from Singapore or $100 cash rebate for flight+hotel deals!
This post is brought to you by CheapTickets.sg and Korea Tourism Organization