Nature in New Zealand: top 10 must-do activities
Nature & wildlife in New Zealand
New Zealand has unique wildlife and it's full of natural spectacles. It's one of the few places in the world where you can experience mountain vistas, ancient forests, volcanic landscapes, and spot its amazing wildlife, all in the space of one day. Here are the top 10 nature & wildlife must-do activities in New Zealand.
Top 10 nature & wildlife activities in New Zealand
---
1. National Parks
Across the North and South island, you can find up to 13 national parks. These parks showcase more than 30,000 square kilometres of natural scenery, which you can explore by foot, boat, car or by air. New Zealand's national parks are treasured and preserved, as they represent the country's natural heritage. It is said that while exploring the national parks you will begin to understand the soul of this place.
Some national parks you must visit are: Tongariro National Park, Mount Aspiring National Park, Aoraki Mount Cook National Park, and the Paparoa National Park. But if you have the time to visit all 13 national parks, you should, as they are all unique and breathtaking.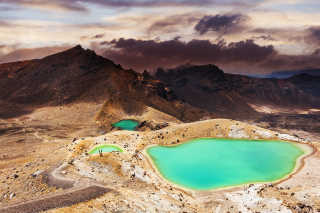 2. Volcanic and geothermal activity
One of the best things about New Zealand's nature is the volcanic and geothermal activity. This creates amazing experiences where you will feel the heat of the earth under your feet and be able to relax in a unique environment. For the ultimate experience of volcanic and geothermal activities go around the Rotorua areas, which stretches to the mountains of Tongariro National Park.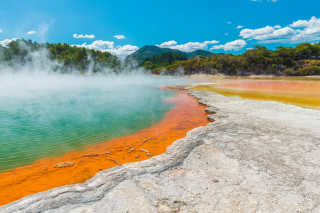 Rotorua is a volcanic wonderland with incredible geothermal attractions, with the Pohutu Geyser which erupts to a height of 30m up to 20 times a day. You can also walk around the free thermal reserve, where you can find public gardens, mud pools, colourful hot lakes, and free thermal foot pools. If you're looking for something more private, try a luxurious thermal spa, where you will be able to relax and rejuvenate while being surrounded by nature.
3. Stargazing
Clear, dark skies with unique celestial features, that's what you can expect after watching the sun setting in New Zealand. As most of New Zealand has no light pollution and is home to some of the most accessible observatories in the world, you can enjoy some of the best stargazing experiences here. For the best stargazing experiences visit Mount Cook, which is home to the darkest skies in the world, and one of the best stargazing sites on Earth. Visit the Dark Skies Sanctuaries which offers stargazing packages for individuals or groups including "Dining with the Stars".
If you travel to New Zealand during winter (June, July, August), you might even be able to see the Southern Lights. These lights are seen mainly in the southern half of the South Island, around Lake Tekapo, Dunedin, Queenstown, Southland and Stewart Island. Ready to catch the symphony of colour that is the Aurora Australis? And if you do go during winter, join the Māori people in celebrating Matariki, which is the Māori New Year. Some of the celebrations include light shows on the Auckland Harbour Bridge or at Te Papa Museum in Wellington.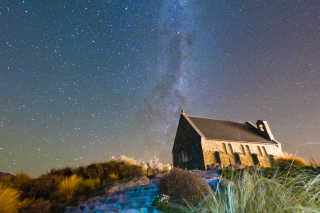 4. Glow worms caves
Another magical nature activity in New Zealand are the glow worms caves. Only three hours away from Auckland you can find the Waitomo Caves, which is one of the best glow worm experiences in the country. Enjoy a boat ride underground to experience the magic of thousands of these tiny creatures lighting up the cave roof above you.
You can also find these glow worms throughout the country, often spotted in damp, overgrown places. So book your guided night trip, by kayak, hike or boat, and enjoy these little magical creatures.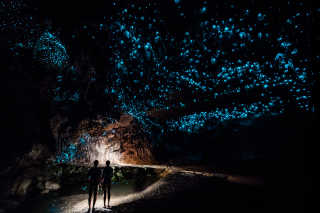 5. Whale watching
All throughout New Zealand you are able to spot whales, including Auckland's Hauraki Gulf and Kaikoura. The beautiful Hauraki Gulf Marine Park in Auckland is full of a diverse range of rare and exotic ocean life. Here you can find the critically endangered Bryde's whale, as well as over 25 of the 37 southern hemisphere marine mammals.
On the east coast of the South Island, you can find Kaikoura, one of the only places in the world where you can easily see sperm whales, which can be seen all year round. Orca (killer whales) may be seen from December to March, and humpback whales in June and July. Plus if lucky, you might also be able to see several dolphin species swimming with the whales in the area.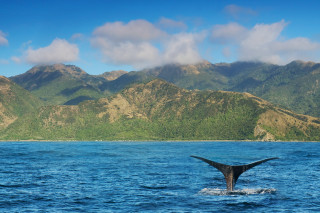 6. Dolphins
One of the country's best experiences is swimming with one of New Zealand's many dolphin species. Of the species, there's the common dolphin and the large bottle-nosed dolphin which can often be more than three metres in length, but don't worry they're very gentle. There's also the smaller dusky dolphin which is less than two metres long but very playful, and lastly there's the Hector's dolphin, one of the world's smallest and rarest dolphins found only in New Zealand's waters. So remember to book your boat trip during your trip to New Zealand to be able to play and swim with dolphins.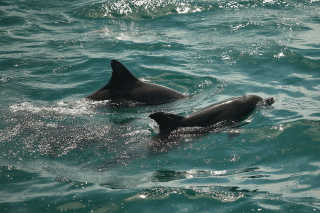 7. Penguins
Now it's time to be charmed by little amazing birds, New Zealand's penguins. Here you will be able to find 3 different species of penguins: the koroa (little blue penguin), the rare hoiho (yellow-eyed-penguin), and the Tawaki (the Fiordland Crested Penguin).
The koroa is the world's smallest penguin, and you can find them usually when they come ashore at night, in the Marlborough Sounds, Akaroa Harbour, Oamaru, Dunedin and Stewart Island. The rare hoiho is called rare because of its vivid yellow eye band, and can be found on the Otago Peninsula, just south of Dunedin and round the Catlins region. And lastly, the Tawaki, one of the world's rarest penguins, can be found in the South Island and is found in rainforested areas of Haast, Lake Moeraki, Stewart Island and Fiordland.
8. Seals
To complete your marine wildlife experience, you must go watch the seals. You can take a walk along some of the rockier parts of New Zealand's coastline, where you will find a group of fur seals basking, one could even say they're getting their tan on. New Zealand's fur seals are easily recognizable with their pointy nose, long whiskers and visible ears.
You can also take a kayaking trip around Tonga Island in the South Island's Abel Tasman National Park where you'll see seals, dolphins and penguins. Or in places around Westport and Kaikoura you can even enjoy a guided seal-swimming experience! This is the best way to emerge yourself in the seals' natural habitat.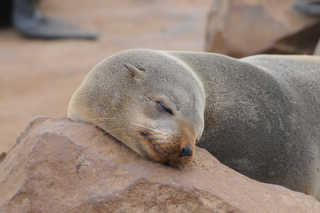 9. Bird watching
In New Zealand you will be able to find some of the world's most unique birdlife, making it a bird-watchers' paradise. The must see bird is the kiwi, New Zealand's national emblem. This bird has an extremely long beak and plumage that is more like hair than feathers, and even though is an endangered species you can see kiwi birds at wildlife enclosures throughout the country.
You should also be in the lookout for the warbling tui, the flittering piwakawaka (fantail) and the large and lumbering kereru (native wood pigeon). And if you're going bird watching along the shore, you can see the only mainland breeding colony of royal albatross in the world.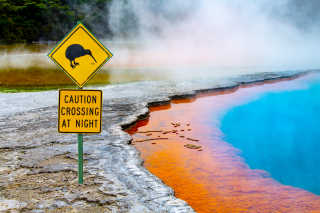 10. How to protect New Zealand's wildlife when travelling there
Before travelling to New Zealand there are some things to know to help the ecosystem, as many of the unique plant and animal species are endangered. Here are some little tips to follow to help New Zealand's nature & wildlife:
Give wildlife space: when trying to watch animals in their natural habitat, keep a distance of at least 20 metres. If you get too close, some animals like the seals and sea lions can panic and start a stampede, putting you and them in danger. You should also keep an eye for bird nests, the dotterel or black gull can nest directly on the beach so it's important to steer clear to avoid damaging their nests, eggs and chicks.
Don't feed the birds: New Zealand's native birds aren't adapted to human food, so feeding them can make them sick, and even kill them. So please try to resist the temptation to feed them. Some birds are even good at begging for food and even stealing it, so also try to keep it in a place hard to reach and be careful when wanting to get a snack during a hike.
Keep your shoes clean: many Department of Conservation walking tracks provide disinfectant and scrubbing brushes to clean your shoes before the start of a hike. Because of the Kauri dieback disease, is really important that you clean your shoes thouroughly, to help prevent the spread of the disease.
Help pest-free sanctuaries stay pest-free: before visiting predator-free islands, or islands that are becoming pest-free, you need to make sure that your gear and clothes are pest-free. Search your gear for pests such as rodents and insects, even ants can be a danger to the sanctuary.
Support sustainable wildlife operators: by choosing sustainable tourism operators you are helping to support conservation efforts. Some operators even doante a portion of their fees to environmental protection and conservation projects.
---
Now that you know a bit more about New Zealand's nature & wildlife and how to protect it, are you ready to experience it? Book now with CheapTickets.sg and get our best flight deals to be able to see New Zealand's wildlife in it's natural habitat.
---