New South Wales Food and Wine Trail
New South Wales Food and Wine Trail
New South Wales is renowned for its world-class food and wine. Embark on the spectacular New South Wales Food and Wine Trail and you'll soon understand the hype. The 354-mile return trip starts in the cosmopolitan city of Sydney – where you can experience the vibrance and multiculturalism through its variety of cuisines and many flavours. As you travel further away from the city, the culinary scene will delight you with local and fresh produce, magnificent wines, and award-winning restaurants and cafes. Meet the talented chefs, winemakers, producers and growers as you indulge your taste buds during this stunning road trip.
🛣️Route: Sydney > Blue Mountains > Orange > Dubbo > Mudgee > Sydney
🚗Total distance: 570 kilometres / 354 miles
⏲️Total drive time: 7 hours
---
Days 1 – 3: Sydney | Arrive via Sydney Airport
Itinerary: Dine at award-winning harbourside restaurants – taste fresh seafood at the Sydney Fish Market Climb – sample Asian flavours in Chinatown – try local wines and gins at inner city wineries and distilleries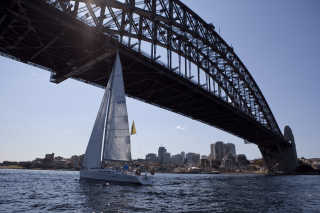 Sydney is famous for incredible beaches, unique landmarks and a buzzing culture, but the glittering state capital is also home to an exceptional culinary scene. Thanks to its stunning harbour, waterfront dining is a speciality and plenty of establishments can offer a side serve of international icons – think views of Sydney Harbour, Sydney Harbour Bridge or the Sydney Opera House.
Don't forget to pay the Sydney Fish Market a visit. It's renowned for freshly caught seafood, exceptional water views and unmatched buzz created by some of the city's local fishermen and their biggest catches.
Still on the water, Darling Harbour offers mouth-watering global flavours across its catalogue of eateries. Alternatively, visit the newly-developed harbourside precinct, Barangaroo, which is brimming with casual and refined eateries and bars.
Pick up fresh produce at the vibrant Carriageworks Farmer's Market, where more than 70 farmers and artisan food producers sell their delicious jams, breads, fruit, nuts and spices. With two Sydney locations, Paddy's Market is an institution, where you will find a huge variety of stalls, from food and fashion to gifts and gadgets. The Haymarket location sits right next door to Chinatown, renowned for irresistible Asian flavours and a bustling atmosphere.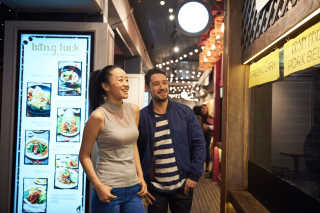 For shopping of a different kind, Sydney's CBD is full of excellent options. Westfield Sydney offers more than over 250 fashion, food and lifestyle stores, while the historic Strand Arcade is adorned with Australian designer labels, jewellers, gift shops, eateries and more. In nearby MidCity, the KitKat Chocolatory offers the unique Create Your Break experience, giving chocolate lovers the chance to design, buy and eat their own eight-row bar. There are 30,000 possible combinations, each delicious and utterly Instagrammable.
If the neighbourhood feel is more your style, be sure to check out the restaurants, cafes and bars of chic inner-city suburbs Chippendale (don't miss Spice Alley), Newtown and Surry Hills. Sydney is also dotted with amazing inner-city wineries such as Urban Winery in the Entertainment Quarter, and distilleries, including Archie Rose (Rosebery), Brix distillers (Surry Hills) and Manly Spirits (Brookvale).
---
Days 3 – 5: Blue Mountains| 1 hour, 30 minutes (Sydney to Leura)
Itinerary: Visit the famous Three Sisters in Katoomba – ride a cable car on the world's steepest railway – hike the beautiful bushland trails – shop in pretty Leura – drink a selection of ciders in Bilpin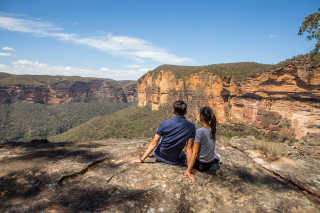 With its bushland backdrop, remarkable views and charming villages, the Blue Mountains is a popular weekend destination for Sydneysiders. The UNESCO heritage listed region is just 90 minutes' drive from the capital and full of foodie delights, particularly in the townships of Leura and Katoomba.
Between meals, immerse yourself in the scenery. A great place to start is Scenic World, the ultimate open-air adventure and home to the world's steepest railway. From here, you can spot the famous Three Sisters, an incredible rock formation that is sure to leave you in awe. One of the most photographed spots in Australia, Katoomba Falls is another must-see, while the Katoomba Falls night-lit walk is free and offers a unique and memorable viewing experience. Don't leave without making your way to Echo Point lookout to catch panoramic views of the Jamison Valley and Three Sisters.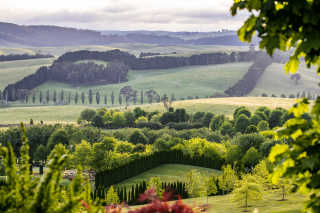 In the western foothills of the Blue Mountains, Lithgow is a good base from which to explore the region's many artisan producers, as well as its natural wonders. The Jenolan Caves, Australia's largest cave system, are a sight to behold, while Oberon's Mayfield Garden is a 16-hectare marvel complete with hidden grottos and waterfalls.
Leura village is one of the Blue Mountains' most charming townships, whether you stop in to dine, shop or simply wander the streets. Spring is a particularly attractive time of year with the cherry blossoms in full springtime bloom, while Autumn is just as pretty with hues of orange and burgundy. Meanwhile, the Blue Mountains' art and culture scene is abuzz with street art, galleries and a great schedule of events and festivals. In Katoomba, look out for the water tank art.
Hillbilly Cider Shed will offer a warm welcome, thanks to its selection of delicious woodfired pizzas and award-winning beverages. Non-alcoholic options are available. If a traditional morning or afternoon tea is more your vibe, the scones at Everglades Historic House and Gardens are light and fluffy. For those with a sweet tooth, make a pitstop at The Lolly Bug, where you will find a huge, colourful candy selection, as well as the most tasty handmade fudge.
Recommended restaurants around Blue Mountains 🍽️
Canton Palace
Just minutes from the Three Sisters, Canton Palace in Katoomba has been delivering some of the region's best Asian food, including traditional Chinese and Malaysian dishes.

Bubbletent Australia
For a truly unique glamping experience, stay at Bubbletent Australia, which overlooks Capertee Valley, the second largest canyon in the world.
Optional pitstop: Bathurst | 47 minutes from Lithgow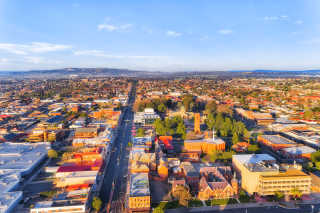 Beautiful rural scenery and a rich heritage await in Bathurst, as well as a bounty of delicious local produce. Held monthly, the Bathurst Farmer's Market is a showcase of fresh, locally grown foods. Indulge in a hearty breakfast or lunch at Harvest Café & Store, which captures the vibrant Central Tablelands harvest on its menu. For contemporary Italian cuisine, Vine & Tap is excellent, or eccellente. As well as a historic site, The Beekeeper's Inn houses a café, brewery, and farm shop, packed with local produce including, of course, honey. Just 15 minutes' drive from town, Vale Creek Wines offer wine and craft beer tasting in the charming cellar door.
To explore the natural wonders, head to Abercrombie Karst Conservation Reserve – it's a spectacular sight, featuring not only the largest natural arch in the southern hemisphere –but also many richly decorated caves. Then there's Grove Creek Falls, where tranquil waters meet sheer cliffs and tumbling falls.
---
Days 5 – 7: Orange | 1 hour, 37 minutes from Lithgow or 43 minutes from Bathurst
Itinerary: Take a winery tour – see the alpacas at Heifer Station – shop at the local farmer's market – dine at an award-winning restaurant in Millthorpe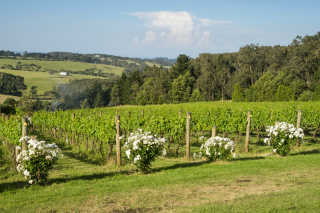 Not only one of the state's top gastronomic destinations, Orange is celebrated nationally for its contribution to the culinary scene. From award-winning restaurants and trendy cafes to exceptional wineries and popular food festivals, this Central Tablelands town is a foodie's haven.
Home to more than 60 vineyards and wineries, wine tours and tastings are a popular pastime in Orange. The family-run Ross Hill Wines is one of many great options for a winery tour and tasting. The sustainable operation produces a number of quality varietals, while the quaint cellar door is a converted apple packing shed. Heifer Station is another popular choice. The cellar door is full of country charm and the site is also home to a farm-style petting zoo with alpacas. Tucked beside Mount Canobolas on the slopes of the Towac Valley, Borrodell Estate is the place for great wine, great views and, if you're keen, great truffle hunting.
It wouldn't be a foodie hub without a decent Farmer's Market and Orange certainly delivers on that front. Or perhaps you'd rather collect from the source, in which case, fruit picking at Hillside Harvest is for you. During summer and autumn, berries, apricots, peaches, plums, nectarines, and various varieties of apples are ripe for the picking, while cherry season runs from October to December.
As for dining, you'll be spoilt for choice with The Agrestic Grocer, Charred Kitchen & Bar, Groundstone café, and the award-winning Tonic Restaurant in nearby Millthorpe.
When you've stretched your stomach to its limits, you won't be short of entertainment. Orange has great boutique shopping, from fashion to homewares and art galleries.
Optional detour: Cowra | 1 hour, 12 minutes from Orange
Central New South Wales is full of surprises and there are plenty of small towns for an exciting detour. One such destination is Cowra. The pretty-as-a-picture village has beautiful Victorian streetscapes and, in September, the Cherry Blossom Festival. You're also in luck in October when Cowra's canola flowers are in bloom, while the Japanese Garden and Cultural Centre offers year-round bliss. Work up an appetite on a heritage walk, before wining and dining at Quarry Restaurant and Cellars.
---
Days 7 – 8: Dubbo | 1 hour, 46 minutes from Orange or two hours, 32 minutes from Cowra
Itinerary: Visit the famous Taronga Western Plains Zoo – explore sacred sites on an Aboriginal tour – learn about the Royal Flying Doctors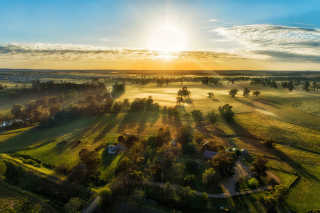 Dubbo is a vibrant regional city, with a rich history, incredible architecture, rich Aboriginal heritage, and one very famous zoo. In fact, the Taronga Western Plains Zoo is home to hundreds of rare and endangered animals, and also offers accommodation by way of African-style lodges, self-contained cabins, or camping.
To learn about Aboriginal Australia and explore sacred sites, you can't go past First Lesson Cultural Tours, hosted by Senior Wiradjuri Elder Peter Peckham. The Dubbo Observatory offers an awe-inspiring glimpse at planets, stars and galaxies via its state-of-the-art telescopes, including the new 17-inch beauty.
On the dining front, Grange at Hermitage Hill, located 35 minutes out of town, is worth the drive, while oenophiles will want to taste test the wines of Red Earth Estate Vineyard.
---
Days 8 – 10: Mudgee | 1 hour, 30 minutes from Dubbo
Itinerary: Visit the famous Taronga Western Plains Zoo – explore sacred sites on an Aboriginal tour – learn about the Royal Flying Doctors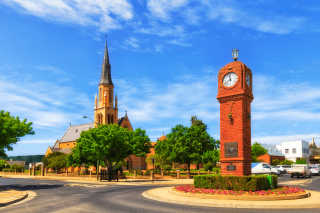 Like Orange, Mudgee is recognised for its incredible food and wine offering. Home to 60 wineries and 35 cellar doors, Mudgee is full of character with its beautiful rural vistas and dynamic food scene.
The high street is not surprisingly an attraction in itself as the wide, tree-lined street features historic buildings, boutiques and cafes. Don't forget to catch the view after dark. The country skies are a treat for stargazers, whether you are simply looking up or enjoying the view from the Mudgee Observatory.
For divine spirits, head to Baker Williams Distillery, where the award-winning range includes gin, whisky, liqueurs, and butterscotch schnapps. For beer lovers, Mudgee Brewing Co. will keep your thirst quenched with local ales rotating through eight taps.
You are sure to dine well in Mudgee, thanks to the likes of The Zin House, Lowe's acclaimed winery restaurant, and 29 Nine 99, where you'll be more than satisfied by the aptly named yum cha. Fancy a hands-on experience? Catering to all skills levels, The Little Cooking School will help sharpen your culinary skills, while showcasing local produce. Speaking of local produce, Mudgee Honey Haven sells local honeys, jams, sauces and syrups, and much more.
From Mudgee, it's a three-hour, 28-minute trip back to Sydney, where you'll probably find yourself hungry again and ready to sample some more delicious New South Wales produce!
---
Are you ready to hit the road to explore the best culinary experience of New South Wales? Start planning your next journey and find your flight tickets straight away at CheapTickets.sg.
---
Want to read more about driving around the world?