Northern Territory Top Five Places Outdoor Lovers Should Pack Up And Go Visit
Northern Territory - Top 5 places outdoor lovers should pack up and go visit
If you're already a nature loving soul this list will have you gleaming with excitement. If you're not yet accustomed to the outdoors, this Top 5 list might just get you started. Being out in nature is a well known stress-buster, and even if you are already a total zen master, could you resist once-in-a-lifetime shots of crocs in the wild?
Here's our top 5 outdoorsy list.
1. Aboriginal rock art in Nourlangie in Kakadu National Park
The rock arts at these two places are a glimpse into the past life of the aboriginal people. Some of the paintings are up to 20,000 years old.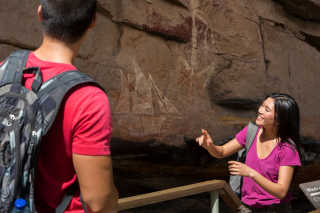 In Nourlangie, you can take an easy 1.5km circular walk through what was used as a shelter from storms by the Aboriginal people. Much of this walk is wheelchair accessible, with helpful information boards to provide some context to the paintings you see. During the dry season (May to October) park rangers even provide informative talks about Aboriginal art and culture several times a day.
Extra adventure tip: Continue to a moderately steep climb to Gunwarddehwardde lookout, to enjoy impressive views of Kakadu's escarpment and Nourlangie Rock.
2. Meet the saltwater crocs of the Yellow Water Billabong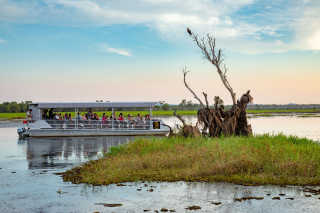 Isn't Billabong that surf brand….? It is, and being Australian, the brand name was likely inspired by the natural features in Australia. A billabong is a lake that fills up during the wet season and dries out during the dry season.
Tourists cruise in the wetlands here hoping to see catch a glimpse of crocodiles but they are also home to many birds as well with whistling ducks and magpie geese commonly spotted. Crocs are the world's largest living reptiles and capable of unihemispheric sleep, which involves shutting down only one half of their brain at a time, keeping the other half alert to danger. To put it simply, they can sleep with one eye open!
For anglers, you could even try a cruise just for fishing Northern Territory's famous barramundi. And if the catch is of legal permitted size, the fish is yours to keep!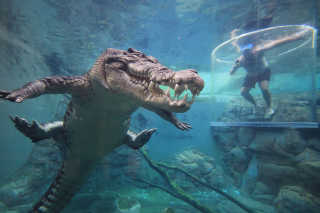 Extra adventure tip: Swimming with saltwater crocodiles is a no-no. But at the Cage of Death at Crocosaurus Cove in Darwin city, you can safely swim within a see-through cage in the same pool as the crocs. Nevermind the cleverly marketed name 'cage of death', this activity is a wonderful chance to get up-close at these magnificent prehistoric creatures.
3. Gunlom Plunge Pool - A refreshing dip into the cool waters
This clear rock pool is accessible by a 2 km return walk. Forget hotel infinity pools, nature's own is here with its own naturally formed infinity-edge plunge pool akin to swimming at the edge of the earth. Bring your lunch, while time away and hangout here for a peaceful afternoon.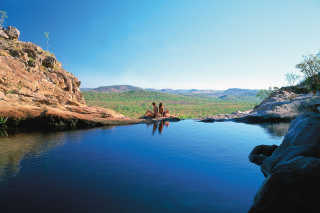 For those who want more time in this paradise, there are campgrounds where you can pitch your own tents or park your campervans. Well maintained facilities such as showers and toilets are provided for some basic comfort in the wild.
4. Skydive - Freefall 12,000 feet above ground
All over Australia, skydiving is one of the top-rated activities to do thanks to the splendid scenery Australia boasts and also facilities with good regard to safety.
Most skydiving activities in the Northern Territory takes place in Darwin or Uluru. For coastal views of the sparkling blue sea, go to Darwin.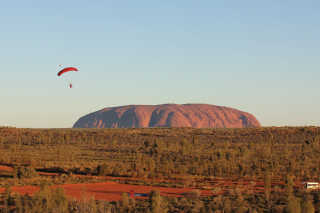 But for a unique view of the Australian outback, jump at Uluru, where you will have a bird's eye view of Ayers Rock. The natural red rock formation is impressive when seen from the ground, but when viewed from above, you get the full picture of its immense size, dramatically jutting out from the flat land.
The time in air only lasts minutes, but for many, every second of that memory is cherished forever.
4. Paddle to your own paradise at Nitmiluk (Katherine) Gorge
Slow down life with a relaxing kayak at Katherine Gorge and enjoy the 360 cinematic view of wildlife going through their day. While there are boat cruises here, being seated in a small kayak, perched right on the water's surface, provides an intimate feel of nature. Katherine Gorge is made up of 13 gorges, and some of the gorges can only be accessed by kayak, which means less of a crowd for you to jostle with.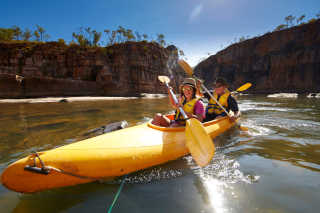 Plus did we mention paddling helps tone sexy arms? Only moderate fitness is necessary as all along the gorge you can take your own mini breaks checking out rock formations and shooting pictures of the scenery. Birds flying by and monitor lizards lazing in the sun are some of the common scenes greeting kayakers.
Extra adventure tip: Opt for an overnight experience, kayaking to a campsite to sleep under the stars.
All the places mentioned can be self-driven with car rentals from CheapTickets.sg. But if you'd rather leave the planning aside and just go along with a tour, there are plenty of tour-guided options for the places listed.
What are you waiting for? Book your next exciting Northern Territory adventure with CheapTickets.sg by 31 August 2019 and get up to $60 off.