Perth The Perfect Location For School Holidays
Perth: the Perth-fect destination for School Holidays
Perth & Western Australia are the best destinations for a school holiday getaway. Perth being a cosmopolitan city with natural beauty, and its surrounding having all types of different activities for you and your family to have a great time. Now that the borders are open again, Western Australia has much more to offer than before, even more for family activites! Here you can find the top newest activities to do during your next school holiday.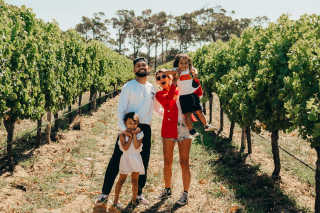 Perth
Perth, the capital of Western Australia, is a bit smaller than the other big cities in Australia, like Sydney or Melbourne, but that doesn't mean it has less attractions than the other cities. Like for example one of the largest inner-city parks in the world, Kings Park and Botanic Garden, where you can enjoy a nice picnic or barbecue while taking in the panoramas of Perth's city skyline and Swan River. You could also go to The Orchard for another attraction in nature. Here, not only you can fruit pick, but it has a nature playground for children to play around, as well as farm animal feeding and petting, picnic under the olive trees or relaxing time while having a coffee in the Golden Grove Cafe.
Instead, if you are looking for water activities, you could try one of the Sea West boat tours, where you can dine on the water, cruise with the dolphins, catch your own lobster, or even rent an eco BBQ boat. There are also multiple water activities to do for the more adventurous ones, like renting a waterbike and doing a tour across the Swam River, where you can pedal, glide and relax, perfect for family activities. Or you could do a kayak tour or a bike tour with GoGo Active tours, with different tours available of which you can choose the perfect one for you and your family.
And there are even more adventurous activities for those who dare do them, like The Ozone at Optus Stadium or the Margarup Zip + Climb. The Ozone is the newest activity at the Optus Stadium, where you can do Optus Stadium tours, or challenge yourself and go to the highest vantage point, where you can walk around or step off the roof and out of your comfort zone. And if you're not a soccer fan, Perth also has a new activity, the Zip + Climb. Here you can climb to the top of Perth's Matagarup Bridge and have the choice to zip back down or climb down the stairs. An activity perfect for adrenaline seekers!
And lastly, Perth also has various activities for those culture-, history-lovers. You could visit the WA Museum Boola Bardip where you can learn more about Western Australia's art, culture and their role in the world. For more contemporary culture, you can follow one of the many street art trails in Perth to experience this city's most exciting works. And lastly for a more historical tour, why not follow the Aboriginal cultural tour at Elizabeth Quay to inmerse yourself in Perth's cultural past and learn more about the beginnings of Perth.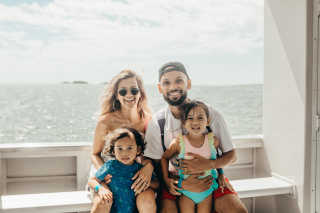 Fremantle
If you want to escape Perth, Fremantle is one of the best cities to visit. You can take one of Captain Cook's cruises along the Swan River from Perth to Fremantle. One of this beautiful port city's attraction is the World Heritage-listed Fremantle Prison, where you can experience the life of an inmate for a day. Here you can enjoy multiple different tours, inlcuding one explaining prison's history and how it became World Heritage-listed and a 'behind the bars' experience, perfect for children to experience.
And, believe it or not, Fremantle Prison is not the only World Heritage-listed building in Fremantle, there's also the The Round House, the oldest remaining intact building in Western Australia, The Fremantle Arts Centre, which was constructed in the 1860s by convicts, and the Fremantle markets, which was first opened in 1897. You can do all this with a walking tour, and if you don't want to visit all of the World Heritage-listed buildings, you must visit the Fremantle markets, which is not only a market but a playing space for children too! In this famous market you will experience Fremantle's history and heritage, as it's the ultimate market experience with over 100 years of experience.
Lastly, food-wise it's a must to try Cicerello's fish and chips at Fremantle Fishing boat Harbour. This is the home of fish 'n' chips, making it a Western Australia icon. At Cicerello's, they've spent more than 100 years mastering the dish, this is why trying their fish 'n' chips is a must when going to Fremantle.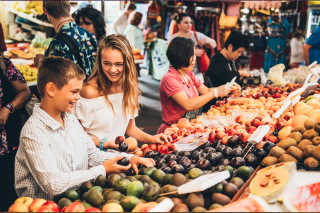 Rottnest Island
The Rottnest Island is a car-free island, just a couple of kilometres by ferry from Perth, you could take the Sealink's new Quokka III Ferry or one of the Harbour Master – Rottnest Fast Ferries to Rottnest Island from Perth. When getting there the first thing you need to do is to rent a bike, so you can travel through the island easily.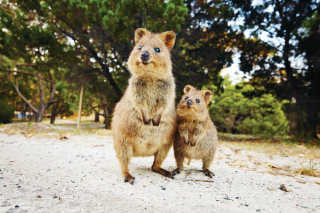 The island was named after a European visitor confused the quokkas for rats, hence 'rottnest' in Rottnest Island. But these quokkas have nothing to do with rats. Quokkas are very friendly and approachable creatures, as they are used to tourists, they are not afraid of humans, meaning that it's safe for children to be around them and play with them. The quokkas will welcome you with open arms, literally. But that's not all, at the West End of the island there's a seal colony! You can find from 10 to 80 New Zealand Fur Seals in the western part of the island around Cathedral Rocks. When approching this part of the island you do need to be a bit more careful with the seals than with the quokkas. These seals are very playful and curious and could come up to you to check you out. So it's better to be cautious and keep your distance, for that you can go up the viewing platform at Cathedral Rocks to watch the seals in their natural habitat.
Getting hungry after biking around the island? No worries! Rottnest Island has many different restaurants & cafés for you to enjoy a meal by the water. For a quick bite, you can go to Kalli's on Rotto, a lovely coffee caravan, or to The Lane Cafe, where you can find freshly squeezed juices, smoothies, acai bowls and a range of breakfast and lunch options. Or if you want a fuller meal, why not try out Frankie's Rotto, locate in the historic Thomson Bay Settlement, making it the best place to relax and soak in the island atmosphere, or sit down at the Hotel Rottnest's restaurant, to enjoy one of their signature cocktails and dishes inspired in the many memories that the island has provided.
If you are still not sure when to go to Perth, maybe this seasonal activities will help you choose! From August to the end of November/start of December is whale season, giving you the chance to go whale watching and see the majestic Humpback Whales on their annual migration along the Western Australian coastline. Or you could go from October to March and experience a seafod cruise with Rottnest Cruises, where you will be able to enjoy a delicious lobster, caught fresh from the ocean. Quite appealing, isn't it?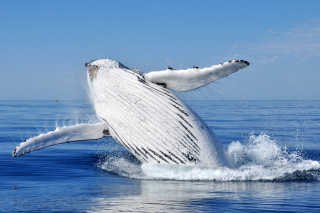 The Swan Valley
The Swan Valley, only 25 minutes away from Perth, is the place to visit world-class wineries, breweries, distilleries, gourmet artisan goods, bustling markets, and much more. To make it even more fun, you could jump in one of Captain Cook gourmet wine cruise from Perth city to Swan Valley, where you can enjoy the city's skyline as well as the beautiful picturesque landscapes. This is an amazing way to spend the day with your family as you cruise along the river and discover the Swan Valley in a different way.
The Swan Valley is the oldest wine region in Western Australia, meaning that is a must to visit one, or multiple, of its vineyards. If you don't know which one to visit, check out Mandoon Estate, who's desire it is to 'preserve the cultural and historical heritage of the property as well as demonstrate the full potential of the Swan Valley as a significant Wine producing region'. Here you are able to spend an nice and relaxing afternoon, or you can enjoy one of the amazing rooms and suites available.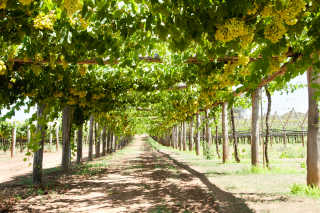 Apart from being famous as a wine region, through time the Swan Valley has decided to become much more. You can visit its beer & cider houses, where you can taste some unique tastes from their local craft beers. One of the most famous activities is the Cider and Ale Trail, this is perfect for the beer & cider lovers, as it's a trail that you can follow to visit all 11 of the breweries and cideries in the Swan Valley. So don't worry if you're not a wine fan, there are many beer & cider options for all types of beer lovers! And don't think you cannot visit the Swan Valley with children, this region also offers chocolate, coffee, honey and nougat tastings, perfect for children to try new things! The two must visit factories are the Mondo Nougar factory and the Windarra Honey! You can visit the Mondo Nougat factory, where you can watch from their special viewing are how this delicious sweet is made. There's also Windarra Honey, the longest standing honey provider in the Swan Valley. Beekeepers Phil and Liz, welcome visitors with open arms and are happy to share all their secrets about beekeeping and honey, plus they will also give you a free tsating of their delicious honey!
And lastly but not least, another must visit attraction in the Swan Valley is the Caversham Wildlife Park. Here there are many activities to do during your visit, like watching their daily farm show, or meeting the wombat and many other local animals from Australia. This is a perfcet place to go with your family and learn more about Australia's wildlife.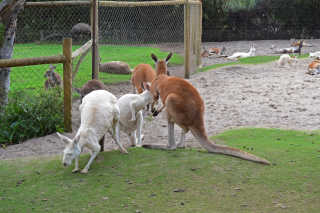 The Margaret River Region
The Margaret River Region is the perfect escapade if you're looking for something a bit further away from the city. Not only it has many activities to enjoy from, but it also has an immensely deep cultural knowledge and connection to the land, as it's home to the world's longest, unbroken human occupation.
One of the top activities to do is the Bike Swim Hike in the beautiful coastal town of Dunsborough. With this tour you'll get to discover four of Dunsborough's best beaches, while biking through the town and getting to jump in the water whenever you arrive to each beach. As the saying goes 'When in Rome do as the romans', well then when in Western Australia do as Western Australians, and for that you need to visit the Origins Market in Busselton. Here not only you can get the freshest local products made by Western Australian makers, but they also offer weekly workshops to learn to do as the locals, as well as unique events like celebrity chefs, gin masterclasses or long-table dinners.
For the most adventurer travellers, the Margaret River Region has some of the best hiking trails in Australia, like the Cape to Cape Track. This trail is 140 kilometres and can take up to 4 to 5 days to hike, but you can also choose shorter trails which are perfect for hikes with children. Or you could go to Busselton Jetty, the longest timber piled jetty in the southern hemisphere with 1.841km, which also has one of only six underwater observatories in the world. Here you can dive & snorkel, do canoe tours, undersea walks, and even whale watching depending on the season. The Margaret River Region also offers multiple limestones caves to visit for the ultimate underground adventure. You could go to Lake's Cave, Jewel Cave, Mammoth Cave, or Yallingup's Ngilhi Cave.
And as for accommodations in the Margaret River Region, farm stays are the best option, so you will be able to enjoy the culture as best as possible. There are so many farm stays in the region that it would be impossible not to find the perfect one for you and your family!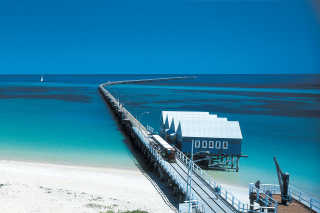 Coral Coast Highway
The Coral Coast Highway is 1,250km long, going from Perth to Exmouth, is one of Australia's Great Scenic Drives, and has been referred to as one of the greatest road trips on earth. This little road trip is perfect for families as there are so many stops to do along the highway that the time spent in the car is quick and short. When driving down the highway, it's a must to stop at the Kalbarri Skywalk to enjoy the breathtaking scenery of the Murchison River Gorge's rust-red cliffs, and there are even stargazing tours available to be amazed by a sky full of stars in Western Australia.
If you start this road trip from Perth, one of the first stops you should do is at Geraldton. Why, you may ask, well because from there you can jump on one of Abrolhos Adventures' boats for a day trip to the beautiful Abrolhos Islands. Here, not only you will be swimming in beautiful turquoise coloured waters, but the boat will be equipped for many activities to do when anchoring down, like snorkeling or stand-up paddling.
Another attraction along this highway is the Hutt Lagoon (a pink lake), which you can explore with Pink Lake Buggy Tours. This tour will not only show you the incredible pink lake, but will also teach you the history of the little fishing village, as well as the views of the stunning coastline that runs parallel to the lake on the opposite side of the sand dunes.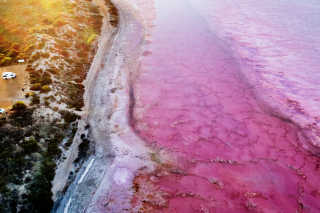 In under 3 hours drive from Perth, you can get to Nambung National Park, where you can do many different activities like surfing, fishing, bushwalking, and also picnics! But this is not what makes this park special. In the Nambung National park you can find the famous Pinnacles, which is one of Australia's most fascinating landscapes. These natural limestones structures were formed approximately 25,000 to 30,000 years ago and can be as high as 3.5m! The Pinnacles Dessert is Western Australia's most visited attraction, which means that you cannot miss it!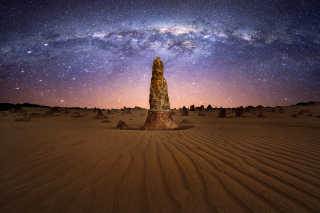 Something astonishing about the Coral Coast Highway is that all along the road there is a wildflower trail! So make sure to stop whenever you spot the flowers from your car's windows. You will be able to discover thousands of native wildflowers, including different orchid species, endless fields of everlastings, and the elusive wreath flower, making this highway one of the world's top wildflower destinations.
And your last stop should be at Monkey Mia, where you will be able to meet the dolphins! Renowned as one of the most reliable places for dolphin interaction in the world, dolphins come up to the shore at least 3 times a day, where they love to interact with humans and get fed. Normally you can see between four to seven dolphins in the shore as they come for the daily feeding, but up to 20 if you take one of the wildlife cruises available at Monkey Mia.
Wondering what's a good place to eat at during this road tri? Try out the Lobster Shack! Try the best lobster dishes along the Coral Coast Highway, and it's possible to see the factory where you will take a journey through the live lobster processing plant. But from the Lobster Shack there are also water activities available, like seal watching, lobster fishing, or even stand-up paddling while waiting for your food. Doesn't this sound like the best lobster experience?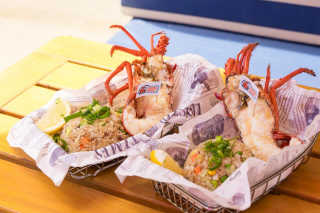 ---
Well? What are you waiting? Book your flight to Perth for an unforgettable school holidays getway for you and your family. Get the best deals with CheapTickets.sg and start this next adventure now!
---
Don't know where to go yet? Check out our blogs!