Plan Your Winter Escape To Mount Buller
Plan your winter escape to Mount Buller, Victoria, Australia
Melbourne is the capital of Victoria and the second most populous city in the whole of Australia. It has a reputation for being known as a city "that can experience all four seasons in one day". When it comes to winter, what is the first thing that will cross our minds? Yup, we heard you, it is snow.
Snow is an experience that is pale in comparison to other activities. So a lesson with the friendly team of instructors will have you making turns in style and is also a great way to learn your way around the slopes. Mount Buller, our recommended ideal destination to get away from the heat and instead wake up to snow-covered trees and sweeping views across the alps sound for a seriously good escape this winter. But first, book your cheap flight on Cheaptickets.sg.
How to get there
Getting to Mount Buller is a breeze: a three hour drive from Melbourne Aiport. If you are driving to Mount Buller and staying overnight, you will need to carry wheel chains by law. If you're visiting for the day, you may or may not need to carry chains depending on the snow and road conditions.
And if you don't plan to drive, you can also book a tour service that will whisk you to the slopes and take in the scenery.
There are 30 restaurants and bars to choose from with everything from traditional Austrian fare and high-end dining to hearty pub-food and family friendly pizza and pasta. When you are ready to fall into bed Mt Buller offers the most on-mountain accommodation of any resort in Australia and a picture-perfect alpine village nestled high up in the snowline.
Mount Buller offers something for everyone!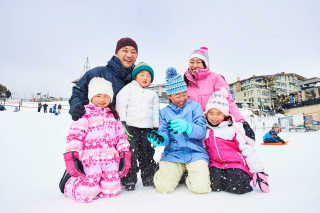 For families
FREE stay in June and September - up to 2 kids aged under 15 can stay for free at many accommodation houses
The Ski & Snowboard School is brilliant for kids aged as young as 3 years old with skilled and friendly instructors who make learning fun
For couples
Get romantic and escape the everyday on a Huskie tour, snuggle up in front of a fireside or with a long lunch while the snow drifts down outside
Unwind with a soak at the child-free alpine spa and get a couple's massage to ease those tired ski legs
For fun with friends
Pack more into your weekend with skiing and boarding and live music all under lights during Twilight Sessions in July and August.
Explore the slopes all day then enjoy the busy Village by night. Duck into a cosy wine bar then bar hop till your heart's desire!
What to wear in Mount Buller
During winter, it is best to dress in layers, with a waterproof outer layer to keep you dry. Waterproof pants and jackets are available for hire or purchase from a range of retail outlets in Mansfield and at Mount Buller.
A beanie or helmet is a must to keep your head warm and to keep you safe on the slopes. Do not forget your gloves, otherwise you will not be able to have such fun with frozen hands. A point to note would be that gloves and beanies cannot be hired due to hygiene reasons. Set a reminder on your phone now!
If you are staying overnight, it is recommended to bring sturdy boots for walking around and winter woolies to keep you warm if you were to head out to explore the nightlife.
The Mount Buller Village
The village square is the hub of Mount Buller having a wide variety of clothing and equipment, cafes and restaurants. There are also supermarkets, ATM and tourist information.
For lift and lesson passes, you can pick B-TAG lift and lesson passes at the Sale Yards Ticket office next to Cattleman's Café in the Village Square or up at the Ski & Snowboard School. You can skip the line altogether if you go online and pre-purchase your B-TAG. Click here for further information about booking lessons and lift passes.
What else can you do
You are free to choose from skiing, snowboarding, tobogganing, sled dog tours and snowshoeing, whilst off the snow you can visit the day spa, catch a movie at the cinema, hit the indoor rock climbing wall, head out on the Gnome Roam and much more. Mount Buller has two designated toboggan areas - one located in the day car park next to Celia's Kiosk and the other next to Alpine Central in the Village. Please note that tobogganing is only permitted on the two designated areas.
Enjoy your winter trip with the ease & convenience of a small-group beginning-to-end with snow tour service.

For an effortless travel for a day's escape yet far enough away for a holiday, why not book a tour.

How does the idea of spending a full day in snow sound like?
You can also check out their calendar if any for film festivals, food and wine shows along with skiing and snowboarding competitions.
What are you waiting for? Hurry over to CheapTickets.sg to start planning your trip to Melbourne and Mount Buller, and grab the best travel deals!