Things you should never pack in your checked luggage
Things you should never pack in your checked luggage
Nobody wants to have their vacation souvenirs taken away from them, and who wants to run the risk of fines and criminal penalties for breaching checked luggage rules? Making sure your luggage is above board and safe to fly is a key part of global travel. So let's run through the things you should never pack in your checked luggage and make sure your next travel adventure is free from luggage-related hassle.
---
Items that should NEVER appear in your checked luggage - period!
Let's start with a run down of the basic rules about banned items. These items are prohibited in checked luggage across the world, from China to Chile, and under no circumstances should you include them in your cases.
Fireworks and blasting caps are an obvious no-no, due to their propensity to explode.
Electronic lighters for e-cigarettes: Any items containing butane gas need to be removed, along with items containing compressed CO2 (although empty CO2 canisters can be carried, you will need to label these and the valves must be removed).
Alcoholic drinks above 70% ABV.
All firearms need to be declared and packed separately.
Loose bateteries/larger lithium-ion batteries: Laptops with batteries tend to be fine, but loose spare batteries aren't allowed and larger lithium-ion batteries are generally prohibited.
Chemicals like spray paints or turpentine.
Basically, if it can explode or catch fire, it's not something to include in your luggage. Check for detailed more information by the CATSA on what not to pack in your luaggage.
What are the rules about carrying alcohol in your checked luggage?
Many people like to pack alcoholic drinks as gifts or souvenirs during their travels. That's fine, and it's usually no problem at all if you want to transport drinks in checked bags. But some rules tend to apply no matter where you fly.
Less than 24% alcohol: Normally, there are no restrictions.
Between 24% to 70% alcohol: You will need to keep alcoholic drinks in their original packaging.
And above 70% alcohol: You won't be able to carry drinks at all.
There's also normally a capacity limit of 5 litres per bottle or container, but this applies only to alcohol contents above 24%. Keep to those limits and you shouldn't experience any issues. Additionally, it's possible to carry canned drinks in your checked luggage, although there will be a slight risk of the cans bursting - so pack them in watertight containers.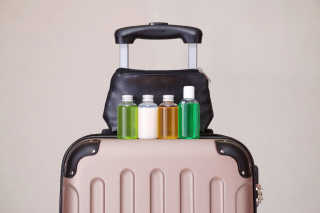 What are the rules about carrying other liquids in my checked luggage?
The basic rules about liquids are that if fluids can catch fire, there will be restrictions. If not, you can carry as much as you like in your checked baggage. In fact, Canada and many other countries instruct passengers to place liquid containers over 100 ml (3.4 ounces) in their checked luggage instead of carrying it on board. So measure your lotions or serums carefully before taking your seat. The main hazards regarding fluids involve leaks, so always separate them from clothes and fragile items via plastic bags or rugged waterproof containers. Otherwise, you're free to pack liquids up to your luggage weight limits.
Should I carry valuables in my checked luggage or take them on board?
Transporting precious and valuable items like jewellery and cash can raise the stress level of global travel. So should you carry items with you or check them into the airplane's hold? The short answer to this is that smart travellers don't check valuables. The sad truth is that thefts still take place from checked luggage across the world and many airlines will do nothing to help customers if their items are stolen. In the USA alone, the TSA deals with around 30,000 complaints about lost valuables every year. The frequency of luggage theft may even be rising, so keep valuables as close as possible.
What happens if I accidentally pack a prohibited item?
Sometimes all of us make mistakes when travelling the world. There are so many rules and regulations in place regarding what travellers can or cannot do that some transgressions are almost inevitable. But what happens if you contravene checked luggage rules and are discovered to have transported prohibited items? Unfortunately, some form of penalty will result, and these penalties vary from country to country. In the USA, the TSA can impose a fine of up to USD $13,910 per person for every rule violation. So if you transport three illegal bottles of spirits, that could incur a USD $40,000 fine. However, checked luggage violations tend to come with smaller fines in the region of USD $2,000. But in some cases (such as firearms or explosives) the fine is less important than the criminal referral. Nobody wants to be marched out of the airport in handcuffs, but it's possible if you get the checked luggage rules wrong.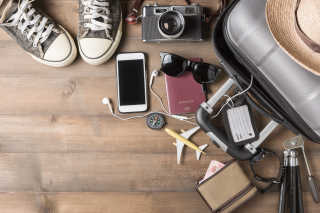 What about confiscations? Do I get my items back?
If you make a small mistake and accidentally transport a flammable perfume or an unmarked but high-strength alcoholic drink, there's no guarantee you will see it again if the authorities find out. Airport security staff tend to be very strict when removing dangerous items from luggage, with good reason. For example, CATSA guidance is very clear: If prohibited items are found during security checks, they will insert a 'Notification of Checked Baggage Inspection' and further information will be provided in the card. If items are found without the inspection card, the traveler should contact the airline directly to make a report.
As we've seen, getting checked luggage wrong can be a real problem. But the same applies to items that aren't illegal, yet should still be avoided in hold luggage. Valuables and liquids which could ruin clothes, or relatively fragile ornaments all need to be packed with care or carried on board. So be sure to pack 'smart' and double-check the rules.
If you're ready to travel, be sure to compare airline deals and book on CheapTickets.sg.
---
Want to read more travel tips?