Reasons Why Tasmania Is The Ultimate Wanderlust Destination
5 Reasons why Tasmania is the Ultimate Wanderlust Destination
From sparkling sapphire bays to fossil-rich limestone, Tasmania is brimming with natural wonders sure to take your breath away
It may sit near the bottom of the globe, but with a treasure trove of natural wonders, it is hard to imagine anyone resisting Tasmania's allure. Get bitten by the wanderlust bug as you explore more of what Tasmania has to offer.
Here are the top five reasons why the Apple Isle is the ultimate travel destination.
1. Wineglass Bay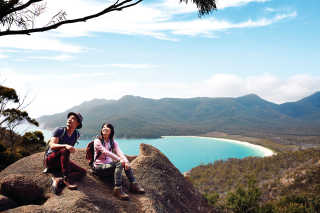 Located within the Freycinet National Park, Wineglass Bay, considered one of the top 10 beaches in the world, boasts a sparkling sapphire basin and a crescent of soft, white sand. For a truly spectacular view, take a short trek to the Wineglass Bay lookout. While the uphill walk might be a bit of a scramble, the view from atop is well worth the effort. There are many more short walks across the park, suitable for all. These mostly lead to secluded bays, beaches and bird-filled lagoons.
Adventurous travellers can try out the Freycinet Experience Walk, a four-day guided hike across the entire length of the peninsula. While on the walk, keep a sharp lookout for some of Tasmania's native animals in action. If you're lucky, you just might spot some native white-bellied sea eagles diving into the bay for food!
The bay's calm and clear waters also makes it the perfect location for those who enjoy fishing, sailing or simply soaking up the coastal scenery.
2. Freycinet Marine Farm
Food is the word on every Singaporean's lips. And with Tasmania's cool air and pristine waters, there can only be one thing on everyone's mind — seafood!
Taste some of Tasmania's freshest seafood at Freycinet Marine Farm, which rears everything from succulent Pacific oysters to Tasmanian Blue Mussels. For a truly immersive experience, the farm encourages visitors to sift for oysters straight from the waters. Just picture yourself ankle-deep in water and feasting on freshly shucked oysters!
3. Maria Island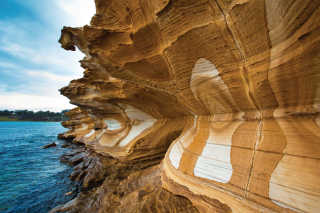 Immense, raw and awe-inspiring — that is what walking through Maria Island feels like. The world heritage national park, located in a mountainous island to the east of Tasmania, is a sanctuary of stunning historic ruins and dramatic cliffs — and a goldmine for Instagram-worthy pics.
Fossil Cliffs is a real-life Jurassic Park, containing fossils of ancient creatures that date back to 300 million years ago. Hunt for remains of extinct organisms like the Eurydesma, a giant thick-shelled clam, which can be found embedded in beds of rocks.
Another reason to visit Maria Island is The Painted Cliffs. This site is covered in beautifully patterned sandstone that comes in stunning shades of red, orange and yellow; sometimes all at once. Fishing for more "Likes" on your Instagram photos? This is the place to be.
4. Lavender Fields Forever
Sifting for travel ideas this December or January? Look no further than the world's largest commercial lavender farm, Bridestowe Lavender Estate, located in northeast Tasmania. Be mesmerised by rows and rows of gorgeous lavender bushes that form a colourful palette against the brilliant blue skies.
And don't just stop and smell the flowers, you can taste them too! The Woodcroft Café on the estate sells a range of lavender-infused desserts, like lavender fudge brownie and lavender ice cream, which you can enjoy while curled up on one of the farm benches or under a grand oak tree! Is there any better way to spend a fine summer's day?
Those looking to do a spot of souvenir shopping can purchase Bobbie, Bridestowe's resident lavender-filled teddy bear. Aside from its lovely colour and soothing lavender scent, these bears also make the perfect cuddle buddy.
5. Cataract Gorge Reserve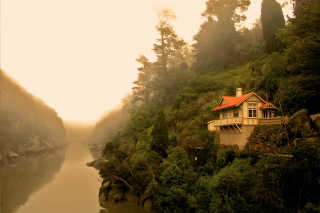 Located less than two kilometres from Launceston's city centre, Cataract Gorge, framed by an ice-cold river, bushland and cliffs, offers an escape from the buzz of city living. Interested in a walkabout? There are two walking tracks that straddle the gorge. Cataract Walk is level while the Zig Zag Track is steep. Both offer stunning, clear views of greenery and water.
If you are travelling with kids, the gorge offers a free outdoor swimming pool and barbecues for a lovely family outing in the summer. Be sure to take a ride on the world's longest single-span chairlift and keep a lookout for sociable peacocks, which can be found strutting about the gardens.
See more, do more, feel more with CheapTickets.sg!
To help you start your search, CheapTickets.sg has found great deals to a few of your favourite destinations!
What are you waiting for? Hurry over to CheapTickets.sg to grab these awesome deals now!