Singapore Airlines Hand Baggage Allowance
Singapore Airlines Hand Baggage Allowance
When flying, Singapore Airlines often has restrictions on how many pieces of hand baggage travellers can bring onboard with, how big, how heavy and what it can or cannot contain. As a treat, we have provided you with a guide on Frequently Asked Questions regarding hand baggage allowance - now, all you have to do is read on and be prepared for a smooth check-in for you!
Hand Baggage VS Check-In Baggage - aren't they both the same?
Also known as Cabin Baggage, Hand Baggage are typically your smaller bags filled with your more personal items (camera, laptop) that you are allowed to carry onboard the plane with you. You will then stow these hand baggage in either the storage compartment above your seat or place it under the seat in front of you.
On the other hand, Check-In Baggage would be your bulkier and bigger suitcases that you will check-in with the check-in counter before your flight. You will then collect these luggage at the baggage belt at the airport upon your arrival.
Frequently Asked Questions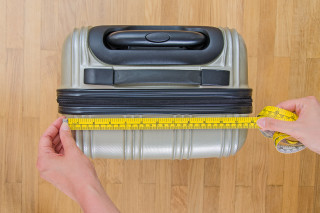 How many bags can I carry as hand baggage with Singapore Airlines?
Additional Items allowed onboard:
Besides your cabin baggage, passengers are allowed to carry one of the following items onboard Singapore Airlines' flights as well: Handbag, Camera/ Camera bag, Laptop in bag and Infant amenities (< 6kg).
Note: Do check Singapore Airlines's website for the full list.
All bags mentioned as additional items should not exceed the total maximum dimensions of 80 cm each (sum of length, width and height). If it is bigger than the stated size limit, this item will be counted as a cabin baggage and travellers will have to either check-in their hand luggage or the additional item.
What is the maximum weight of my hand baggage?
How big can my hand luggage be?
Total maximum dimensions are measured as the sum of length, width and height of the hand baggage:
What happens if my hand luggage exceeds the weight/ size limit?
Singapore Airlines will conduct cabin baggage checks at check-in and prior to boarding the plane. At check-in, if your hand baggage exceeds these limits, it will be collected and stored in the aircraft cargo compartment. You may have to pay additional baggage charges, should the combined weight and size of your luggage exceed your free checked baggage allowance.
Tip: If you are concerned about exceeding the weight/ size limit, you can ease your mind by pre-purchasing additional baggage allowance online at discounted rates of up to 25%*! Do take note that these prices differ for non-US and US routes, so do check out Singapore Airlines's website before purchasing.
What can I not bring along with me in my hand baggage onboard Singapore Airlines?
Prohibited & Restricted Items
Prohibited items are not allowed to be carried in both checked and hand baggage. Some examples include: explosives, flammable liquids, replica toy guns and Meals-Ready-to-Eat.
Restricted items are not allowed to be carried in cabin baggage but can be placed in checked baggage instead. Some examples include: knives, water toy guns and devices with spillable batteries.
Please visit the Singapore Airlines website for a full list of restricted and prohibited items, of which include the handling of lithium batteries, E-cigarettes and personal transportation devices.
Food Items
Some countries have strict restrictions on the types and amount of food item you can carry in your luggage, so do remember to check with the relevant authorities before arrival!
When flying with Singapore Airlines, besides following Singapore Food Agency's (SFA) guidelines, staff may restrict passengers from bringing onboard food items deemed as offensive to other travellers (example: food items with strong smells). Durians are not allowed in both hand and checked baggage.
Should you have any further questions, feel free to contact your local Singapore Airlines office.
When travelling with infants (aged 7 days to under 2 years old) onboard Singapore Airlines, it is not mandatory to purchase a separate seat for the infant as they are able to travel on your lap. Do note that only one baby per passenger is allowed to travel on lap. Babies with a separate purchased seat will be required to have an approved child restraint device (car-type child seat/ child harness).
In addition to your standard cabin baggage allowance, you may carry onboard infant food and care items for free, for up to 6 kg. For infant travelling on your lap, you may check in baggage for free, following the weight and size limits below:
Infant Baggage Allowance (Maximum Weight)
Infant Baggage Allowance (Maximum Size)
Total maximum dimensions are measured as the sum of length, width and height of the hand baggage:
*Information above only applicable for destinations other than the United States. If you are travelling to the United States, click [here](https://www.singaporeair.com/en_UK/id/faqCategory/?category=29961#question-34748) for more information.*
You can also check in a fully collapsible stroller or pushchair and carry-cot or car seat for free. Singapore Airlines encourages passengers travelling with an infant (aged 7 days to under 2 years old) to request for a bassinet after booking an infant ticket. Bassinets have limited availability and are offered on a first-come, first-served basis.
When travelling with children (aged 2-11 years old), do remember to purchase their own tickets which are usually of a special discounted rate, as compared to adult fare. Children with reserved seats will then enjoy hand baggage allowance according to their travel Class.
Note: Information provided is correct as of April 2019.
---
Now, you are ready to beat the crowd this travel season with all these reminders! Do keep in mind that rules concerning baggage are subject to change, so do check out Singapore Airlines's website for the latest guide!