Ten Days City Coast Glamping Adventure In Sydney And Beyond
10-Day city, coast & glamping adventure in Sydney and beyond
Tired of the same walls and journeys around the few square kilometers from your home the last 2 years? CheapTickets.sg has planned and sorted out the journey you need to take to renew your love of travel. Taking in the coastline on the drive from Sydney up to small seaside town of Port Stephens, reconnect with your travel buddies by the bay of clear blue seas with a beach full of adventures before a trip to the mountains to see canyons and waterfalls before exploring the white sands of Jervis Bay with dolphins and beach picnics. Last but not least, the ultimate stop in Sydney, stay on the doorstep of iconic Bondi Beach and take the city side hikes and cruise the bay to see the city icons before travelling home.
10 Day City, Coast & Glamping adventure in Sydney and beyond
Day 1: Arrival in Sydney and Port Stephens
Arriving into Sydney International, pick up your rental car straight outside of international arrivals or collect off-site (takes a little longer but for longer rentals you can save more) and put your first address in: Port Stephens. Take the direct route (229km 2 hours 45 mins) that within 15 minutes will see you driving over the iconic Sydney Harbour Bridge and make a pit stop just off the highway to get your first taste of fresh Aussie food at Hawkesbury River Oyster Shed for a spot of lunch, or take a more scenic route going through Central Coast and feeding the pelicans at The Entrance and continuing along the coast east of Lake Macquarie and picnicking at Caves Beach on the way.
Port Stephens has many great accommodation options, including apartment resort style at Mantra Nelson Bay, conveniently location to wander into the town of Nelson Bay or Oaks Port Stephens with its fantastic lagoon pool.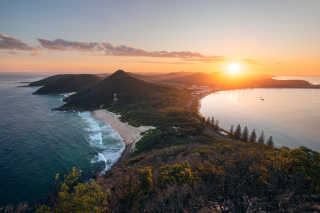 Accommodation location: Nelson Bay or Salamander Bay
Suggested accommodation: Mantra Nelson Bay
Day 2: Meeting dolphins and desert adventures
Take in the beautiful Bay of Port Stephens, home to shoals of dolphins with a dolphin discovery cruise, relaxing on the deck as you discover the habitat of these wonderful mammals. After lunch at one of the bay side cafes or taking a picnic from the supermarket to the beach, get a hit of adrenaline in the afternoon by riding a 4WD car across the dunes and then sandboarding down Australia's largest coastal sand dunes. Suitable for ages 4 and above this adventure is for all the family. Fancy a desert adventure? Did you know you can ride camels along the sand dunes too, a unique experience.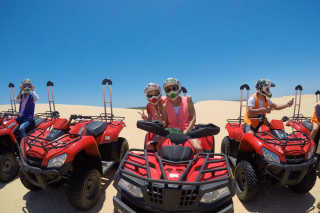 Accommodation location: Nelson Bay or Salamander Bay
Suggested accommodation: Mantra Nelson Bay
Day 3: Encounter with sharks, koalas and Tomaree Head Summit hike
Spend the morning with a close encounter with the sharks and rays at Irukandji Shark & Ray Encounters. As well as the opportunity to enter the safe calm waters you will learn about the animals and importance of the ecosystems of the sea life in a natural environment. Stay dry in the shallow waters or don a wetsuit and get right in to interact with the animals. Bring your own towel! Spend the afternoon exploring the local area, take a gentle hike up to Tomaree Head Summit or for those who want the view without the work drive up to Gan Gan lookout for a spectacular view point of the bay. For your 3rd night in Port Stephens book a night (or two, this is a flexible itinerary!) at Port Stephens Koala Sanctuary for the perfect escape to nature. Set in 8 hectares of bushland on the edge of One Mile Beach choose from luxury glamping tents or a deluxe one bedroom suite set amongst the natural bushland habitat of the resident koalas. Once checked in you are free to explore the park and see the koalas as well as take a dip in the pool or walk down the track to One Mile Beach.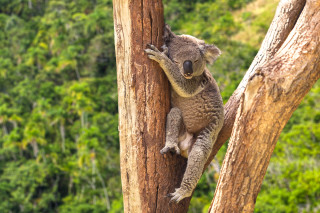 Accommodation location: One Mile, Port Stephens
Suggested accommodation: Port Stephens Koala Sanctuary
Day 4: Blue Mountains National Park
After breakfast in your tent make your way to the on-site koala hospital where from Monday to Thursday 10am to 12pm you can see the current patients being cared for in the clinic. After an early lunch at the cafe it's time to drive 3 hours (278 km) south to your next accommodation in The Blue Mountains National Park. There are plenty of accommodation options in close proximity of the main attractions to base yourself such as Leura, Katoomba and Wentworth falls. For resort style accommodation with all the trimmings (childrens indoor play area, pool and even a bowling alley) you can stay at the Fairmont Resort and Spa, or for a romantic couple break look at Lilianfels Resort. There are also plenty of more unique self catering accommodation options in Leura. Grab some goodies from the Woolworths store or a local cafe and head the 1.5km out of town down to Elysian Rock Lookout for a spectacular view for sunset. If travelling as a group check out St Raphael in Leura that has 2 apartment styles and 1 cottage that can be rented out as a group or 1 part. If you have 2 weeks for your itinerary, you should definitely stay 2 nights in the Blue Mountains to make the most of time here exploring the hikes and view points.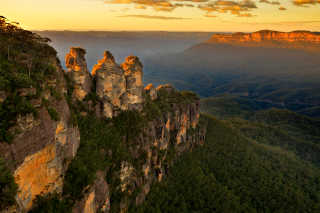 Accommodation location: Leura, Blue Mountains
Suggested accommodation: St Raphael
Day 5: Echo Point and the Three Sisters
Either make an Aussie style breakfast of avocado on sourdough that you picked up the evening before at the store or grab something at Bakehouse on Wentworth and start your morning adventure. If you want a sitdown breakfast book a table at The Lookout Echo Point for a fantastic vantage point and steps away from the iconic view at Echo Point to see The Three Sisters from. From here you can start a hike along the Prince Henry Cliff Walk to the Cliff View Lookout to pick up the Scenic Skyway or drive around to Scenic world where you step aboard a glass bottomed gondola or take the Railway to the base station for a hike on the valley. You could extend for an additional night in The National park and explore more of the hikes and trails. The afternoon will be spent driving south towards Jervis Bay. The suggested 250km route takes 3.5 hours in total, with planned stops at the picturesque town of Bowral, Fitzroy Falls and then the spectacular Cambewarra Mountain Lookout. If you leave Leura by 12pm and make it in good time you could be at the Canbewarra lookout for the best milkshakes by 3pm. The cafe usually closes at 4pm, if you miss it you'll still get a spectacular view on a clear day down to your final destination for the day of Jervis Bay.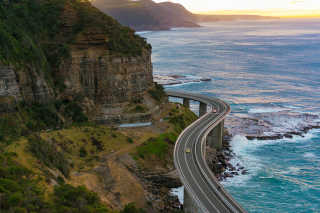 Accommodation location: Huskisson
Suggested accommodation: Hotel: The Huskisson, 3 bed home: Townhouse, Holiday Park
Day 6: Huskisson, Jervis Bay and whale watching
The small bay side town of Huskisson in Jervis Bay is the perfect base to explore the area. There are plenty of chalet style or small rental home accommodation options walking distance from the main highstreet or further down the bay in Vincentia. Why not take a morning cruise out to see the resident pods of dolphins that live in the bay that swim playfully around the boats. During whale watching season from mid-May to mid November the cruises head out of the bay to see these spectacular creatures and take in the Sea Cliffs that protect the bay. During the southbound migration during September to October many of the whales are spotted in Jervis Bay where the mothers and their calves relax in the sheltered waters. In the afternoon you need to head down to the white sands of Hyams Beach, Chinamans or Captains beach, said to be some of the whitest sands in the world.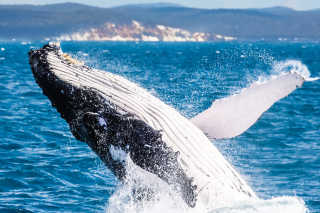 Accommodation location: Huskisson
Suggested accommodation: Hotel: The Huskisson, 3 bed home: Townhouse, Holiday Park
Day 7: Shopping and dining in Huskisson
To make the most of this spectacular area, we suggest making this a day at total leisure to enjoy a picnic and a swim at the beach. Be sure to wear your sunscreen, and swim with caution as there are no lifeguards on many of the beaches. Once you've had your beach fill, there are plenty of small shops and boutiques to explore like The Collective Beat, Beyond The Beach and White Earth. In the evening dine along the precinct like a local. Many of the eateries allow you to BYO drinks that you can take away from the Husky Drive-in Bottle Shop. Why not take a fabulous bottle of Australian wine to Stonegrill Huskisson where you can cook your own steak on a hot stone. On cool evenings you can dine outside on the sidewalk with the fireburner and people watch.
Accommodation location: Huskisson
Suggested accommodation: Hotel: The Huskisson, 3 bed home: Townhouse, Holiday Park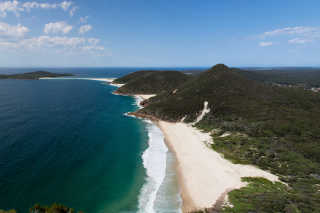 Day 8: Kiama blowhole, Symbio Wildlife Park and Bondi
Today it's time to head back to the city, to see the icons of Sydney. The Grand Pacific Drive route is 196km and takes just over 3 hours door to door, if you are not tempted to stop. With plenty to see en route it might take you longer than planned, so leave early! First stop, there are a growing number of vineyards around Berry that you can spot along the Princess Highway, pick up a cellar door bottle for this evening's post drive relax. As you rejoin the coastal route be sure to stop in Kiama where you will find the world's largest blowhole, and a host of waterfront dining options to take in the view. Continuing to follow the brown directional signs and leaving the M1 at Wollongong will keep on you the scenic route along the coast. Adrenaline junkies rejoice as Wollongong is home to some of the best skydiving with epic views of the coast from above. Book your slot in advance and keep a look out for those blue skies. Before rejoining the highway again you will meander through coastal towns and over the spectacular Seacliff Bridge, pull over at Stanwell Tops view point for a great view of where you've driven. Last stop before the city you will pass by Symbio Wildlife Park, so if you have wildlife fans on the drive plan a stop in here to meet some of Australia's famous residents (yes you can feed kangaroos!). For those really taking the scenic route you could continue to drive through the Royal National Park where you will be spoiled for choice with waterfalls and hiking trails to secluded beaches.
On arrival in Bondi, be sure to prearrange your parking with your accommodation as from here you can mainly use public transport to get around by picking up an Opal card that will allow you to take trains, buses and the ferries with ease.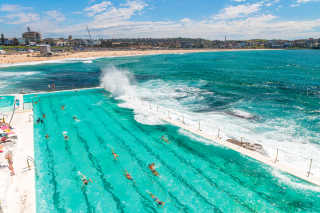 Accommodation location: Sydney, Bondi Beach
Suggested accommodation: Bondi Beach House
Day 9: Coogee walk, Icebergs Bondi, Hornby Lighthouse and Sydney
With Bondi on your doorstep it's time to grab breakfast and head to the beach, and maybe take a surf lesson with some of the resident coaches. Be briefed in beach safety and get the basics to stand up on the waves, or for those more experienced, hire a board and go and join the locals. Post beach morning take a hike along the stunning Bondi to Cogee walk. The full walk is 5.9km and takes approximately 2.5 hours but you could choose to do a shortened version and stop in Bronte and enjoy a dip in the picturesque Bronte Baths, a tidal pool where you can dip in the ocean, without waves, although mind they do crash into the pool filling it with water! Reward yourself with lunch with a view at Icebergs Bondi, great views and wonderful food in the famous pool's dining room. Going on the weekend? Be sure to book!
In the afternoon take the bus (380) 20 minutes north to Watsons Bay. From here you can take a swim in Watsons Bay baths with the Sydney skyline in the distance or take a short hike to Hornby Lighthouse for a great insta shot where you might spot the resident penguins frolicking in the waters or whales swimming past the headland from May - November. For an early dinner, grab a takeaway fish and chips from Doyles on the Wharf Take Away before taking the ferry from Watsons Bay to Circular quay. The 30 minute ferry ride should deliver you past the opera house with stunning vistas of the Sydney Harbour Bridge. Enjoy supper and sundowners at the bars and restaurants to the west side of the Sydney Opera House with a stunning view of the bridge and the city in the background. For post dinner entertainment take the ferry across to the Luna Park Sydney fairground for a fun filled evening of entertainment.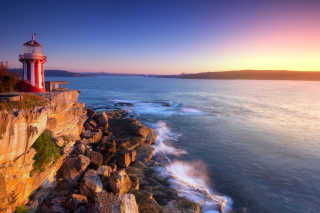 Accommodation location: Sydney, Bondi Beach
Suggested accommodation: Bondi Beach House
Day 10: Grounds of Alexandria and enjoying Sydney
If you are flying home this afternoon or evening why not end your trip with some more spectacular Aussie food at The Grounds of Alexandria. This instagramable cafe is uniquely positioned in an an industrial estate on route to the airport, but dont let that fool you. Boasting Australia's best coffee, a secret garden (until 25th April 22) and even a goat called Selena Goatmez. Weekends from 9:30 am - 3:30 pm there even stallholders of bakers and creators to browse through. If you are spending an extra day in Sydney head into the city to check out some of the spectacular food on offer. If you havent already had your fill of fresh seafood in Australia on this trip yet then head over Sydney Fish Market. The market is open from 7am to 4pm and in an ideal location to then explore Darling Harbour and its attractions after. If you have little ones in tow then be sure to take them to Tumbalong Park Playground, a great spot for climbing and water play where you pick up a fantastic coffee from an aray of choices. Afterwards take the short walk to the aquarium or hop aboard the Shopper Hopper ferry from Darling Harbour to Birkenhead Point Outlet centre for some shopping before you head home.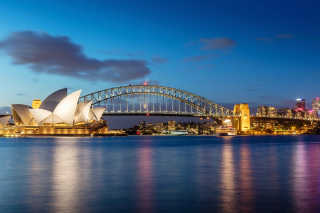 Accommodation location: Sydney, Bondi Beach
Suggested accommodation: Bondi Beach House
---
Did this 10-day itinerary inspire you to explore and experience the many wonders of New South Wales?
Plan your trip, compare our flight deals and book you tickets with CheapTickets.sg. Let us help you make your trip unforgettable and super easy!
---
Want to read more?