Ten Days Winter Itinerary In Finland
Ultimate 10 Days Winter Itinerary in Finland
We could hardly contain our excitement as we planned for our year end trip! With Christmas around the corner, we wanted a unique experience this festive season. We mulled on the perfect destination to celebrate a romantic White Christmas. It was none other than Finland, the homeland of Santa Clause, Elves and Reindeers! As a safe and family-friendly vacation destination, this whimsical Winter Wonderland is bound to charm travelers of all ages! From hunting the mystical yet elusive Northern Lights to thrilling husky safari rides, read on to follow our 10 days of wintry adventure!
*Dates travelled: 21 - 31 Dec
Day 1: Helsinki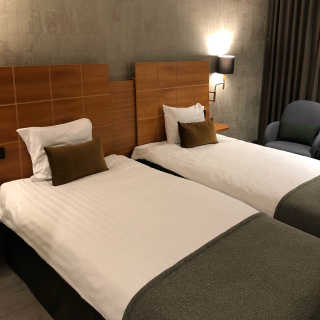 Image: Scandic Hotel Simonkenttä
We arrived in Helsinki Airport at about 9pm and bought tickets for the Ring Rail Line, which took us straight to Helsinki Railway Station. It was freezing but thankfully, our stay for the night, Scandic Hotel Simonkenttä, was just a short walk away from the station. We checked-in promptly and had an early night to get ready for our adventure the next day!
Tip: You can locate the Automated Ticketing Machine for the Ring Rail Line conveniently at the train platform of Helsinki Airport Station, Lentoasema Flygplatsen Airport.
Day 2: Helsinki to Rovaniemi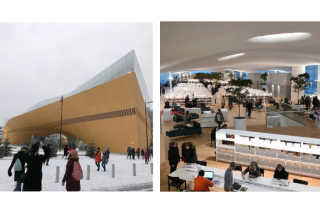 Image: Oodi Helsinki Central Library
What's the best way to gain insights of a place within a short amount of time? A walking tour, of course! The tour covered interesting places such as the Senate Square and the famous Oodi Helsinki Central Library. Known as the "City of architecture", Helsinki sure took our breath away with modern Finnish buildings and charming old establishments!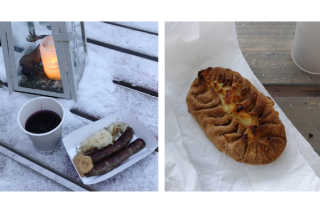 Image: Mulled wine, elk sausages and Karelian pie
After we were done touring the city, we filled our growling tummies with Finnish delicacies at the Senate Square Christmas Market! Our food trail began with yummy elk sausages, followed by a big bowl of creamy salmon soup (a must-try in Finland) and the iconic Karelian pie before washing it all down with a warm cup of mulled wine!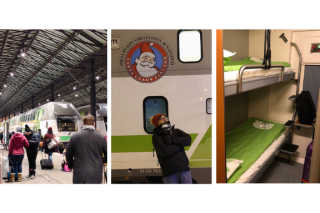 Image: All onboard, the Santa Claus Express!
Thereafter, we headed to the Helsinki Railway Station to catch our Santa Claus Express night train! This cosy double-decked sleeper train took us to Rovaniemi, the home of Santa Claus, in about 12 hours. The double sleeper cabin was quite a space-crunch as we were unable to open up both our luggages at the same time. Nonetheless, the sleeper train was impeccably clean and we slept soundly through the night.
Tip: If comfort is your top priority, we highly recommend skipping the seats and booking your own double sleep cabin instead. Food is also readily available at the restaurant carriage.
Day 3: Santa Claus Village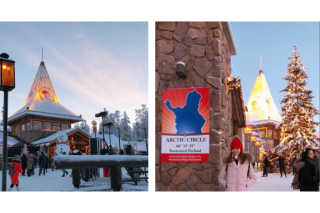 Image: We crossed the magical Arctic Circle!
We arrived in Rovaniemi in the early morning and was greeted with freezing gusts of wind at -24 degrees Celsius! Luckily, our kind Airbnb host picked us up from the train station. Once we've warmed up indoors, we embarked on our trip to the Santa Claus Village via the local bus number 8. We couldn't contain ourselves as our bus arrived at the whimsical village -- it was truly a childhood dream come true! The twinkling festive lights and cheery Christmas carols created such a joyous mood for holiday goers.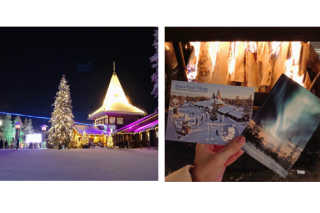 Image: The Santa Claus Village was surely a sight to behold when night falls!
The village was also full of families with excited children waiting to catch a glimpse of Santa Claus! Amidst all the excitement, do remember to visit Santa's Post Office to send your loved ones a postcard. Also, don't forget to pay Santa and his elves a visit at SantaPark and get your Arctic Circle Crossing certificate while you're here!
Tip: During winter, buses operate at half hourly intervals and sometimes hourly intervals. Do plan your day's itinerary beforehand and check the bus timetables!
Restaurant suggestion: Drop by Santa's Salmon Place for an unforgettable Christmas feast!
Day 4: Rovaniemi to Saariselkä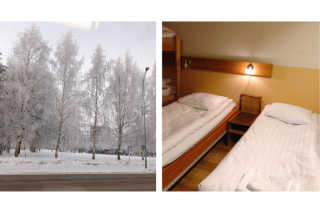 Image: Saariselkä Inn
We rented a car from Sixt and made a 3 hour drive up north to Saariselkä! We stuffed ourselves with goat cheese pie and snacks during the smooth and scenic drive. Since daylight hours are short, we found ourselves driving through endless darkness before arriving at our accommodations, Saariselkä Inn.
Tip: Do watch out for crossing reindeers and the Finnish speed cameras when driving!
Restaurant suggestion: Restaurant Rakka Holiday Club
Day 5: Huskies & Reindeer Safaris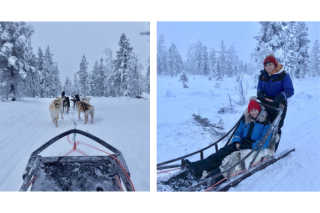 Image: The huskies were fast!
We woke up bright and early for our Husky Safari! All our activities were booked through Husky & Co., which is operated by Saariselkä Inn. The staff picked us up at the lobby for a short drive to their husky farm. A thick and warm set of overalls, gloves and snow boots were also provided for all participants. Next, we were briefed on how to control the sleigh before being introduced to our team of fluffy and excited huskies! Don't be surprised if some of them don't actually look like huskies -- many of them are actually sled dogs! The Husky Safari experience was truly exhilarating as we glide silently through the vast winter plains. The calm winter morning was only occasionally punctured with the huskies' howls and eager panting.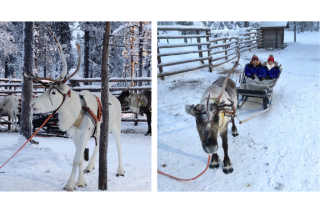 Image: A calming ride with the reindeers
On the contrary, the reindeer ride was smooth and peaceful! We took in the view of the wintry wilderness as our reindeer trotted its way through the snow, occasionally gazing back to check on us. Did you know a strong reindeer can pull up to 600 kg of weight? Learn more about these gentle creatures from your Sami guide after the ride!
Tip: Pre-book your activities early to avoid disappointment as there are limited slots available.
Restaurant suggestion: Head on over to Muossi Grill where you can get reindeer burgers at a budget-friendly price!
Day 6: Snowmobile & Northern Lights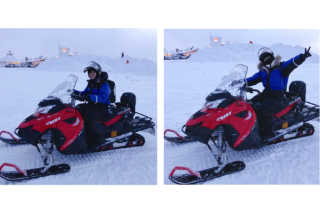 Image: Zipping through the snow on our snowmobiles!
If you're an adrenaline junkie, don't miss the snowmobile rides at Saariselkä! We geared up for our ride and made our way to the parked snowmobiles. Never underestimate the expertise required to handle these beasts! Although they are similar to jet skis, having a driving license is compulsory for the driver. Participating children will sit on a sled pulled by one of the staff's snowmobile.
The entire activity involves travelling in a single file convoy on designated snowmobiling routes, with dedicated staffs riding alongside to ensure your safety. We drove to snow capped hilltops with unparalleled views of Saariselkä and the winter wilderness! The journey also includes rest stops, where we were served with piping hot berry juice and opportunities to take scenic pictures!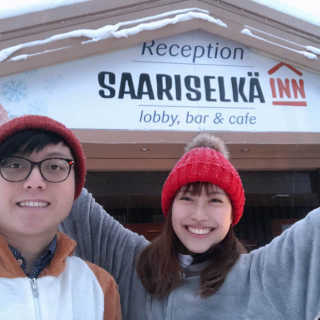 Image: After our first Finnish sauna experience
No trip to Finland is complete without trying out the Finnish sauna! As a substantial part of Finnish culture, Finnish sauna is said to be an excellent way to rejuvenate and relax your body -- and they were right! We found ourselves unwinding to the crackle of burning wood and came out feeling more rejuvenated than before!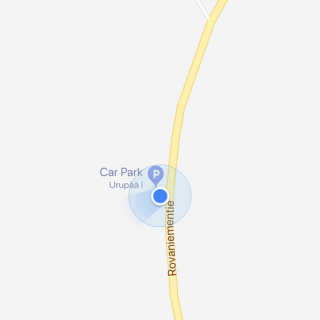 Image: The spot where we saw the Northern Lights
Thereafter, we embarked on our hunt for the Northern Lights! We drove up to Ivalo in anticipation and our efforts were not in vain! On the highway, we noticed a faint glow dancing on the horizon -- it was the Northern Lights! We stopped the car by the roadside and alighted to take in this breathtaking ethereal green glow. Unfortunately, the lights were too faint to be captured on camera but this marvelling sight will forever be etched in our memories.
Tip: For the best spots to view the Northern Lights, you can join Aurora Hunts. Otherwise, if you are hunting the Northern Lights yourself, do remember to check the local Aurora forecasts!
Restaurant suggestion: Make your trip to Ivalo worthwhile by dining at the Kultahippu Hotel And Restaurant! Their best dishes include the salmon soup and reindeer steak.
Day 7: Saariselkä to Rovaniemi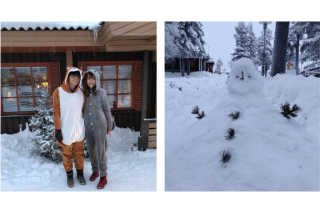 Image: Staying warm in our onesies
After enjoying our last breakfast buffet at Saariselkä Inn, we built our own Frosty the snowman before bidding Saariselkä goodbye! From steering our own husky sleighs to driving snowmobiles, Saariselkä will always hold a special place in our hearts!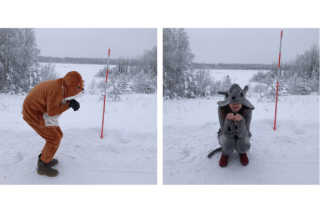 Image: Beware of wild animals!
On our 3 hour drive back to Rovaniemi, we stopped at various sections of the highway to capture the mesmerizing views. Bounding around in our animal onesies and attracting weird stares was definitely one of our most memorable decisions!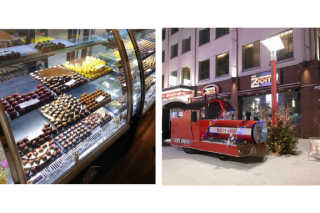 Image: Roaming around Rovaniemi
We finished our night at Rovaniemi with a Smoked Reindeer Pizza at Koti Pizza! Before heading for the train ride back to Helsinki, we took a tour around the town centre. From open air ice skating rinks to icy slides, the locals sure had a blast celebrating Christmas!
Tip: Take some time to explore the quaint town of Rovaniemi! There are many hidden cafes to chill and rest your weary legs!
Restaurant suggestion: ChocoDeli at Rovaniemi is a must-visit if you're a huge fan of Finnish hot chocolate!
Day 8: Back to Helsinki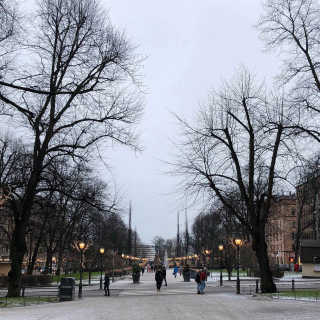 Image: Early morning in Helsinki
We're finally back to explore more of this beautiful city -- this time with our Helsinki cards! With the cards, we were entitled to free unlimited transport and access to many interesting attractions. Our first stop was Esplandi, the pick-up point for the Helsinki Panorama Bus Tour which took us to the famous Rock Church and many other iconic attractions. It was a great way to see the city while resting our legs!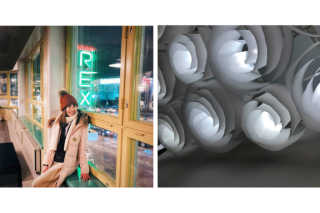 Image: Interesting exhibitions at Amos Rex
Thereafter, we made our way to Amos Rex -- a popular modern art museum in Helsinki! The museum is filled with several interactive pieces which are bound to engage visitors of all ages. If you enjoyed the Future World exhibition at Singapore's Art Science Museum, you will have a blast in Amos Rex!
Tip: Be prepared to queue for Amos Rex as the interactive exhibitions are a huge hit among the locals!
Restaurant suggestion: Cella is a vintage, authentic Finnish restaurant recommended by our walking tour guide which proved to be an affordable place for smoked reindeer and alcohol!
Day 9: Suomenlinna Fortress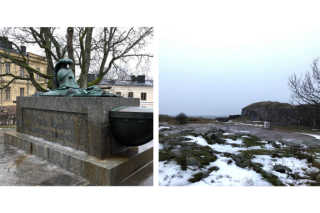 Image: Sights at Suomenlinna
Suomenlinna is the perfect place to visit for history buffs. This sea fortress can be accessed easily via a short and breezy ferry ride at the Helsinki Market Square.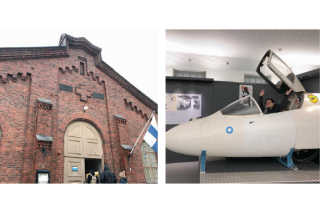 Image: Having fun in the Military Museum's Manege
We explored the Military Museum's Manege (free entry for all Helsinki Pass holders) where we marvelled at the preserved military uniforms and weapons. To learn more about Suomenlinna, we joined a walking tour which brought us on a trail to iconic places such as the 1918 prisoner-of-war camp memorial.
Tip: If you are heading to Suomenlinna during the winter season, you should wear proper footwear to prevent slipping on icy roads around the island.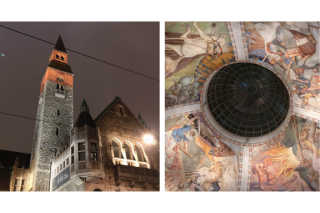 Image: The National Museum of Helsinki was a sight to behold
We were exhausted from all the walking by the time we arrived back on the mainland, but we stuck to the plan and went to the National Museum of Helsinki -- which turned out to be one of the best decisions we made on this trip! The museum transported us back to medieval times, with unique exhibits that provided a good insight into the culture and history of this beautiful country. We wished we had more time to explore the museum in detail!
Tip: If you're a history museum geek, allocate a couple of hours for the National Museum of Helsinki as the museum is huge!
Restaurant suggestion: EMO may be on the pricier side, but this restaurant is worth every penny! The menu is planned according to the season so you can be sure to taste the best flavours. Then, head on over to Bryggeri, a popular brewery-restaurant, for a pint or two! They offer an affordable beer tasting platter that lets you savor the local beers!
Day 10: Goodbye, Finland!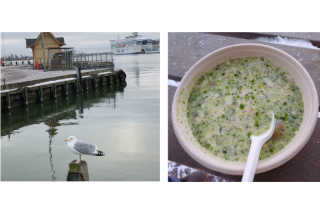 Image: We had a great time in Finland!
To make the most out of our last day in Finland, we woke up bright and early to enjoy our breakfast buffet before heading to Stockmann Department Store for some last minute shopping! We went to the Old Market Hall for one last serving of salmon soup before departing for Helsinki Airport. Hyvästi Suomi! (Goodbye Finland!) Till we meet again!
Tip: Don't miss out on tax-free shopping in Finland, where prices for branded goods are significantly lesser than that of Singapore's!
Restaurant Suggestion: Helsinki Old Market Hall (Vanha kauppahalli)