Ten Things You Must Do On Your First Trip To New Zealand
10 Things you Must Do on your First Trip to New Zealand
New Zealand—the land of vast green pastures, deep blue skies and crystal glaciers. Its scenery is truly one of its kind! Where else can you find a herd of fluffy sheep crossing the road against a backdrop of endless rolling hills?
If it's your first trip down to the sacred land of 'The Lord of the Rings' films, to start you off with your planning, here are 10 things you absolutely must do when you get there.
Read also: The Cost of Travel To New Zealand>>
1. Transport yourselves to the Shire
Venturing into Middle-earth™ is easier than you think! Just drive for 2 hours from Auckland to reach Hobbiton™ Movie Set, where 'The Lord of the Rings' and 'The Hobbit' trilogies were filmed. Explore the 12-acre set on a guided tour, seeing the Hobbit Holes™, Mill and Green Dragon™ Inn. This experience is so unique and visually stunning that even non-fans of the series will enjoy.
Note: The only way to visit Hobbiton™ is by guided tour. Do make sure you book it online well in advance as tickets sell-out fast. Daily Tours—The Shire's Rest™ (2.5-3 hours), Matamata I-Site (3 hours), Rotorua (4.5 hours)
2. Hike the Tongariro Alpine Crossing
How about taking a one-day trek and be surrounded by spectacular views of active volcanic peaks? The Tongariro Alpine Crossing is known to be the best one-day trek available in New Zealand with just that. Tongariro National Park is New Zealand's oldest national park and a dual World Heritage Site. Some even say this 19.4-kilometer journey is among the top 10 single-day treks in the world, so the aches at the end of it is totally worth it!
Note: Do arrange transport to drop you off at the beginning of the day and pick you up at the end of the day.
3. Trek the Franz Josef Glacier
Franz Josef Glacier is a 12-kilometer long temperate maritime glacier located in Westland Tai Poutini National Park, in New Zealand's South Island. The glacier is 5 kilometers from the Franz Josef town, approximately 1.5-hour walk to the viewing area, just 750 meters from the ice. If you want to actually touch those glittering ice formations, it's best to take a guided ice walk or a Heli-Hike, where you can take in some beautiful aerial views of this world heritage site. The helicopter will then land directly on the glacier, where you will start your ice hike and come face to face with those pristine ice caves. Since the glacier is always moving, its features are always shifting, and no 2 hikes are the same!
Note: Heli-Hikes cost about $499 per person with an experienced guide and up to 3 hours of ice time.
4. Soak Up Rotorua's Geothermal Sights and Maori Culture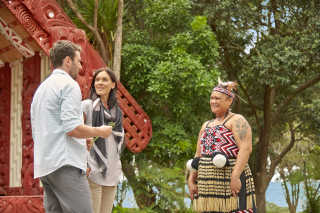 Rotorua is situated on New Zealand's North Island and is renowned for its Maori culture and geothermal activity. Get your fill of these magnificent volcanic wonders by heading down to Wai-O-Tapu Thermal Wonderland and the Lady Knox Geyser. Then, visit Tamaki Village or Te Puia for a Maori cultural celebration and traditional 'hāngi'—a dinner that is smoked in an earthen oven.
5. Sail through Milford Sound
Sailing through Milford Sound is the pinnacle of peace and serenity, especially when the boat captain decides to turn off the engines. Close your eyes and you'd be able to hear the silent breeze! Admire the ever-changing facades of the Fjord depending on the weather and the time of day. On a foggy day, you'd be able to see adorable cloud rings hugging the peaks around you, and on a clear day, you might see a rainbow, and a dolphin or two!
You can also kayak through Milford Sound to get an intimate encounter with the Fjord's nature and wildlife. If there's time, kayak through the calm waters of Harrison's Cove.
Note: Day and overnight cruises are available from Queenstown and Te Anau.
6. See Aoraki Mount Cook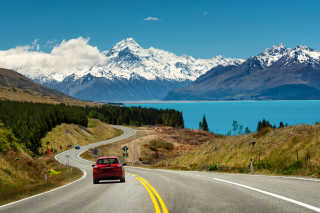 Aoraki Mount Cook, New Zealand's tallest mountain, stands over 3,700 meters and is regarded among Mountaineers to be the best climbing region in Australasia. It's also the mountain that Sir Edmund Hillary developed his climbing skills on, in preparation for his Everest conquest. If you're not a mountain climber, you can still do a 3-hour hike in Aoraki Mount Cook National Park that lead to alpine tarns, herb fields and wonderful views. Also, carve some time to see Lake Pukaki and Lake Tekapo (more things to do below)—both scenic lakes with uniquely shimmering blue water coming from the glacier. The waters at Lake Pukaki are so mesmerizing, it's no wonder that Sir Peter Jackson chose this as the setting for Lake-town in 'The Hobbit: The Desolation of Smaug'.
7. Visit Lake Tekapo
Lake Tekapo is a small town on the South Island of New Zealand, and is at the Southern end of the lake of the same name. On top of visiting the lake, there are a couple of things you must do when you are here, including visiting the small picturesque stone church, Church of the Good Shepherd, take a dip in the hot pools of Tekapo Springs as well as see the constellations through Earth and Sky telescopes on the Mount John Observatory tour.
Note: The Mount John Observatory tours cost about $175 per person.
8. Capture the Icons of Wanaka
Have you seen the "Lonely Tree" that's popular on Instagram? How about seeing it in person? Make a trip to New Zealand's resort town of Wanaka to visit this iconic tree standing out of the serene waters of Lake Wanaka. Also, you can try a variety of water activities like paddle boarding, kayaking, wakeboarding and many more!
Another must-do in Wanaka is catching a movie at Cinema Paradiso—a quaint cinema with an eclectic selection of armchairs for seats. During the intermission, (yes they have an intermission!) don't forget to eat their homemade ice cream and famous chocolate chip cookies that are served piping hot from the oven!
Note: While visiting the tree at Wanaka Lake, please do NOT climb it and be respectful of the boundaries set up by Queenstown Lakes District Council, so that the tree will be around for a long time.
9. Indulge in Extreme Sports at Queenstown
When Queenstown, New Zealand is mentioned, most people would think of extreme sports. It's no surprise because the selection of adrenaline pumping things you can do is quite substantial—skydiving, bungee jumping, jet boating, hang gliding to name a few. For a more leisurely activity, take an 8-minute Skyline Gondola ride up to Bob's Peak where you can enjoy panoramic views of the iconic Remarkables mountain range, the deep blue waters of Lake Wakatipu as well as Cecil and Walter peaks. The Skyline Luge is also a popular activity for young and old alike.
For a different experience, try the Stargazing Tour at Bob's Peak where you can catch amazing sights with telescopes and end the night with a nice cup of hot chocolate! Mmm...
Note: Fergburger at Shotover Street is a must-try!
10. Enjoy Breathtaking Views at Roys Peak or Mount Iron
Depending on how fit you are or how much time you have, choose between a 6-hour trek to Roy's Peak or a must shorter 1.5-hour walk up Mount Iron Track. Both boast magnificent 360-views of Lake Wanaka and the Southern Alps. Naturally, the Mount Iron Track is more popular for all ages given the easier climb. However, the Roy's Peak Track brings you much closer to nature. Take your pick!