The Cheap Eats Guide To Australia
The Cheap Eats Guide to Australia
Cheap eats have long been part of Australia's DNA, with plenty of places that care more about the food on your plate than the décor. So leave your reservations about expensive degustation menus at the door; these local favourites will have you rediscovering the value of good food at great prices.
#1 Black Star Pastry, Sydney, New South Wales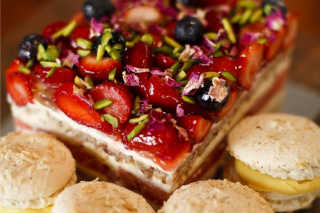 Credit: Black Star Pastry
Home to possibly the world's most Instagrammed cake, Black Star Pastry is a rite of passage for visitors and locals of Sydney alike. Refresh your palate with the café's strawberry watermelon cake, which is a multilayered confection of almond dacquoise (similar to a meringue), rose-scented cream, watermelon, strawberries and a generous topping of pistachios and dried rose petals. Plenty of time and effort go into whipping up this signature cake.
#2 Burger Project, Sydney, New South Wales
Taste fast food done right at Burger Project. Founded by celebrity chef Neil Perry, the seven Burger Project outlets in Sydney have a menu focused on homegrown ingredients — think slabs of Tasmanian grass-fed beef or Lilydale free-range chicken patties sitting on a bed of beetroot, cheese and secret sauce. Complete your burger with a side of thick-cut chips and a shake for a meal that won't cost more than A$25.
#3 Lune Croissanterie, Melbourne, Victoria
Grab your forks, croissant lovers; we're headed to Melbourne's trendy Fitzroy district where Lune Croissanterie, declared as having the "world's best croissant" by The New York Times in 2016, is located. Munch on traditional French croissants or more unique creations such as the Reuben, a twist on the classic American sandwich, complete with pastrami, sauerkraut and Swiss Gruyere.
Can't get enough of Lune's pastries? Sign up for a 90-minute degustation at the Lune Lab. For about A$35, you get to sample three experimental pastries accompanied by all the flat whites you can drink.
#4 Jimmy Grants, Melbourne, Victoria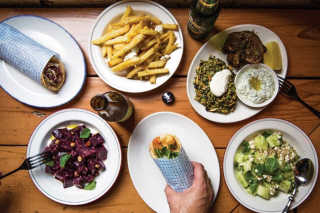 Prefer savoury food? Just a 15-minute walk away from Lune Croissanterie is Jimmy Grants, the brainchild of MasterChef Australia judge George Calombaris. Inspired by Calombaris' Greek roots, the restaurant specialises in souvlaki — a popular Greek food consisting of small, tender pieces of meat, served wrapped in pita and finished with a variety of toppings, like lettuce, tomato and tzatziki.
If you're there with a friend, try the sharing plate, which offers a choice of lamb or chicken, a side salad, some dip, chips and a heap of pita at A$40 — it'll satisfy your stomachs without burning a hole in your pockets.
#5 Eat Street Markets, Brisbane, Queensland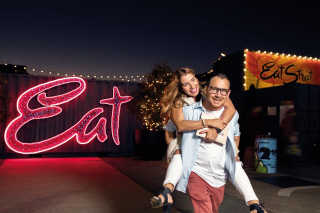 Eat your way around the world at the aptly named Eat Street Markets. Specialising in globally inspired street-style food, the market is a wonderful mix of over 70 stalls serving a variety of small bites from Mexican quesadillas to Asian pan-fried pork dumplings. Don't miss the opportunity to taste local specialties such as rosemary and mint lamb burgers and grilled potato slinkys, surrounded by priceless city and river views. With an entry fee of just A$2.50 and free entry for kids under the age of 12, there's no excuse not to drop by. Catch the CityCat to the Northshore Hamilton Ferry Terminal then take a short two-minute walk to the eastern entrance.
#6 The Beach Club, Cottesloe, Western Australia
Slurp shucked oysters fresh from the ocean or polish off a plate of fried local calamari for less than A$20 at The Beach Club in Cottesloe Beach Hotel, just a half-hour drive from Perth's CBD. On top of seafood, the beachside beer garden also serves inventive mixes such as chocolate negronis and pink vertigos. As you sip on delicious cocktails and dine on fresh local seafood, you'll find it hard to leave this beach-chic venue before the night is over.
Want to make sure you get the best deal on your trip to Australia? Book with CheapTickets.sg now to help you save more and travel more. Enjoy!