The Ultimate Bff Adventure Bucket List Korea
The Ultimate BFF Adventure Bucket List: 12 Must-Do in Korea
If you are heading to Korea with your best friends on a bonding trip, there are certain activities that you must take part in. Challenge each other with fun experiences to create more memorable moments; paraglide through Korea, go underwater in a submarine or go crazy at a Korean Festival. Check out our adventure bucket list and cross each item off together with your besties.
Also, be sure to check out CheapTickets.sg for travel deals >> including a $30 off coupon for return flights from Singapore or $100 cash rebate for flight+hotel deals!
1. 1001 instagram-worthy poses you can think of
We all know how much patience is required to get a good photo. Apart from finding a good background, you have to try at least 571 few times before getting the perfect picture. That's why it's better to travel with your best friend who's willing to click the camera till you're satisfied with the perfect shot. Take turns into being the photographer, because she will take millions pictures of you without getting bored and you can return the favour. That's what besties are for isn't it? Korea is a country with so many instagrammable places, perfect for a photoshoot, that it will be difficult to limit yourselves.
(a) Ihwa Mural Village in Seoul
Photo credit:@fm_w
(b) Haneul Gongwon in Seoul
Photo credit:@jennifernoviana
(c) Common Ground in Seoul
Photo credit:@hello_phuong_anh
(d) Gyeongbokgung Palace in Seoul
Photo credit:@arfieredona
Search cheap flights to Seoul>>
2. Under the sea adventure at Seogwipo Submarine
An incredibly fun activity and unique way to explore the popular island of Jeju and the smaller island Marado, is via a submarine. Hop on the bright yellow watercraft and explore the colourful coral bed of Korea from up close. Feel the excitement as you descend below the sea surface to begin your underwater experience. Be amazed by the pristine marine ecosystem and its soft coral reef.
Search cheap flights to Seoul>>
3. Join a baking show and cruise the Han River
Join the ELand cruise and take part in the interactive Pang Show. You'll learn how to bake bread from Korea's most talented professional performers while capture the best night view of the Han River and its surroundings. Are you ready for an authentic Korean culinary experience?
4. Go for a hike in the fairytale land
If you're up for a climbing adventure, bring your bestie and go to Seoraksan National Park, where you can see over 2,000 animal species, such as the Korea goral and the musk deer, as well as over 1400 plant species. Conquer the Daecheongbong peak and you'll be amazed by the breathtaking views!
Search cheap flights to Seoul>>
5. Winter wonderland in Pyeongchang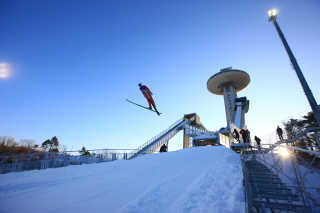 Pyeongchang is the host of 2018 Winter Olympics and it's a shame not to try winter sports while you're there. Put on a pair of skis or a snowboard and start your own winter adventure. The Alpensia Ski Resort has many kinds of slopes, including beginner ones, so don't worry if you're skiing for the first time. Don't let your fear keep you from admiring the beautiful surroundings.
6. Have incredible fun at a Korean Festival
Korea has plenty of festivals happening during the year and you could go to at least one during any month, regardless of the season. Some of the most popular ones are the Pyeongchang Trout Festival during the winter, Boryeong Mud Festival during the summer, Jinju Lantern Festival during autumn and Jinhae Cherry Blossom Festival during spring. To whichever you decide to go, buy your tickets in advance and don't forget to book your bestie's ticket too!
7. Soar above the sky in Danyang
Korea's natural beauty can be explored in many different ways and paragliding is one of them. Embrace the stunning green landscapes from above to get the perfect view. The best part is that you'll be accompanied by a professional instructor and you don't need paragliding experience.
Search cheap flights to Seoul>>
8. Hunt for yummy snacks to share with your BFF
For those who can't live without snacks, Korea is the perfect place to go to stock up your stash; with so many delicious options to choose from. From butter caramel pringles, to kimchi stew potato chips, Disney tsum tsum tea and pikachu churros, the possibilities are endless. Don't keep the treats to yourself, share them with your best friends, since sharing is caring. ❤
9. Go on a health-enhancing ginseng tour
Ginseng has been long known in Korea for its medicinal powers and is viewed as marvelous but rare at the same time, due to the difficulty to cultivate it. There are many ways to get acquainted with ginseng in Korea, and one option is going on a ginseng picking tour. You can learn how to harvest and pick unprocessed fresh ginseng right out of the field, and even take some home with you. During your visit you will indulge in Korean ginseng delicacies and explore the natural Korean wilderness in the Herb Island.
Search cheap flights to Seoul>>
10. Create your own K-pop concert at a karaoke marathon
Singing karaoke has been proven to relieve stress and who can argue with that? Singing your heart out to your favourite songs, surrounded by your friends certainly sounds enjoyable. Choose one of the singing rooms called Norebang, which are available almost everywhere in Korea and are easy to find.
11. Transport yourself back to your childhood with your friends
Nothing screams adventure like a crazy roller coaster ride. Korea has plenty of theme parks to choose from, whether you girls want a more thrilling experience or to feel like a kid again and admire the colourful spectacular; you'll be spoilt with choice. You can go to Everland, Lotte World, Seoul Land, Aiins World and many more.
12. Immerse yourself in the scenes of K-dramas (real life)
Last but not least, you can't go home without visiting any K-drama location. Remember 'Descendants of the Sun' (DOTS), 'Legend of the Blue Sea' and 'Goblin'? Grab your K-drama enthusiast friends and see for yourself where the shows are filmed - imagine yourself walking alongside Yoo Shijin. You can go to Boseong Green Tea Plantation where 'Legend of the Blue Sea' was shot or to Jumunjin Beach in Gangneung where they shot an iconic scene from the 'Goblin'.
If this post has inspired you to visit South Korea, be sure to check out CheapTickets.sg for travel deals including a $30 off coupon for return flights from Singapore or $100 cash rebate for flight+hotel deals!
This post is brought to you by CheapTickets.sg and Korea Tourism Organization