Top Five Popular Flight Layovers Singaporeans Encounter When Flying From Changi Airport
Top 5 popular flight layovers Singaporeans will encounter when flying from Changi Airport
With today's bigger planes and better technology, direct flights might rule the sky now but the occasional ticket we buy might come with a flight layover or stopover. Read on to find out the difference between this flight detail and the popular routes from Singapore which has layovers!
Also, test yourself if you know which 7 airports are the best in the world!
What's the difference between a layover and a stopover?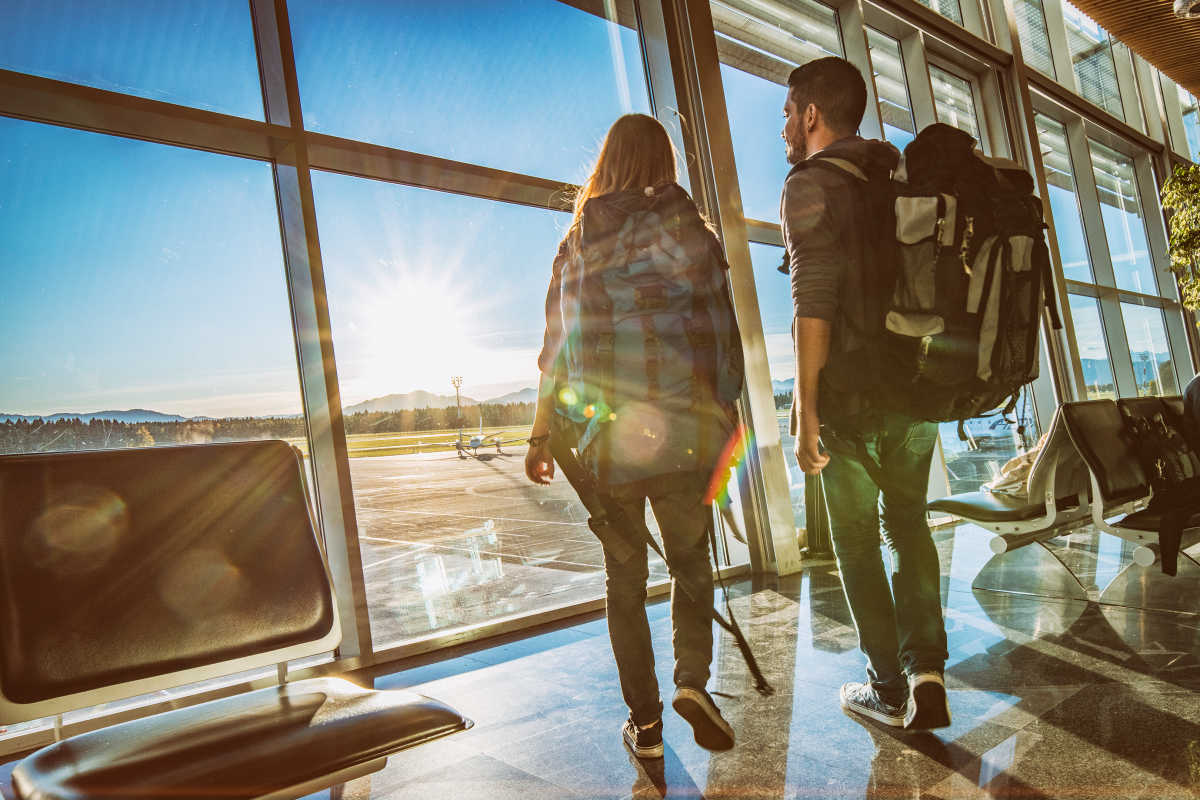 Top 5 popular flight layovers Singaporeans will encounter when flying from Changi Airport
Flight layovers actually occur depending on which airline you are flying with and how far your ultimate destination city is from your departure city. Most of the time, airlines will choose to stop and connect you to another flight in said airline's airport hub.
Singaporeans love to travel and here are the top 5 popular layover airports you are bound to touch down at while travelling!
Psst. This list only includes 'What-to-dos' during a short flight layover whereby passengers will be spending their time in the airport only.
Hong Kong International Airport is the airport hub for their local airline, Cathay Pacific. Hence, if you are flying to Europe or Asia with Cathay Pacific, you are bound to stop for a layover in Hong Kong.
Here's a good news for all the foodies out there - Hong Kong International Airport has just been crowned as having the World's Best Airport Dining Experience in 2019. So, you simply have to visit one of the restaurants while you are there! From delectable Western cuisine by the world-famous Gordon Ramsay to indulgent Michelin starred restaurant Jardin de Jade, your palate will thank you for this layover!
Hong Kong's Terminal 2 used to host the popular Aviation Discovery Centre and VR Golf experience, but has since closed down in Nov 2019 to make way for its three-runway system project.
But worry not, there's still tons of ways to spend your time at the airport! Families with kids can check out the 'More Than Just Food' exhibition brought to you by the Hong Kong Heritage Museum, whereby local artists showcase their imaginative and artistic ceramic table settings and food-wares.
Popular international and regional brands tote the floors of Hong Kong's Airport, ranging from all categories, from jewellery to cosmetics and not forgetting, a large Disney memorabilia shop for Disney fans as well.
London Heathrow Airport is one of the busiest airports in the world and the Best Airport in Western Europe, as awarded by Skytrax. As the hub for British Airways, the chances of you having a flight layover there is pretty high should you choose to fly with them from Singapore to Europe.
With 4 terminals in total, you will definitely be spoilt in your dining choices whereby you can feast on delicious British food fare from the many local food brands found there - savour that little bit of London before you leave! Beyond dining, London Heathrow Airport also has the World's Best Airport Shopping award so this is the perfect time for you to shop for any souvenirs you wish to purchase (@Potterheads, there's even a Harry Potter Shop for you as well)!
Since British Airways is a member of the SkyTeam Alliance, a SkyTeam Lounge boasting facilities and services like a fully tended bar, wellness centre offering beauty treatments and a serene resting area with day beds can be found at the Airport as well. Rest and pamper yourself before the next flight out!
Dubai International Airport is the hub for world-class airline Emirates and travellers flying from Singapore to Europe or the Middle East onboard Emirates are likely to have a flight layover here.
Known for their free #musicDXB performances, Dubai International has successfully entertained millions of global travellers through the universal language of music. Catch performances by artists of different genres of music - from X-Factor winners to rising regional stars.
Duty Free stores line the Airport's terminal so be sure to pick up a thing or two before your flight out.
Doha Hamad International Airport is the Best Airport in the Middle East and the hub for award-winning airline Qatar Airways. Dubbed as the world's most luxurious airport, Hamad International Airport is home to several abstract art pieces (the large yellow bear!) and exclusive branded apparel.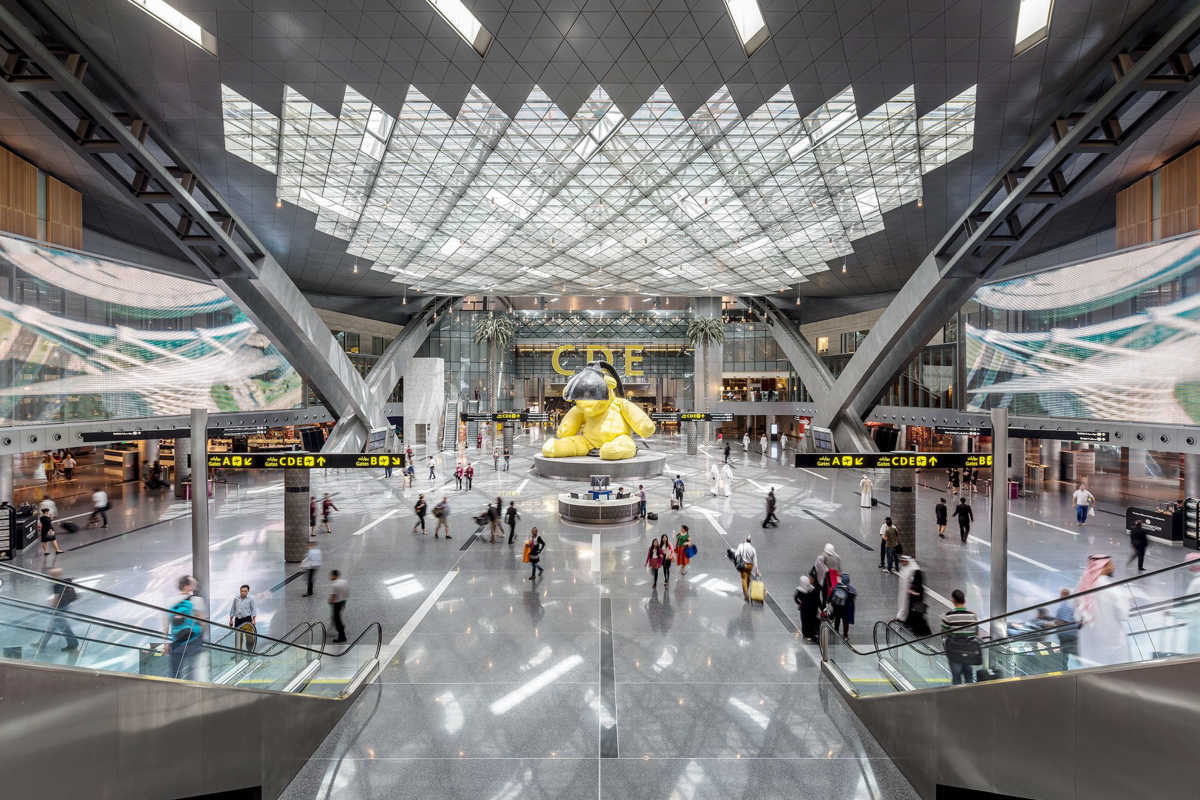 Image credits: hok.com
In addition, fitness buffs can rejoice as Hamad International Airport is also home to an awesome airport gym - the Vitality Wellbeing and Fitness Centre, open for any traveller's booking. There, rejuvenate yourself in either their Hydrotherapy tub or pamper yourself with their selection of anti jet-lag massages and facial treatments. For those who wish to sweat it out, a swimming pool, gymnasium and even squash courts are available!
Named as the Best Airport in Europe, Zurich International Airport is also the principal hub of SWISS - Switzerland's flag carrier. So, if you are flying from Singapore to Europe or North America onboard SWISS, chances are you will have a layover right at Zurich International Airport.
There, fill your stomach from a variety of cuisines offered. From hot Asian delicacies, your favourite fast food brands to a bite of local Swiss pastries, you will board your next flight with a satisfied palate. If shopping is more your thing, head on to the many shops boasting both international and local brands. From luxurious skin care products by La Prairie to fashionable clothing by Esprit, your layover will simply fly by!
The airport also organizes exciting events all year round and they have just wrapped up their Christmas programme edition - click here for more information about the events you can find, right here at Zurich International Airport.
Arrived at Changi Airport a little too early? Or has your flight been delayed? Whatever it is, there's plenty to do right here at Changi Airport! You can:
Explore Jewel - Singapore's new centrepiece! Here, you can shop, feast (we finally have Shake Shack and A&W here!) or even catch a movie at the new IMAX cinema. Be sure to snap a picture by the World's Tallest Indoor Waterfall, the HSBC Rain Vortex before you go as well!
That's not all, click here to check out the numerous attractions Changi Airport is home of!
It's always a good time to travel - search cheap flights with CheapTickets.sg today.