Travel tips when travelling abroad for the first time
Travel tricks and tips for beginners
Travelling can be daunting if you haven't done it before, especially if you choose to travel alone. But don't worry, most of the anxieties faced by inexperienced travellers will melt away with a little preparation. So here are some travel tricks and tips for beginners travelling abroad for the first time that will help you relax and enjoy the experience.
Plan ahead and organise your documents properly
Travel can be bureaucratic, and we all have to juggle hotel bookings, car rentals, visa applications, vaccinations, and passports. Losing or misplacing one of these documents can be a nightmare, derailing vacations and causing needless stress, and nobody really enjoys leaving accommodation booking to the very last minute. So invest in a good documents folder, and back up electronic documents. Plan bookings a week ahead if possible, while staying flexible and giving yourself the freedom to change plans if needed. That way, you can cover every base and you'll only need to worry about having a good time.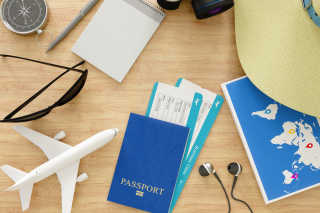 Don't go overboard on clothes
Packing too many clothes is a classic rookie travel mistake. Most of the time, you'll find laundry facilities, either in hotels and hostels or at local businesses. So it's not really necessary to carry five shirts and underwear for two weeks use. And when you travel, even if it's nice to look smart, the need to have a pristine outfit can feel a lot less pressing. Moreover, you'll soon regret adding the extra weight to backpacks or cases. Instead, only take what you know you'll need and if in doubt, chuck it out. You can always buy shorts or flip-flops when you arrive.
Be outgoing and explore the local area
The worst mistake first-time travellers can make is to be too afraid of local people. It's all-too-easy to stay in your hotel, stick to familiar international chain restaurants, spend all evening on your smartphone, and only socialise with fellow backpackers. But that's not exactly the most satisfying way in travel. Instead, make a point of asking where locals eat. Your concierge or hostel staff will happily give you directions or even make a booking. And dive into local music or art scenes if they exist. That's where you'll discover things that expand your horizons - which is, after all, what travel is all about.
Sort out your finances before travelling
As a first-time traveller, the last thing you want is to worry about money constantly. Before flying, pay a visit to your bank, who may have special credit or debit cards with beneficial exchange rates and insurance packages for travellers. You'll be surprised by how much you can save on money exchange by using the right card, while avoiding the need to carry large amounts of cash. Change some currency before travelling, but most places will cater for credit cards, and it's often a good idea to use them if possible.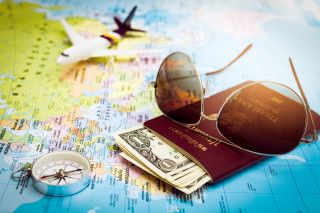 Make sure you're insured
Younger travellers may not be familiar with the world of insurance, but it really matters when you travel abroad. Good insurance packages will have your back should you fall victim to theft, letting you access emergency funds to keep your vacation going, and it will also be there for you if you have a health emergency. You probably won't, but anyone can be injured or fall sick. And if you aren't insured, that can be financially crippling, so it's a top priority to consider before flying.
Take it easy and don't rush
Novice travellers often feel under pressure to treat holidays like a race, trying to pack in as many attractions as possible. That's understandable, but it's a misguided approach if you want to really enjoy the experience. You'll get a lot more from your time abroad if you relax, give each attraction plenty of time, and set aside time to relax and socialise. So make an itinerary and make it a relaxed one. You'll avoid burnout and have a much better time.
Pick travel companies you can rely on
Finally, it's really important to pick airlines and other companies with a good reputation for service and reliability. Check car rental reviews, contact tour operators before booking, and feel free to double check that hotels have every amenity you need. And, above all, book your flights with a site you can trust. At CheapTickets.sg, we want to make life easy for first-time travellers. Just use our search engine, make a booking, and start off the process with minimal stress.
---
Want to read more travel tips?