12 Tips for Travel Blogging
How do I become a successful travel blogger?
Are you good at writing, do you travel a lot and want to share your stories with the world? Then you might want to consider becoming a travel blogger. From blog platforms to Photoshop, from SEO to networking; with these tips you can get started as a beginner!
---
#1 Is this really your passion?
It takes a long time to find fame as a full-time travel blogger. In the beginning you earn very little to nothing. So it is very important that you enjoy whatever it is that you are doing. Write about something that interests you. Otherwise, it's all going to be an uphill climb for you, and your readers will feel it too. If you don't write passionately, you can't win over your audience.
If you don't like traveling, writing, photography, being your own boss and most importantly working very hard for little recognition, stop here: being a travel blogger is not for you! Being a travel blogger doesn't automatically mean being allowed to travel for free. In the beginning, it's really hard to break through.
Do you still want to be a travel blogger? See tip 2!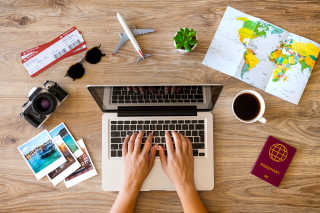 #2 Find your niche or expertise!
From citybreaks to [road trips(/road-trip), from adventure travel to beach holidays, from luxurious travel to travel on a budget, you name it! When your blogs revolve around a specific subject, your travel blog becomes the go-to for many readers because you come across as the expert in the field!
Today, there are a lot of successful travel bloggers, which is why it's best to focus on just one topic. What are you really the expert in? What's your niche? Find out and focus on this. This attracts more readers than a general travel blog. It also gives you the chance to delve into one topic and over time you will become a real expert.
---
#3 You are your own brand!
When you've found your niche, stick with it! Stick to all your online channels and marketing. Stick to one image and maintain the same style everywhere. Your social media, blog content, logo, blog name, website design... must be a reflection of your mission and vision. You are a 'brand', just like CheapTickets is a brand. Successful personal branding ensures recognition; readers will look for you if they want to know something about your field of expertise which leads to a consistent stream of readers!
Write from your own perspective, because you are the unique aspect of your blog! You are the reason why people keep coming back to your blog! Don't 'fake it' and pretend your life is perfect, show the 'real you'! People are going to be much more attracted to your reading material that way.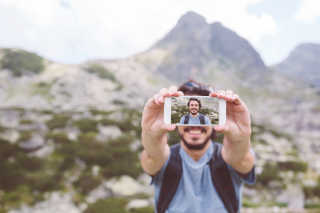 #4 Invent a catchy blog name
This isn't always on the tip of your tongue! And you can't make a hasty decision on this. Your blog name is how people are going to remember you. So choose something that suits your chosen niche, your brand and the mission of your travel blog. Choose something unique and try to avoid years, dates or numbers!
Also, try to find something catchy that people will remember! You should also consider the number of characters you use, because some social media have a character limit. So choose something short or something that you can shorten. Finally, find out if your blog name already exists, we have a handy tool for this.
---
#5 Choose a blog platform
You can either choose a free platform or a self-hosted blog. What's a self-hosted blog? If you host your blog yourself, that means you're paying for a spot on the Internet where you publish your posts. You then own your blog and you have complete control. The alternative is to create a blog on a freely offered platform, but there you have limited choice, little control and often the name of the platform in your website url.
Most professional bloggers recommend a self-hosted blog. It's going to take you a long time to get the hang of everything, but you are your own boss. Furthermore, it offers more opportunities for SEO and personalisation. What is SEO? SEO stands for Search Engine Optimisation, all activities of which are intended to make a web page rank highly in the search results of a search engine such as Google.
Self hosting blog platforms: Wordpress.org, Ghost, Joomla and Drupal
Free platforms: Wix, Wordpress.com, Weebly and Blogger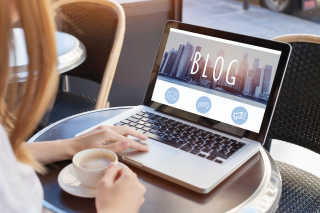 #6 Be consistent, correct and creative
Do you want to be taken seriously as a travel expert? Then you really don't want your page to have grammatical or technological errors. You don't have to be a spelling champion, but always proofread your blog. Consistent posting is really a plus! You don't have to post every day, but try at least weekly or as much as you can while keeping content fresh. That way, your readers can keep track of when your new blog will be released!
Besides being correct and consistent, a successful blogger is best known for their high quality creative content! Don't write your blog quickly before a deadline, make sure each time you give it your all. Your hard work will be rewarded, because the better the quality of your content the more readers you'll attract. In addition to creative content, you should also focus on what your audience wants to know and will find useful. Which questions frequently appear online? Look into it and be sure to 'give the audience what they want'!
---
#7 Double threat: blogger and photographer
Travel blogs often go hand in hand with photography; your readers want to travel with you and admire all the beautiful places you visit through your lens! So blurry photos just won't do! First, make sure you have a good camera and take a few online photography lesson. Second, learn to work with Photoshop!! If the quality of your photo is affected by bad weather, or somebody getting in the way, you can solve this with Photoshop. If you've forgotten to take a picture, or you're not a confident photographer, then there are also sites like Getty Images, Flickr or Unsplash that have many beautiful pictures to offer.
Have you already taken a Photoshop tutorial for beginners? Want to learn more? Then a Photoshop course from Udemy is highly recommended!
#8 Get Social on Social Media!
By promoting your blogs on different social media platforms, you not only get more traffic on your blog site, it is also a way to reach different audiences. Be careful not to blindly copy all your content on all social media, but adapt to the platform and the audience that goes with it. Use social media not only to post your blogs, but be interactive with your readers! Reply to their comments, communicate via chat messages, share content from other accounts, and much more.
Another tip: in addition to social media, ask your readers to subscribe to a newsletter!
Having a mailing list of your readers is worth its weight gold. It proves that you have gained their trust and you can contact them directly with the latest news!
---
#9 Attract readers with SEO
You can have the best blog name, post the most creative content and take the best photos ever...but it's still not enough to attract readers! They have to find you first... This is where SEO can help enormously.
You already know the SEO principle: the higher your web page in search results, the more chance of visitors. There are so many SEO techniques, but an important and easy technique is that of the 'keywords'.
It is best to use keywords or popular search terms everywhere: in the url, title, subtitles, meta description, first paragraph, alt tag of your photos and at least 5 times in the rest of your blog. How do you find the keywords? Google, among others, offers many free SEO tools that help you with this, such as Google Trends, Google Search Console and Google Ads Keyword Planner, but you can also search travel communities on social media or 'people ask/searched' and 'searches related to' google search results.
Find out more about SEO in the beginners guide of Moz.com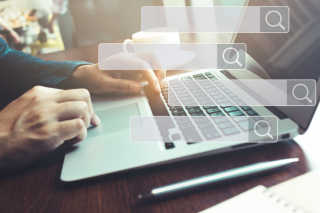 #10 Make friends with other travel bloggers
How do you get to know influencers? Often through other influencers. Everyone is friends with everyone and this creates more "exposure". Same with travel bloggers and the travel blogging community. Online networking is easy: be part of Facebook groups, occasionally post interesting content in it, contact other travel bloggers, do collabs with other people, give shout-outs to other travel bloggers... You'll soon catch their eye! You can do offline networking by going to travel events and selling yourself. Travel conferences are very popular such as TravelCon, World Travel Market and ITB Berlin.
Networking is great for every business, this includes travel blogging. By making contacts inside and outside the travel blog industry, you are gradually creating brand awareness. It also brings in more money, because thanks to successful networking, you get offered all kinds of things: product endorsements, guest blog features, social media influencer projects etc. Be careful! Stay true to your brand and don't work for companies or promote products you don't support.
---
#11 Money, money, money!
If you want to be a full-time travel blogger, you have to let money roll before it flows in. You're actually the CEO of your own company. In addition to being a CEO, as a travel blogger you also take on the role of writer, photographer, graphic designer, marketer, accountant and much more! You may soon realise that you can't keep doing this alone, especially as your blog gets bigger and bigger. Focus on what you're good at and leave the rest to the experts.
In addition to employing a few people, you can also invest in your own lifelong learning process! Learn the latest do's and don'ts of blogging by taking some online courses, learn to take photos with a photography course, follow online Photoshop tutorials and so on!
You can also invest in advertising on Google, social media, other blogs... Think about it: how many times have you clicked on paid advertising yourself?
Smart investing will pay off later!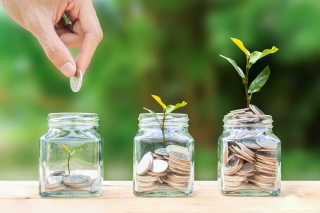 #12 Be a guest blogger
Finally, in order to gain brand awareness in the beginning and earn a penny here and there, you should write some guest blogs for well-known brands. This way you can gradually bring the readers from all those channels to your travel blog! Besides brand awareness, this also gives you more credibility as an expert. For example, if you can write a blog for us, CheapTickets.sg, our readers will consider you a reliable source and successful travel blogger. Don't write a guest blog for every popular website though, stay true to your brand and yourself!
---
Do you want to travel a bit more before you start a travel blog? Check out our flights.
---
Want to read more?