4 Must-Visit Villages in Lake Como
4 Must-Visit Villages in Lake Como, Italy
Italy's most glamorous lake, Lake Como, is located an hour drive from fashion capital Milan. Studded with gorgeous villages and breathtaking views of the Alps, Lake Como is the ultimate destination for adventurous travellers, nature lovers, and those looking for a luxe romantic getaway.
---
Travelling to Lake Como
Flights to Milan
The easiest way to get to Lake Como is to fly to Milan. Milan has three airports, so depending on which airport you fly into, the route differs.
From Milan Malpensa Airport: You can take the 20-minute train to Saronno, and switch to another train to get to Como Nord Lago. Find your ticket on Malpensa Express. The journey will cost €10.90.
From Milan Linate Airport: You can take the 15-minute bus to Milan Central Station, from where you can take the train to Como. Your ticket can be bought on the bus and will cost €5.
From Bergamo (Orio Al Serio) Airport: You can take the 50-minute Airport Bus Express to Milan Central Station, from where you can take the train to Como. The journey to the train station will cost €10.
---
Best Destinations in Lake Como
---
Como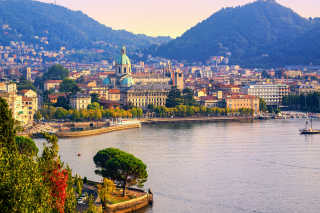 Sitting on the Italian-Swiss border, Como is a stunning city with picturesque views and an abundance of natural beauty. For centuries, Como used to be Italy's capital of silk production, so it's a wonderful place to do some shopping! We recommend taking a nice long stroll to the city centre, which is lined with boutiques and restaurants. There is also an outdoor market there, where you can find some nice vintage pieces and handcrafts. Standing in the middle of the main square, is a stunning Romanesque church called the Basilica of San Fedele that is definitely worth a visit. The main attraction, however, is the Como Cathedral, which is equally as beautiful from the inside as it is from the outside.
---
Affordable Hotels in Como
---
Bellagio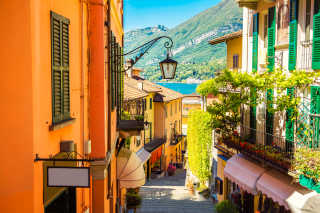 Famous for its fabulous villas that overlook the water, Bellagio is a charming paradise and one of the main highlights of Lake Como. Gorgeous cobblestoned streets will lead you through the town, where you will be surrounded by cute restaurants, cafes, and shops. In the town centre, you will find the mesmerising Basilica of San Giacomo. A top attraction in Bellagio is, of course, the Villa Melzi Gardens, which is a true botanical paradise!
---
Affordable Hotels in Bellagio
---
Varenna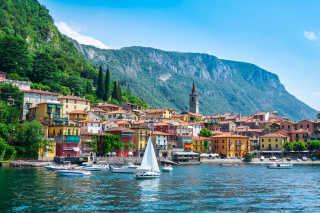 Varenna is a remarkable little town in Lake Como that is studded with lush gardens and pretty pastel houses. The town is home to two gorgeous villas that are must-sees; Villa Cipressi and Villa Monastero. Both villas are equally stunning and you only have to pay a small fee of €4 to enter. If you're up for a little adventure, we recommend hiking to Vezio Castle for the most picturesque views of the lake!
---
Affordable Hotels in Varenna
---
Tremezzina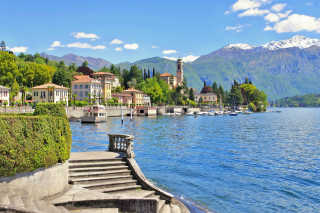 As one of the most popular holiday destinations in Lake Como, Tremezzina is a lovely town that is home to the infamous villa: Villa Carlotta. Another famous villa that is located in this beautiful town is Villa Balbianello which is featured in many Hollywood movies such as Casino Royale and Star Wars Episode II: Attack of the Clones.
---
Affordable Hotels in Tremezzina
---
Enjoy a wonderful trip to the fabulous Lake Como! Love Italy? Check out our blog about other inspirational places to visit for some inspiration on where else you can go. Check and compare our best flight deals and book your ticket on CheapTickets.sg. Happy travels!
---
Want to read more on exciting places to visit in Europe?