Top 7 Underrated Locations in Paris
Top 7 Underrated Locations in Paris
Ah, Paris… A city so iconic it almost doesn't deserve an introduction anymore: French capital, weighed by more than two millennia of history, birthplace of the Enlightenment, world class romantic destination and home to 258 types of cheese. There are countless guides for a vacation there, and even more tourists, but perhaps you hoped for a more authentic experience? Paris has so much more to offer than the classic touristic hotspots, and we have compiled 7 among the best of these off the beaten path locations for you.
The Paris you were never told about
---
1. The Arc de Triomphe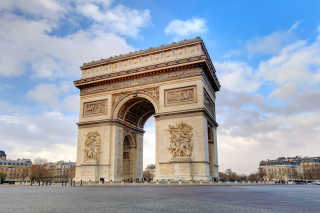 The Eiffel Tower is not the only iconic monument from which you can have a stunning view of Paris. We all know the famous Arc de Triomphe, but did you know that you can actually visit it and climb all the way to the top? Initially built to celebrate Emperor Napoleon's victories, it now stands proudly in the center of the most dangerous roundabout of France (seriously, don't go there with your rental car), and offers a unique view over the Avenue des Champs Elysées.
2. The Catacombs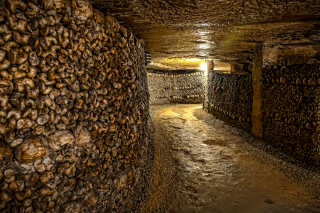 Paris' fascinating and ancient history is actually closer than you might think! Right below the city streets, in the extensive network of the former quarries lie the 'Catacombs'. In these tunnels you will find old architectural feats, art exhibitions and of course the iconic piles of human remains, thousands of skulls and bones that give it such an eerie atmosphere. This will definitely allow you to discover another side of Paris, but don't venture there on your own, because not only is it illegal but you are sure to get lost in this underground maze.
3. The Sainte Chapelle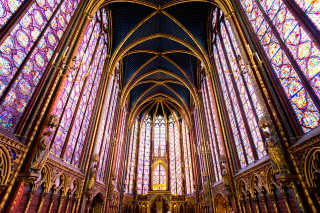 While unfortunately you cannot visit Notre Dame Cathedral anymore because it is still being renovated to recover from its tragic fire, there are many other beautiful religious monuments that are worth seeing, like the Sainte Chapelle. Considered one of the best Gothic masterpieces, it was initially built to hold sacred Catholic relics, notably the crown of thorns, and still possesses a stunning collection of stained glass from the 13th century!
4. The Place des Vosges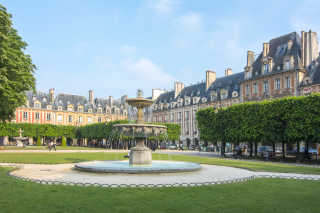 This lovely square might not be the most well known in the city, but it is the oldest, and has seen a few famous French historical figures living there, like the Cardinal de Richelieu or Victor Hugo. The beautiful architecture of this location combined with its tranquility make it perfect for a relaxing break from running around the city. And you can also explore the surrounding district, the infamous Marais, known as the fashionable area of Paris, with a lot of trendy shops, a vibrant nightlife and the heart of the local gay community.
5. The Pompidou Center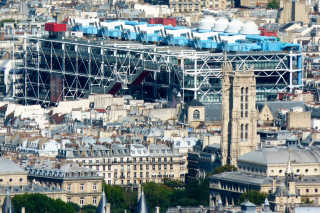 Of course when you think about going to a museum in Paris, the Louvre comes to mind first, and yet there are so many other great ones to see. The Pompidou Center is one of them, and definitely one of the most famous you can find there when it comes to modern art. The building itself is considered a masterpiece, designed by Renzo Piano and Richard Rogers, and it holds many different collections, about photography, drawings, visual arts, and more! Some of the masterpieces in the permanent collection include:
"Mit dem schwarzen Bogen", Vassily Kandinsky, 1912: Meaning "With the black bow", this painting inspired by musical art aims to represent the vibrations of the soul.

"Fontaine", Marcel Duchamp, 1917: Simply called 'Fountain', this piece is actually an urinal that the artist bought as a way to think about what it means to create art in the 20th century.

"Manège de cochons", Robert Delaunay, 1922: Called "Pigs' Merry-go-round", this painting depicts the artist's modern urban life, while echoing with art trends, poetry and abstract movement.
6. Les jardins du Luxembourg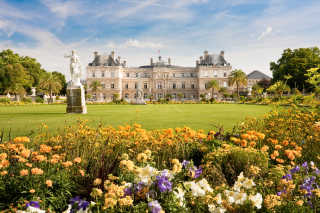 The Luxembourg Gardens, or Jardins du Luxembourg in French, are adorable public gardens located in the heart of Paris, in the 6th arrondissement, right next to the Senate. This is where locals go for a run or to enjoy a book by the fountains, and in spite of their popularity, the gardens are usually not too crowded, making them an ideal place to take a break from the rest of the cityscapes. You can find avid chess players there, beautifully designed statues and fountains, tennis courts, and even some pony riding for the kids.
7. The Père Lachaise Cemetery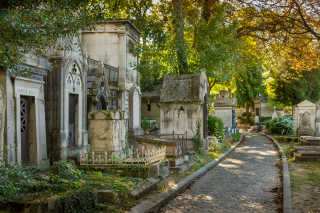 Our last entry is a most unusual one, who would think of visiting a cemetery while on holiday right? Well this one is not exactly like any other cemetery. Among the lush lawns and beautiful statues or carved tombs you will find the resting places of some of the most famous men in history, many French of course like Eugène Delacroix or Edith Piaf, but also from other countries like Jim Morrison or Oscar Wilde. With more than 30,000 graves, the chances that a figure you admire and wish to pay respect to is buried there are high, and if not it always maked for a nice walk, among so many great names of the past. But always remember that this is not an attraction, so behave accordingly, respectfully.
---
These are only a few of the many amazing locations you can see and visit in the City of Light, but you can always read our other blog if you are curious about other destinations, and you can find more useful information about your next trip on BudgetAir.com.
---
Want to read more?