Adventures Abound in Australia's Northern Territory
Adventures Abound in Australia's Northern Territory
Australia's Northern Territory (NT) is unlike any other place on earth. Steeped in Aborigine heritage but hospitable to cultures from all around the world, travellers will be enthralled by the fiery dance of many worlds - a fine example of diversity and community, and a city with a soul.
---
1. Food and Culture
The Northern Territory has been a fertile nesting ground for 50 nationalities and their vibrant cultures. Witness the fusion of authentic Aboriginal heritage within the fabric of performance and art. This melting pot overflows into their food and drink as well - from outback bush tucker to contemporary fine dining, you'll be richer in both the stomach and soul.
Mindil Beach Sunset Markets
Want to lose yourself in a piece of Darwin's today? Open every Thursday and Sunday from April to October,Mindil Beach Sunset Markets features over 60 food stalls that serve up gourmet cuisine from a plethora of cultures nestled within its community. Add a dazzling sunset and a VIP lounge to admire it from, and you'll wish Darwin was home.
Yogi's Way
Marketed as a restaurant serving 'modern Australian cuisine with a Nepalese twist', Yogi's Way is out to fuse the best of both cultures, and that passion shows across all three menus, each curated for each meal. Bhairab Yogi, the restaurant's founder, set out to create unique flavor at affordable prices ('comparable to cooking at home'), and the cafe's offerings continue to impress beyond its price tag.
Black Russian Caravan Bar
Nitmiluk (Katherine) Gorge, one of the Northern Territory's scenic highlights, is also home to the Black Russian Caravan Bar, a retro pop-up van that serves up sweet and savoury goodness within walking distance of the Katherine Information Centre. Be sure to try their pastries, including the quirky Tropical Brioche Doughnut and the old-school Cinnamon Scroll!
---
2. Experience Aboriginal Heritage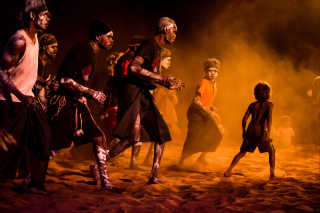 The facets of Aboriginal culture are a long-lost craft that can be best retained in Darwin and its surrounds. Home to the largest Aboriginal population in the world, immerse yourself in the race's Dreamtime history through their pulsating performances and ethereal painted masterpieces, and discover the ties between the Aborigine wildlife and indegenous people.
Walking with Spirits Festival
The Walking with Spirits Festival is a unique celebration of Aborigine life and culture, and draws its very best people to Beswick Falls every winter. Its 17th iteration is set to feature all aspects of Aborigine celebrations, including traditional corroborree, an Australian Aboriginal dance ceremony in the form of sacred rituals or informal gatherings, in several Arnhem Land languages. Coupled with songs and stories told in dance, music, puppetry, fire and film, allow the passion and emotion of the Aborigine legacy unfold before you in a blaze of glory.
Kakadu's Guluyambi Cultural Cruise
Fancy learning about the facets of Aborigine life up close? The Guluyambi Cultural Cruise is a unique boat tour on Kakadu's scenically spectacular East Alligator River. The fun doesn't stop there - guests will get to disembark on the Arnhem Land side of the river for a display of traditional hunting & gathering implements as well! Owned, operated, and personally led by Aborigines, rest assured that the tours provided will be as eye-opening as they are sustainable for their community. Tours happen from the months of May to November - remember to book your tickets within that period if you don't want to miss out!
---
3. Nosedive into Nature
Australia is well known for its laundry list of beautiful natural formations, but the Top End is home to the cream of the crop. Some of these destinations are close to the city while some may require an equally spectacular journey out, but the end result is the same - the great Mother Nature in her full glory.
Darwin Botanic Gardens
Looking for something closer to the city? The George Brown Darwin Botanic Gardens puts together the best of northern Australian flora and pairs it with tropical highlights from the rest of the world. Part of a cultural precinct that also includes the Mindil Beach Markets, its significance within the Darwin community is undisputable. Locals frequently pop by to relax or partake in pop-ups, so be prepared for a unique experience every time you're here!
Katherine
A collection of nature's finest can be discovered within the confines of Katherine, a 3-hour drive from the capital that will be well worth the journey. From the spectacular views via helicopter or airplane to the therapeutic hot springs and thermal pools, to adventure tours and Aboriginal culture exhibitions, this place holds a new perspective to what Australia is and has become today.
The Kangaroo Sanctuary
First placed on the map through the massively popular documentary Crocodile Dundee, The Kangaroo Sanctuary in Alice Springs is a 188-acre wildlife sanctuary for rescued kangaroos and their young joeys. If you're looking to meet these lovely creatures in person, come in the late afternoon - the Sanctuary can only be visited on a pre-booked guided sunset tour, as the kangaroos begin to wake from their daytime slumber.
Simpsons Gap
A hike or cycle away from Alice Springs, the Simpsons Gap is home to magnificent cliffs and a permanent waterhole that serves for a perfect post-hike respite. Do keep an eye out for the black-footed rock-wallabies along the biking trail, which winds part several woodlands and ranges characteristic of the Outback - these natives can be spotted wandering the vegetation in the area.
---
4. Events and Festivals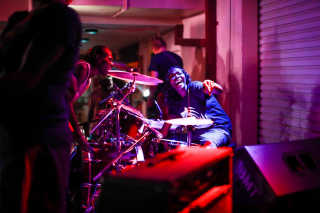 A bustling region of Australia which this much culture has plenty to showcase, and the Northern Territory's range of religious, cultural, or recreational spectacles is bound to leave any visitor spellbound and hungry for more. From the age-old celebrations of Aborigine tradition to refreshing statements of art and creative intent, anticipate anything and everything!
Darwin Fringe Festival
If you can think of a genre of art, you'll probably find it, and several more you've never heard of, at Darwin Fringe Festival. The acts here take the spectrum and tear it to pieces - expect an all-out assault on your physical and emotional senses as the very edges of art take over the streets of Larrakia Country in the hope of an arts scene that continues to bloom across the North.
Darwin Aboriginal Art Fair
You may be tempted to bring home a piece of Aboriginal culture after learning about its nuance during your time in Darwin, but this may come at a cost to the native of any ethnicity if not done right. Enter the Darwin Aboriginal Art Fair, where you can purchase artwork directly from over seventy Indigenous owned community Art Centres, all while being immersed in the dance, music, and vibrance of the Aborigines. Strict adherence to ethical trade guidelines ensure that natives benefit directly from your support, and continue to prosper.
Noonamah Tavern Rodeo
Cowboys and bulls aren't exclusive to the Americans - the good people over at Noonamah Tavern, a popular restaurant by day and rowdy bar by night, have put together an authentic Australian sporting experience at the Noonamah Rodeo, an annual ruckus that includes classic barrel racing and bull riding, along with edgier offerings like competitive motorcycle stunt riding for the younger ones. Aside from the Rodeo, the tavern organizes other events that speak to all demographics, so check out what they're brewing depending on the time of year you're headed to Darwin!
Darwin Lions Beer Can Regatta
Beach bums will not be neglected in Darwin as well - the Darwin Lions Beer Can Regatta. A signature event in Darwin's calendar, the premise is simple - design a vessel from cans, bottles, or cartons, and float it to victory. Sideshows include sandcastle competitions, kayak races, and quirky thong throwing face-offs. All eyes, however, will be on the Battle of Mindil, where participants hunt for a hidden underwater treasure on their makeshift boats, all while dodging fellow racers and crowd-made flour bombs.
---
Darwin's importance in Australia's history is undisputable, but what it has in store for the future only looks brighter with each passing day. Don't miss out - grab your cheap tickets to Darwin while they're still available, and take on the best of the Top End today!
---
Want to read more travel related blogs?