Animals Working at the Airport
Animals working at the airport
If you're a frequent traveller you may have seen sniffer dogs in action at the airport. But, you might be surprised at the range of other animals working at the airport when you next pass through.
While the security mice being developed in Israel are still a dream of the future, keep your eyes open for dogs, cats and birds or even pigs and goats.
What kind of animals work at the airport?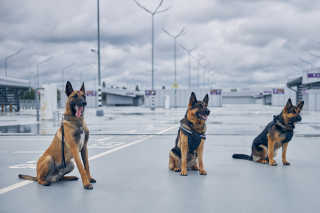 Therapy dogs and cats (and pigs and horses!)
Are you going to make it to the gate on time? As you transit the airport, you can feel your stress levels rising. Seeing a friendly dog wearing a vest that says 'Stroke me!' is the perfect antidote to this. Bend down to say hello and as you stroke it, your tension melts away. More and more major airports are using volunteer therapy dogs as a way of helping stressed passengers. The idea started at California's Norman Y. Mineta San Jose International Airport after 9/11 and quickly spread around the world. Aberdeen Airport was the first in the UK to take up the idea and now has over a dozen dogs including golden retrievers, beagles and a pug. It's not just dogs, however, providing the therapy. San Francisco Airport has LiLou, a therapy pig while Denver's therapy squad includes Xeli the cat. Not to be outdone, Cincinnati/Northern Kentucky International Airport even has miniature horses in the terminal.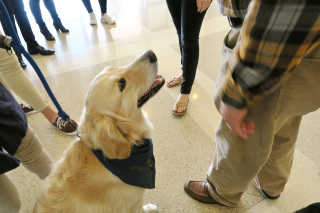 The birds that keep skies clear for takeoff
One of the biggest threats at take-off is a bird strike, but the use of falcons, hawks and kestrels to lessen this risk is becoming increasingly common. Using raptors is one of the most humane methods of preventing strikes as it mimics the normal predator-prey relationship of the wild. Raptors can also cover a huge distance making them more cost-effective and efficient than other methods of bird control. Very often, just the sight of a falcon or other raptor is enough to send flocks of gulls or pigeons on their way. The idea of using raptors in this way started in Scotland shortly after World War II and several UK airports including Heathrow make use of hawks to keep the skies safe for take-off.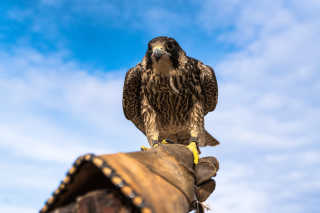 Four-legged landscape control
Long grass next to runways makes the perfect nesting ground for birds which can then cause bird strikes at take-off. Traditionally, this grass has been kept down with environmentally-damaging herbicides and pesticides. Chicago O'Hare International Airport, however, is leading the way in tackling it differently. Each summer a 30-strong flock of rescue sheep, goats, donkeys, alpacas and even a llama (good for seeing off roaming coyotes) arrive to tackle the vegetation. Interestingly, while goats are not used to control vegetation at Gatwick (one of London's airports), the airport does have 'goat' links. 'Gat' is Old English for 'farm' while 'wik' means 'goat'. Maybe as we become more environmentally aware around airports, the goats will return. Keep your eyes out for them!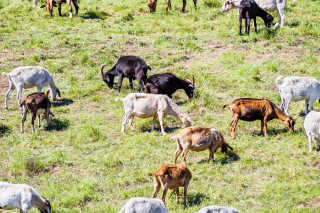 Sniffer dogs with super-sensitive snouts
While planes get safer, sometimes airports have become riskier places, but skilled dogs with super-sensitive noses are working hard to keep us all safe. Just about every country in the world has its own team of sniffer dogs. You don't always see them in action, but when you do, it's fascinating to observe. Sniffer dogs operate in passenger areas and at security checkpoints as well as behind the scene on luggage conveyors and the cargo holds of aircraft. Each dog is trained to detect one or more odors and can typically sniff out explosives, drugs, firearms, tobacco, cash and illegal animal or plant products. No matter how well someone thinks they have hidden something illicit in their luggage or on their person, the sniffer dog will find it. Sniffer dogs were first used to sniff out drugs in the UK in the late 1970s. Today there are nearly 100 highly-trained dogs working at Britain's airports.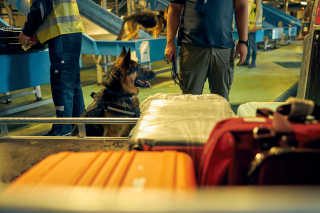 Play spot the animal when you next travel
Next time you travel, you might be lucky enough to encounter one of these hard-working animals at the airport. They are all there to help your journey go smoothly. If you're thinking of planning a holiday, visit CheapTickets now.
---
Want to read more travel tips?