Best Wines of Africa
Although France, Australia, Italy, and California are widely well-known for their wines, Africa is also home for some of the world's delicious wines. So now it's time to take a look at what the wineries of Africa have to offer.
Vineyards can be found across the African continent. Wherever grapes grow, producers are crafting memorable vintages with unique tastes, exploiting the terroir of the continent to the full. This creativity isn't always obvious to global travellers, who could well be missing out on once-in-a-lifetime wine vacations. So let's take a closer look and explore which countries and vineyards to visit to experience the best wines of Africa.
---
Which countries have some of the best wine in Africa?
Wine has been produced in Africa for thousands of years, and grapes have been fermented since long before the first Bordeaux or California pinot grigio hit supermarket shelves. In ancient Egypt, red wine was part of many religious ceremonies (and everyday celebrations). However, the real wine-making boom across the continent has taken place since 1900. And most of all, it has blossomed in South Africa. South Africa accounts for the vast majority of modern African wine production. However, Namibia, Kenya, Tanzania, Ethiopia, and many other sub-Saharan nations produce their own varieties. And Egyptian wines continue that age-old tradition, along with Morocco, Algeria, and Tunisia in North Africa. All have their fine vintages - and are fun to explore. But most experts agree that if you want world-class wines, South Africa is the place to head.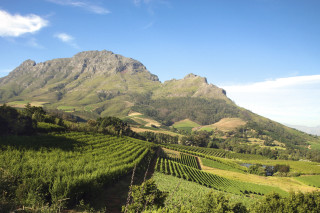 What wine is South Africa famous for?
What is the most popular wine in Africa? The wines of South Africa vary a lot, but there are some varieties that thrive especially well in the rich soils of the Cape. Pinotage is a popular style, and was actually pioneered in the region in the 1920s. Nowadays, it offers a kaleidoscope of medium and light wines with rich fruit flavours and followers around the world. Chenin Blanc is also popular, and is the most widely planted grape in the country. Often dry and crisp, these white wines are a stark counterpoint to Pinotage varieties, showing the nation's winemaking diversity. But that's not all. Shiraz, Merlot, Chardonnay and Sauvignon Blanc are all cultivated. And that range of grapes and flavours is what makes South Africa one of the most exciting destinations for wine lovers.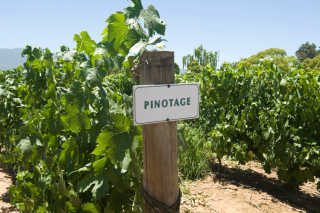 Which are some of the popular wineries in South Africa?
If you intend to visit South Africa for a wine-tasting trip, planning ahead makes sense. There are hundreds of wineries in the country, and not all of them produce outstanding wine. But many of them do and these producers are the places to tour. Here are a few to consider for your next holiday vacation.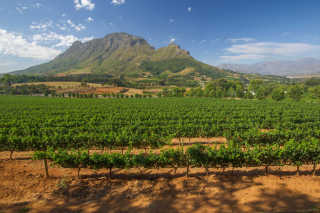 Le Pommier
Located in the Banhoek Valley in the Stellenbosch region, Le Pommier is conveniently located for Cape Town Airport (just a 35 minutes drive away) and scores highly with South African wine experts. Visitors can try Malbecs, Sauvignon Blancs, Rosé, and Cabernet Franc wines, mix them with fine food and stay in a beautiful lodge - before hitting Cape Town for some sightseeing.
Uva Mira Mountain Vineyards
When travelling to South Africa you should plan a stop at some of the great wineries, not only for the wine, but also for the great views. Vineyards make great photo taking opportunities throughout the year. Why not check out some of the world's finest wines grown on the Helderberg Mountain in Stellenbosch at Uva Mira Mountain Vineyards. The fine wines handcrafted at Uva Mira are made using only grapes from the vineyard sites on the estate, to truly express the unique traits of the remarkable site. With altitudes as high as 620 m above sea level and only 9 km from the Atlantic Ocean and the beauty spot of False Bay, you can take in the sights and taste some fine wine and maybe a tasting platter of their artisanal cheese and meats.
Chamonix
Situated in Franschoek, not far from Stellenbosch, Chamonix is vast. And it's also hugely rewarding for wine lovers, with locally produced unoaked Chardonnays, classic Sauvignon Blancs, and five-year aged varieties with a subtle complexity that you won't find anywhere else. Again, accommodation is available. This time, stunning lakeside chalets provide the perfect place to stay.
Elgin Vintners
Moving to the Overberg region, Elgin Vintners has turned a century-old orchard into a wonderful sustainable winery. Settle down in the comfortable tasting room where visitors can sample fine reds and whites, including award-winning Sauvignon Blancs, as well as Syrah and Pinot Noir varieties from nearby Ridgelands. Few places offer such variety, and - as with most South African wineries - opulent accommodation and rural tranquility come as part of the package.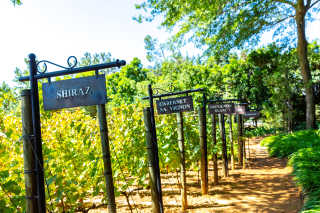 Book a flight to Africa
Those are three of the finest wineries in South Africa, but they hardly scratch the surface. There are much more to explore, so make a wine tasting experience part of your next travel adventure! From the Tulbagh Valley to Swartland, from Stellenbosch to Elgin, travellers won't struggle to find exceptional destinations for wine-based vacations. So if you are a Cabarnet fanatic and want to mix fine weather, luxury lodgings and world-class hospitality, book a visit to South Africa today. Or if you are feeling adventurous, why not explore Egyptian or Kenyan wines? Wine and travel are made for each other, and with CheapTickets.sg discovering new vintages couldn't be easier.
---
Want to read more on various wines in the world?