Five Days Sydney Winter Itinerary Family
5 Days Winter Sydney Itinerary with Family
It had been so long since we went on a family holiday together and one city was on all our minds - Sydney! As the capital city of the New South Wales state in Australia, Sydney is undoubtedly one of the most popular destinations for Singaporeans. Plus, Sydney was experiencing their winter season when we went in July - hello aircon-like weather, goodbye sweaty Singapore!
While we did not go on a self-driving trip, we did book 3 tour bus day trips to visit some of the most fascinating sights Sydney has to offer.
Psst: For those who enjoy long drives and scenic road-trip views, there are plenty of self-driving itineraries that promise picturesque views and an unforgettable experience. Luckily, you can search for the best deals and make your car rental bookings with CheapTickets.sg too.
Our trip itinerary
Day 1 - Sydney city sights
We arrived bright and early in Sydney and the first on our to-do list was to try the famous Watermelon cake from Black Star Pastry, the world's most Instagrammed pastry. A slice of refreshing watermelon nestled in between cream and cake slices topped with edible flowers, yes please!
After brunch, we made our way to King Street Wharf, on the eastern shore of the famous Darling Harbour. While walking, we were met with cooling breezes, clear blue skies and old architectural styled buildings - it was simply amazing.
At King Street Wharf, we met up with our friendly tour guides from AAT Kings and soon started on our 'Bondi Beach & Sydney Sights' half day tour. We first drove along The Rocks, a cobbled laneway historic district home to some of Australia's oldest pubs.
🏛 Fun Fact: Known as the birthplace of modern Sydney in 1788, The Rocks is the city's historic area where European settlers first arrived in Australia.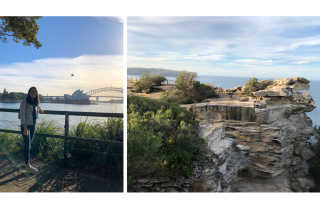 Image (L to R): View from Mrs Macquarie's Chair, The Gap cliff
Next, we headed to Mrs. Macquarie's Chair, an iconic stone seat located right by the Royal Botanic Gardens. There, we were offered the wonderful view of the Opera House and the Sydney Bridge - 2 landmarks we as tourists, simply couldn't miss.
Afterwards, we reached the Gap, an ocean cliff in eastern Sydney that faced the Tasman Sea. As someone who was always surrounded by tall concrete buildings in Singapore, the ocean view from the Gap stunned me - and nature really has a way of showing us beauty that words can't describe.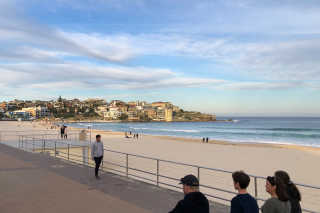 Image: Bondi Beach
Our last stop of the day was the world famous Bondi Beach, where we got to see surfers hitting the waves and friendly Australians jogging in shorts - even when it was around 10°C.
🌊 Fun Fact: Did you know that 'Bondi' (originally known as 'Boondi'), is an Aboriginal word that means 'surf'? Well known for its waves, close proximity to the city and pristine sand, we certainly know why Bondi Beach is popular amongst both locals and tourists!
Day 2 - Blue Mountains & Featherdale Wildlife Park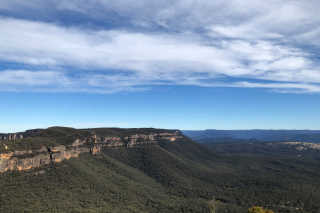 Image: Our view of the (really) Blue Mountains - our tour guide mentioned that he had never seen such blue skies before!
Waking up before 7am on a holiday was no easy feat but it was neccessary if we wanted to catch our ride to Blue Mountains - Sydney's World Heritage-listed mountainous region nearby the rustic town of Katoomba.
There, we saw the iconic Three Sisters rock pinnacles, in which we came to realize that the stories as to how these rocks came to be, actually differ from person to person. From stories of witchcraft to missing daughters, it makes me wonder which is the true tale.
Next, we bought tickets to Scenic World, an attraction that offers you activities close to nature. Here, you can go on a thrilling ride in the world's steepest railway (at a 52° incline, I felt like I was slipping off the whole time!) or take the Scenic Skyway cable car as you are given amazing panoramic views of World Heritage sights like the Jamison Valley. If walking is more your thing, go for a relaxing stroll under the canopies of the Jamison Valley rainforest and explore some of the site's coal mining history, complete with a miner's hut.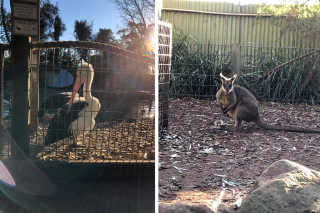 Image: Animals we saw at the Featherdale Wildlife Park
After filling up on all the magnificent blue views, our next stop was the Featherdale Wildlife Park which is home to several native Australian animals such as koalas, kangaroos and reptiles. The Park also boasts a 'hands-on' wildlife experience where guests are able to get up close and personal with some of their friendly animals.
Day 3 - Australian Reptile Park, Port Stephens & Stockton Bight Sand Dunes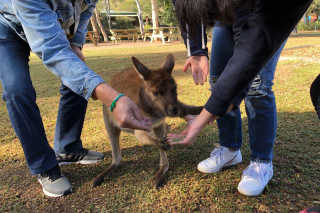 Image: Feeding a little joey – look at how he is holding onto our hands!
After grabbing a quick bite for breakfast, we boarded the tour bus and headed to the Australian Reptile Park which houses several reptiles such as lizards and snakes as well as 'Australia's crankiest crocodile', Elvis. There, we also managed to pet a sleeping koala and feed a little kangaroo joey.
🐨 Fun Fact: Did you know that koalas can sleep up to 22 hours a day? Their long sleeping hours are a result of the high energy required to digest their food, hence they sleep a lot to conserve energy.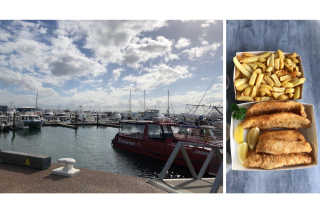 Image (L to R): Nelson Bay, the freshest Fish & Chips from Bob's!
Next, we travelled to Port Stephens which was a 2.5 hours drive from Sydney and well known for its dolphin watching cruises departing from Nelson Bay. There, we had the freshest fish and chips at Aussie Bob's Fish and Chips - the servings were large and the fish was not too oily as well.
After lunch, we boarded our dolphin watching cruise captained by an experienced crew whom were really knowledgeable about dolphins and their habits. Luckily for us, it was a bright day with the sea glistening in the sunlight - and soon, we did manage to spot a few pairs of dolphins swimming together.
Our last stop of the day was to the Stockton Bight Sand Dunes where we rode in a purpose-built 4WD vehicle, specifically to travel across the really uneven hard sand. There, we tried our hand at sand-boarding and it was such a thrill to try and balance one's weight on the narrow board while sliding down the seemingly steep sand slopes.
We headed back to Sydney and stopped to have dinner at Hurricane's Grill, a restaurant famous for its huge ribs. It was probably the best dinner we had throughout the whole trip - where we feasted on wonderfully grilled scallops, a huge stack of pork ribs and literally the best ravioli I ever ate. Served with sweet potato puree, the ravioli were stuffed with parmesan cheese and the crispy kale garnish gave the creamy dish another texture - it was simply divine.
Day 4 - Sydney city sights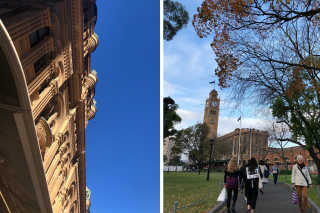 Image (L to R): Queen Victoria Building, Central train Station
Our last full day in Sydney was free and easy and we decided to check out some of the famous city sights that we missed out on. First, we stopped by the St Andrew's Cathedral, which was built from 1837 to 1868, thus making it the oldest cathedral in Australia. Located next to the Town Hall and near the Queen Victoria Building, the St Andrew's Cathedral is one of the city's finest examples of Gothic Revival architecture - with its beautifully stained glass and inspiring artwork.
Next, we made our way to the Australian National Maritime Museum (and spent too long a time in the gift shop checking out their WWII postcards). There, we visited their permanent exhibitions for free and learnt more about how Australia was first discovered by European explorers to the stories of Australia's earliest European passengers, who soon settled down in this country.
Finally, as the sun sets pretty early in Sydney during the winter at around 5pm, we set off to get dinner at the Grounds of Alexandria, a popular cafe filled with a garden, water display feature and even a livestock farm (we were warmly greeted by the chickens and pigs upon arrival).
Though a little far from the Sydney CBD area, the cafe is a recommended spot to visit, especially for those who appreciate a dim outdoors ambience while dining. Plus, the Grounds regularly updates its decor set-up in light of newly released movies (it currently has a Christmas/ Frozen II theme going on!) so be sure to snap some insta-worthy photos while you are there.
Day 5 - Home Sweet Home
Our flight back to Singapore required us to leave our hotel in the morning before brunch. As the cab rolled past the buildings of Sydney, I am once again amazed by this enchanting city - with its amazingly styled buildings and great coffee, I know I will be back. Till next time, Sydney!
If this post has inspired you to visit Australia, be sure to check out CheapTickets.sg for great travel deals!