21 Glamping Destinations in the World
21 Glamping destinations in the world
What is glamping? How is it different from camping?
Glamping is simply camping with a dose of luxury thrown in. The difference between that and camping may include some things as having a comfortable beds instead of sleeping bags, watertight accommodation instead of leaking tents and no creepy-crawlies in your bed, etc.
If you want like the outdoors and want to experience something unique from the usual camping feeling, then glamping may be the answer. Find out more about it then be tempted by our 21 glamping destinations in the world..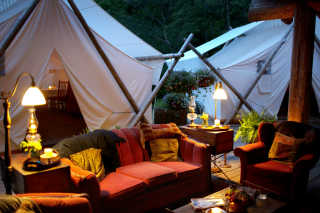 Hand-built tents, rotating fireplaces and twin bathtubs make a stay at Nightfall Camp a true glamping experience. Your tent nestles in Queensland's ancient rainforests while the waters of Christmas Creek soothe you to sleep.
Brisbane is just 90 minutes away, but in Spicer's Camp it feels like a world away. This true eco-experience takes you back to nature with hot tubs thrown in.
The cabins at Hoshinoya, Japan's first official glamping site, blend into their lakeside surroundings. Nestled among conifers above the lake they offer both privacy and stunning views.
Natra Bintan is a true glamping experience with TVs, fridges, air-con and rainforest showers. Outside, private patios overlook the Crystal Lagoon.
Life is luxurious in your tent at Tanakita, but you certainly don't have to cook over a campfire. Enjoy the Mount Gede Pangrango National Park before returning to a delicious meal someone else has cooked.
Hike through the Halimum National Park. Then relax in your Mongolian tent in the Highland Park Resort. East truly meets West with spiritual experiences and a wealth of outdoor activities.
The geo-domes at the Whitepod Eco-Luxury Hotel have every convenience including pellet-fuelled eco-stoves. The chic rooms are truly comfortable, but the stunning scenery will soon tempt you outside.
Although Nomade is all about sustainability luxury isn't forgotten. Grass-roofed huts and cosy canvas tents blend right into their Caribbean landscape.
Forget stressful city life in the desert oasis of Scarabeo Camp. While small in scale, it goes big on luxury with Moroccan artefacts adding the finishing touch.
The sky is huge in Texas and the Hill Country Collective Retreat lets you breathe it in. Enjoy the fun of camping with the perks of overlooking the beautiful hill and the being amazed at the surrounded beauty of the natural landscape.
Ithaca is perfect for enjoying outdoor life to the max. When you're exhausted after a day's hiking, it's much easier to fall into a luxurious Ithaca by Firelight tent than pitch your own.
This old redwood logging camp dates back over 100 years giving a taste of pioneer life with added luxury. As well as glamping teepees, Camp Navarro has charming Adirondack cottages.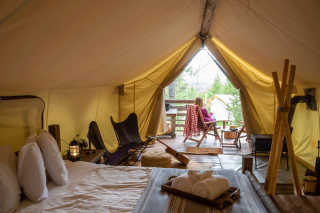 Get up close to nature from your luxury tent at the Tanda Tula Safari Camp. It's easy to forget you're surrounded by wilderness until leopards or wild dogs wander by.
Combine glamping and safari in the Singita Mara River Camp. The decor of these exclusive tents reflects the Masai culture.
The chic desert sanctuary of Al Maha offers high-end glamping based on Bedouin traditions.
Watching Asian elephants wandering past your tent at the Four Seasons is an unforgettable experience. As well as wildlife watching enjoy the cocktail bar and wine cellar.
The Hintok River Camp is steeped in history. This must-visit World War II site sits on the Kwai Noi River. Enjoy an on-site museum as well as luxurious bell tents.
Get up close to wildlife on bear and whale watching trips from the Clayoquot Wilderness Lodge. You'll start unwinding from the minute you board the seaplane to this isolated location.
Set beside the beautiful Lake Bled, the Garden Village offers you a fairy tale treehouse, a glamping tent by a burbling brook or a pier tent on the dock.
From your transparent bubble room at Buubble, you may catch a glimpse of the fascinating Aurora Borealis. Even more exciting, you can sleep in Iceland's first hanging bubble!
Try glamping in the UK at the Ceridwen Centre. Inspired glamping options include Middle-Eastern-style yurts or a double-decker bus.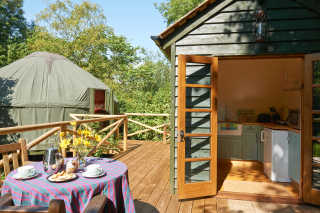 Glamping is an easy way to enjoy a luxury holiday. If any of these 21 glamping destinations have tingled your interest to explore the world, compare flight deals at CheapTickets.sg.
---
Want to read more?