Muslim Friendly Restaurants Korea
9 Muslim-Friendly Restaurants in Korea!
Food is one of the essentials that any traveller would need to know when traveling to a foreign country. Halal restaurants might be a rare sight but effort has been put in to promote Halal food and Muslim-friendly facilities.
We recently visited 9 Muslim-friendly restaurants during our recent 5D4N trip with Korea Tourism Organization (KTO) Singapore to experience authentic Korean dishes in Seoul and Jeju! (Lucky us!)
P.S. Read till the end for the bonus!
#CTSGtip: To all Muslim travelers who are concerned about cultural inconveniences during your travel to Korea, you can now use the 4-category restaurant guide issued by Korea Tourism Organization (KTO) to help you in deciding the place to dine!

Day 1 & 2: Jeju ✈️
Search cheap flights to Jeju>>
If you'd not known before, Jeju is famous for seafood – abalone, mackerel and cutlass fish in particular. Though there are no Halal-Certified restaurants in Jeju at the moment, there are several Muslim-friendly restaurants with prayer room available (upon request). The following first meal we had in Jeju was at a restaurant just a 5-min drive away from the airport.
1. Bada Punggyeong 바다풍경
Muslim-Friendly
Operating Hours: 09:00AM to 11:00PM
Phone Number: +82-64-784-9779
Price Range: 20,000 KRW ~ 59,000 KRW
Address: 17, Ilchul-ro 288beon-gil, Seongsan-eup, Seogwipo-si, Jeju-do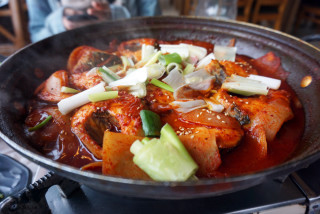 Image: 고등어조림 (godeungeo jorim), Braised mackerel
In Korean, Bada refers to the ocean while Punggyeong means scenery. The restaurant lives up to its name by offering a scenic view of the ocean. This is a Muslim-friendly certified restaurant that sells only seafood.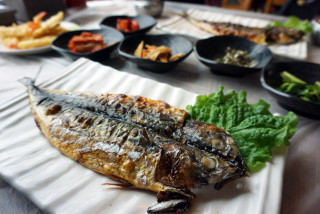 Image: 고등어구이 (godeungeo gui), Grilled mackerel
Their signature braised mackerel is a must-have when you're here! If you're not a fan of spices, opt for a grilled option instead.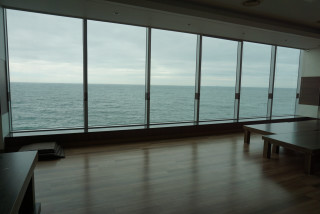 Image: Prayer Room at Bada Punggyeong Restaurant
#CTSGtip: Prayer room is available at the 3rd floor upon request. It has a picturesque overview of the ocean, perfect photo spot for memento!
2. Tammora (Ramada Plaza Jeju Hotel)
Muslim-Friendly
Operating Hours: Breakfast - 06:30AM to 10:00AM / Lunch - 12:00PM to 2:30PM / Dinner - 6:00PM to 10:00PM (Daily)
Phone Number: +82-64-729-8380
Price Range: 88,000 KRW (Muslim Special Course)
Address: 66, Tapdong-ro, Jeju-si, Jeju-do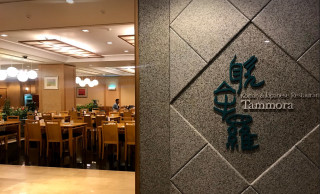 Image: Tammora Restaurant
After a day of traveling around the island, we checked into our accommodation at Ramada Plaza Jeju Hotel. Located within the hotel at Level 1, this is a Korean & Japanese restaurant that serves a Muslim Special Course. Halal meat is prepared and cooked separately from regular Korean dishes.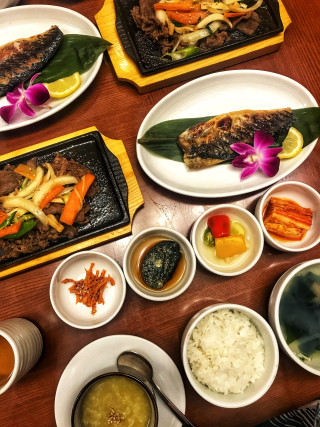 Image: Muslim Special Course
The course includes a salad, a seaweed poriddge with sea urchin roe, halal bulgogi, grilled mackerel, Kimchi side dishes (refillable!) and dessert.
#CTSGtip: Contact Ramada Plaza Jeju Hotel to make reservations at least 3 days in advance for the Muslim Special Course.
3. Uribong Sikdang 우리봉식당
Muslim-Friendly
Operating Hours: 08:00AM to 10:00PM (Daily)
Phone Number: +82 64-782-0032
Price Range: 15,000 KRW ~ 35,000 KRW
Address: 157-1 Seongsan-ri, Seongsan-eup, Seogwipo, Jeju-do
Image: Abalone Seafood Soup in Earthenware Stone
Day two in beautiful Jeju! After visiting the famous Seongsan Ilchulbong Peak, we came to Uribong Sikdang for lunch. Similar to the first restaurant, this place only serves seafood. We ordered the signature Abalone Seafood Soup in Earthenware Stone and to our amazement, there are three huge abalones in each serving! If you're not full from clams, add on a grilled cutlass fish and you'd not regret it (absolutely soft & tender, highly recommend!).
#CTSGtip: Free phone charging point available and prayer room with prayer mats with Quran available upon request!
4. Cheonhaecheon 천해천
Muslim-Friendly
Operating Hours: 11:00AM to 10:50PM
Phone Number: +82-64-742-1101
Price Range: 34,000 KRW (adult) / 17,000 KRW (7-12 years old) / 10,200 KRW (toddlers 3 years old & above)
Address: 25 Halladaehak-ro, Jeju, Jeju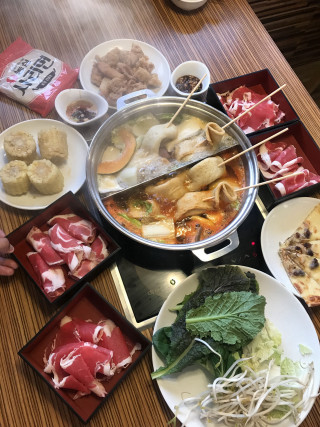 Image: Korean-Chinese style Hotpot
This was probably by far our favorite restaurant in Jeju as we enjoyed an unlimited variety of food selection at this shabu shabu buffet. Two soup bases are available – we recommend going for the chicken and kimchi broth. As we walked over to the food selection, we could not describe how excited were we when we saw all the meat labelled 'Halal Beef' in the fridge! 🎉

Add your favorite ingredients into the hotpot and finish off with a packet of delicious Korean ramen! There is also a cooked food section with delicious halal Korean fried chicken, tteok-bokki (Korean spicy rice cakes), pizza and more.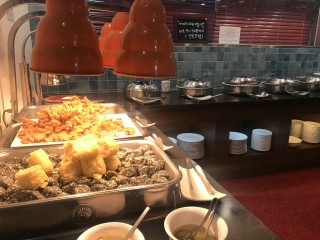 Image: Cooked food corner incld. Korean fried chicken, sweet corn, tempura, pizza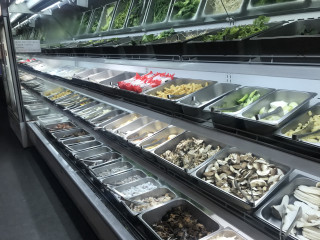 Image: Unlimited ingredients for you to choose and put into your hotpot
#CTSGtip: Don't forget to grab some amazing Häagen-Dazs ice-cream to complete your meal!
Arrived in Seoul Gimpo Airport around noon, all hungry and excited – we headed straight for lunch.
Day 3-5: Seoul ✈️
Search cheap flights to Seoul>>
5. Makan Halal Restaurant
Halal Certified
Operating Hours: 10:30AM to 10:00PM
Phone Number: + 82-2-6012-2231
Price Range: 8,000 KRW ~ 15,000 KRW
Address: 1F, 52 Usadan-ro 10 gil, Yongsan-gu, Seoul (Nearest Subway: Itaewon Station, (Line 6), Exit 3)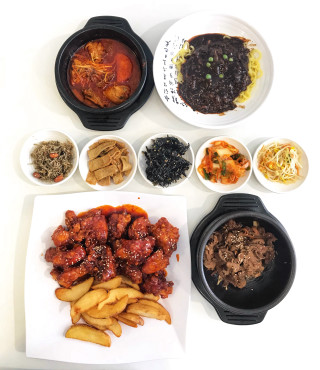 Image: Daktori-tang (top left), Jjajangmyeon (top right), Dakgangjeong (bottom left), Bulgogi (bottom right)
One of the few Halal certified restaurants serving Korean cuisine, Makan Halal is just a stone's throw away from the Seoul Central Masjid. The moment we stepped into the restaurant, it exudes a really homely vibe. From all-time favorite bulgogi bibimbap to daktoritang (spicy braised chicken stew – highly recommend!), there are 10 Korean main dishes for your! Dosirak (Korean bento) are available for take-out if you do not wish to dine in.
#CTSGtip: Ask for the 'Chicken & Noodle' Menu to order Jjajangmyeon (black bean sauce noodle) and dakganjeong (sweet & spicy fried chicken – highly recommend too!).
6. Osegyehyang 오세계향
Muslim-Friendly
Operating Hours: 11:30AM to 3:30PM (Last Order at 2:30PM) / 5:00PM to 9:00PM (Last Order at 8:00PM)
Phone Number: + 82-2-735-7171
Price Range: 7,000 KRW ~ 12,000 KRW
Address: 59 Gwanhun-dong, Jongno-gu, Seoul (Nearest Subway: Anguk Station (Line 3), Exit 6)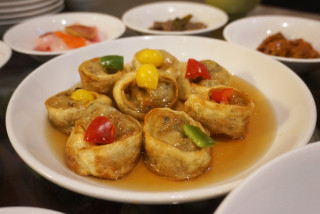 Image: 군만두 (gunmandu), pan fried dumpling
With all that meat and seafood that we had been having for past few days, it was time to give our body the much needed veggies! Located within the traditional Insadong Street, Osegyehyang is a vegan restaurant that serves affordable traditional Korean food in a traditional cozy setting. We had a variety of food and would highly recommend the mushroom hotpot and Korean pan-fried dumplings!
#CTSGtip: Several vegan/Muslim-friendly products are also up for sale by the cashier.
7. Hibiscus
Self-Certified
Operating Hours: Breakfast - 07:00AM to 10:00AM / Lunch - 11:30AM to 02:00PM / Dinner - 5:30PM to 9:30PM
Phone Number: + 82-2-577-3434 / +82-10-3153-5113
Price Range: 15,000 KRW ~ 25,000 KRW
Address: 102, Tongil-ro, Jung-gu, Seoul (Nearest Subway: Seodaemun Station (Line 5), Exit 6)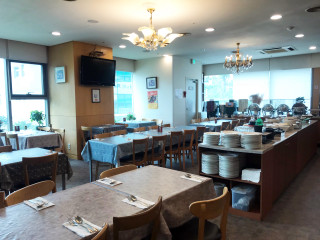 Image: Interior of Hibiscus restaurant
An Asian buffet restaurant that caters to both vegetarian and halal food. A Self-Certified restaurant by a Muslim owner, there is a decent variety of Korean and Middle Eastern food. A small prayer room is also available, located just by the entrance of the restaurant.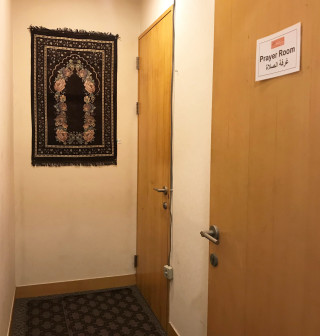 Image: Prayer room in Hibiscus
#CTSGtip: Both delivery and takeaway lunch box are available. For big groups, drop them a call in advance for seat reservations.
8. Chaegundaam 채금단
Muslim-Friendly
Operating Hours: 11:30AM to 8:30PM (Breaktime – 2:30PM to 5:30PM) / Closed on New Year's Day, on the day of Lunar New Year & first 2 days of Korean Thanksgiving Day)
Phone Number: + 82-2-555-9173
Price Range: 67,500 KRW (Sun) / 99,500 KRW (Gilyeon)
Address: 23, Yeoksam-ro 98-gil, Gangnam-gu, Seoul (Nearest Subway: Yeoksam Station (Line 2), Exit 2)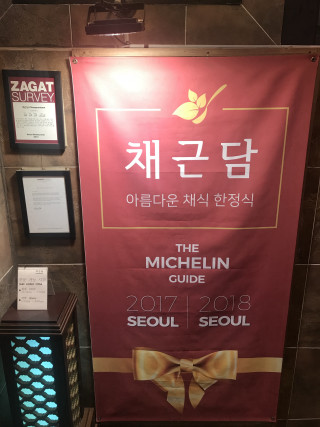 Image: Entrance into Chaegeumdaam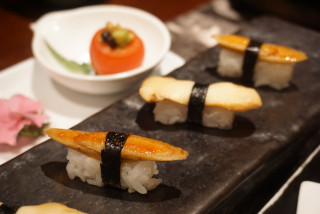 Image: Entrée dishes of the Sun menu
Just two minutes' walk away from the subway station, this is a charming Korean fine dining restaurant that is featured in The Michelin Guide 2018. Though there are meat or fish in the menu, Chaegundaam specializes in their vegetarian (Sun & Gilyeon) menu, where every dish is delicately presented and prepared using only organic food. Among all dishes served, we personally enjoyed the mini pancakes the most!
#CTSGtip: Food is served in the order of appetizer, entrée, main dish and then dessert. Appetizer and entrée are served in a fine-dining style (single piece per person) before the main dish (rice and miso soup) will be served – so hang in there!
9. Kervan Turkish Restaurant
Halal Certified
Operating Hours: 11:00AM to 11:00PM
Phone Number: + 82-2-556-4767
Price Range: 15,000 KRW ~ 35,000 KRW
Address: #H105, 513 Yeongdongdae-ro, Gangnam-gu, Seoul (Nearest Subway: Samseong Station, Exit 5 or 6)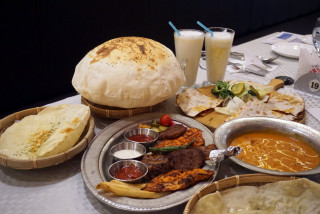 Image: Meal for 4 pax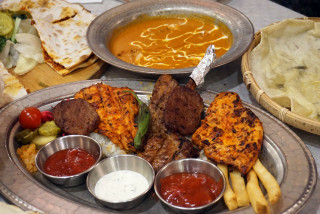 Image: Mix Grilled Kebab Set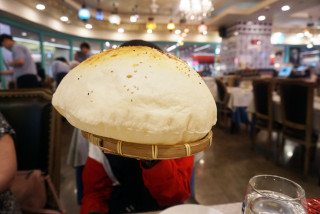 Image: Lavash, soft oven baked bread
Located inside COEX Mall, this is a Turkish restaurant that is popular among both Muslims and non-Muslims. Set menu is available for those who are spoilt for choice. We recommend having the butter chicken with garlic lavash (Turkish-style Nan) and the mix steak kebab!
#CTSGtip: Every dish on the menu is a small portion, accommodated to a single pax serving. It is advisable that you order a few more dishes to share if you are in a group of 3-4.
BONUS: OME Cooking Lab
Operating Hours: 09:00AM to 6:00PM (Daily)
Phone Number: +82-10-9909-0908 (Whatsapp)
Price Range: 60,000 KRW per pax
Address: 35-1, Yangnyeongjungang-ro, Dongdaemun-gu, Seoul (Nearest Subway: Jejidong Station (Line 1), Exit 2)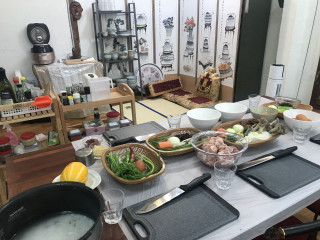 Image: Getting ready for our Korean cooking class
If you're looking for a more hands-on experience or unleash your culinary skills, OME Cooking Lab is a Korean home cooking class that offers halal ingredients & separate halal cooking appliances for all Muslim customers! There are two cooking sessions every day – 10AM and 2PM. Each session is approximately 3 hours in duration.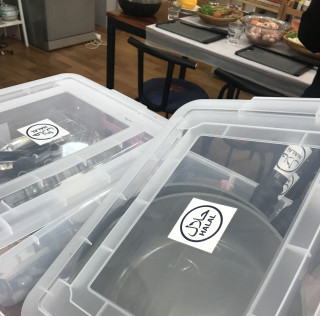 Image: Cooking appliances labelled with 'Halal' sticker stored separately
Before the cooking class, we had a local market tour (in English) at Yangnyeong Oriental Medicine Market and Gyeongdong Traditional Market. Personally, this is a very enriching experience as you get to be involved in the day-to-day life of a local traditional market.

After the market tour, we arrived at the cozy cooking studio to begin our cooking. Together, we made gyeran-mari (Korean rolled omelette), oi-naengguk (chilled cucumber soup), haemul-jeon (seafood pancake), hobak-jeon (zucchini pancake), japchae (stir fried glass noodles) and dakgalbi (spicy stir fried chicken).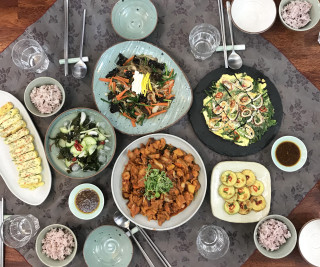 Image: Homecooked Halal Korean Food
Overall, it was really fun hands-on experience and the food tasted amazing with the assistance of the chef instructors. After our meal, we were each given a precious Korean recipe book written by their CEO, Kim Min Seon.
#CTSGtip: If you have a favourite Korean dish that you'd like to learn how to cook, feel free to contact OME Cooking lab via email and they may adjust accordingly! For halal cooking, do inform at least one day in advance.
#HalalRestaurantWeek in Korea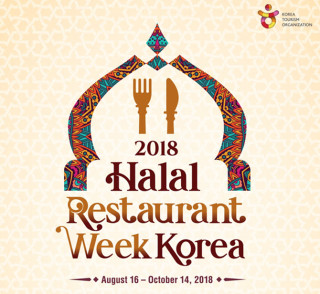 Congrats! You made it to the end of this article. Korea Tourism Organization (KTO) is hosting Halal Restaurant Week, an annual event to promote Muslim-friendly restaurants not only for Muslims but also for tourists from all over the world. The event will be held from August 16 to October 14, 2018. Discount coupons and special offers will be given out for Muslim-Friendly restaurants. For more information, please refer to their official event website.
This article is brought to you by Korea Tourism Organization (KTO) Singapore.