New South Wales Tweed Experience
My 2D1N New South Wales Tweed Experience
Have you heard of Tweed Valley, New South Wales? If you are not from Australia, we would bet you probably have not been there before. When it comes to New South Wales, people usually associate it with popular sprawling cities like Sydney, Melbourne, Brisbane and Gold Coast. So, when we received an invitation to make a detour to Tweed Valley during our trip to New South Wales in April 2019, we were nonplussed about what to make of the invitation.
Located about midway between Gold Coast and Byron Bay, the Tweed is a charming region of meandering rivers, rolling valleys and beautiful farmland. We rented a car to travel the region and drove for slightly less than an hour from Gold Coast city to reach the epicentre of Tweed at Tumbulgum to begin our Tweed Adventure.
Day 1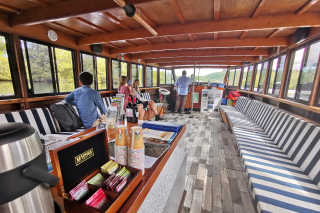 Image: Complimentary coffee and drinks onboard the Mt Warning Tour Cruise
For the first part of the Tweed tour, we began with a 3-hour boat cruise with Mt Warning Tours on the Tweed River. On a lazy ride with views of Mt Warning in the background, we had the opportunity to appreciate the surrounding flora and fauna. Our guide and boat captain Michael gave us a most passionate introduction to the diverse wildlife in the region. We learnt that the Tweed region is situated at the border of both tropical and temperature zones and hence had a greater biodiversity than other parts of Australia.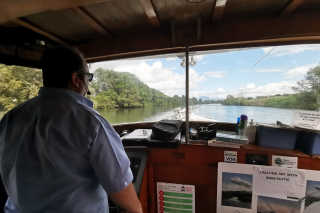 Image: Michael, our cruise captain as well as guide from Mt Warning Tours
As we drifted down the Tweed river under the beautiful autumn sun, we enjoyed lunch and coffee/wine on the boat. Chef Karissa made sure we were very well-fed with a 4-course meal made from fresh local produce.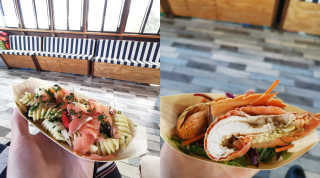 Image: Featuring 2 out of the 4 course meals onboard the cruise
Following the river cruise, we paid a visit to some local farms in the region. Thanks to the favourable climate and passion of the locals, we got to see and sample some of the most amazing produce. Our first stop, we guiltily admit, was to Husk Distillery, an award-winning rum and gin distillery in the region.
Our guide Mauricio gave us an introduction to their liquor-making operations and made us samples of their liquor cocktails. The most stunning of their liquors was their unique Ink Gin product, a stunning and elegant gin which changes colour depending on whether you drink it neat or with tonic. Made from only natural products, the Ink Gin is the perfect liquor to impress and mesmerize your friends when you invite them over for drinks.
After generous samples of rum and gin, we began feeling slightly woozy so we dropped by the Farm&Co for a short visit. We spent only 30 minutes there taking pictures around the sunflower farms and checking out the variety of produce. If we had more time, we would certainly spend some time in the cafe while enjoying the sights and scenes of the farmland.
Since the autumn sun sets around 5:30pm, we headed back to our accommodation at EcOasis to see the sunset.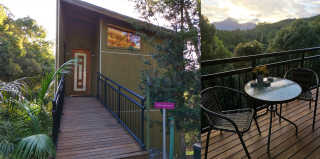 Image: Evening views of Mt Warning from our chalet in EcOasis
The amazing EcOasis resort blew us away, with the luxurious interior and an unobstructed view of Mt Warning and the setting sun. In our usual hectic days, we rarely spend the time to appreciate the natural beauty in everyday sunsets but on this occasion, we truly did our utmost to make up for it, spending an hour relaxing on the verandah and watching the sky turn from amber to night.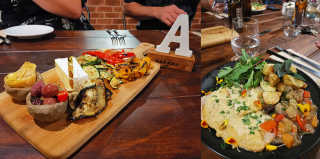 Image: Amazing Italian cuisine from Bacaro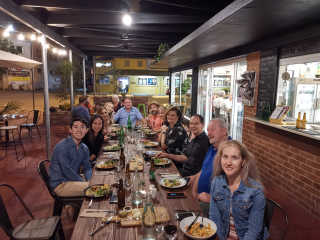 Image: Group photo with the most hospitable Tweed Experience crew
Following the sunset, we joined our hosts Peter and Karissa (yes, the Chef on-board Mt. Warning Tour Cruise) for dinner at an Italian restaurant Bacaro in nearby Murwillumbah. Serving some of the most authentic Italian dishes, we had an awesome night of good company and rustic food.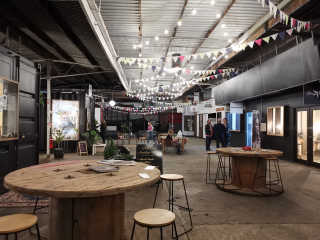 Image: Evening view of Murwillumbah Art Gallery
We also had the chance to visit the Murwillumbah art gallery next to the restaurant which we could tell would be a really charming place during the day.
Day 2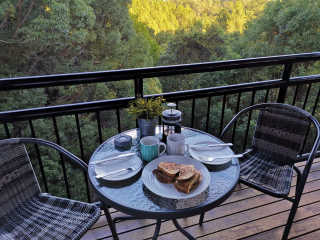 Image: Homemade breakfast with a view at the patio
The next morning, we woke up early to cook ourselves a nice breakfast while waiting for the morning sun to light up the valley. The morning in autumn was slightly chilly but not too cold for us to sit outside in our bathrobes to enjoy the fresh air. We reluctantly bade goodbye to our hospitable hosts Peter and Karissa, and picked up our car to make a drive out.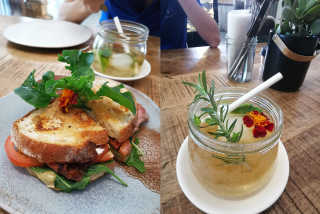 Image: Brunch at Fallen Leaf Espresso & Tea Bar
Our first destination was to Fallen Leaf Espresso and Tea Bar where they served delicious brunch meals and interesting teas. We had a sparkling lemon tea and a fruit tea infusion and shared an egg and bacon roll.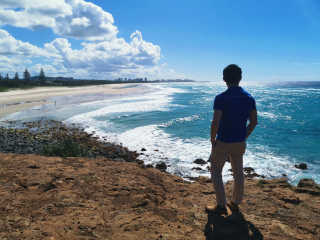 Image: Amazing views from Fingal Head
Following that, we drove to Fingal Head where we found beautiful beaches and impressive rock formations. Just a 40 min drive away from Gold Coast, we felt that this quiet beach was far more pristine and interesting compared to Byron Bay. We parked our car and hiked for 10 minutes to reach the cliff edge.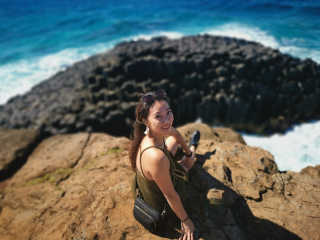 Image: Fingal Head Causeway
The hexagonal stacked rocks there were reminiscent of Giants' Causeway in Northern Ireland and provided a beautiful accompaniment to the expanse of the Pacific Ocean. The clear waters and soft sand at Dreamtime Beach made us instantly regret not bringing our swimsuits along. The most astonishing part was that on a day with such beautiful weather, the beach was relatively empty, which gave the place a convincing impression of paradise.
💭 Final Thoughts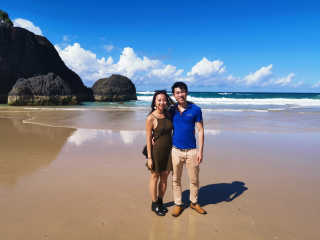 Image: Beautiful Dreamtime beach
Looking back, this could not have been a better decision. The charming region of Tweed, full of beauty and character, provided a most unique highlight for our 9-day tour of Eastern Australia. We recommend anyone with more than a week in Australia to visit this unique countryside to experience something off the usual beaten track!
Feeling inspired?
If this post has inspired you to visit Australia, be sure to check out CheapTickets.sg for travel deals for return flights from Singapore! You may also check out our New South Wales self-drive itinerary to help kick start your trip planning.