New Zealand South Island Roadtrip Itinerary
My 12-day New Zealand South Island Road Trip Itinerary!
Being avid fans of outdoor activities and nature, my boyfriend and I chose New Zealand as the travel destination for our annual long haul trip this year end. As soon as we found two other friends to join us on a road trip, we started researching and concluded that South island was where we would want to be.
After much careful planning, we came up with a 12 day road trip itinerary that covered almost all the attractions and activities that we should not miss in the amazingly diverse south island.
Day 1: Christchurch to Twizel
After landing at Christchurch International Airport, we headed straight to purchase SIM cards (NZD 29 for 1.5 GB data) and pick up our rental car. We knew we would be tired after the long flight, thus we did not plan anything major for the day except driving to our accommodation. We read online that Twizel was a good base to travel to both Mount Cook and Lake Tekapo (just 40-50 min drive respectively) and a relatively cheaper town to stay at. Hence, we planned our first three nights there.
Total driving: 3.5 hrs
Restaurant suggestions: Shawtys Cafe Restaurant & Bar  
Tip: Do some shopping at the nearest supermarket in Christchurch to stock up on snacks before starting your journey down south!
Day 2: Twizel to Mount Cook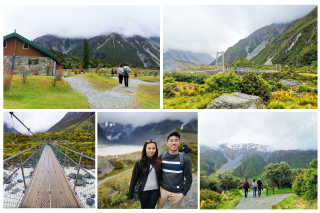 Images: Hooker Valley Track, Mount Cook National Park
Our first full day in New Zealand. Weather was not entirely great as it was rather cold and gloomy. Nonetheless, we proceeded to Hooker Valley Track - one of the most popular hikes in Aoraki/Mt. Cook National Park. It was a fairly easy trek, quite flat, and it took us approximately 3 hours (round trip) to complete. We did not get the best views at the end of the track due to bad rainy weather. That aside, it was still a fulfilling hike with some great views of the mountains when the rain stopped.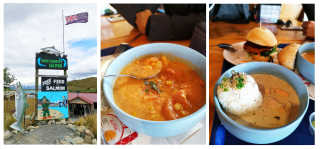 Images (L-R): High Country Salmon Farm, Salmon Chowder, Salmon Curry Rice
After the morning hike, we drove to a salmon farm for lunch. Somehow we thought we would be fishing for our own salmon and grilling them (no idea how we got that perception) but it turned out that we only could order from the menu. We ordered the salmon chowder, salmon curry rice and salmon burger. The chowder was definitely the highlight.
Total driving: 50 min (one-way)
Restaurant suggestions: High Country Salmon  
Tip: If your accommodation has a kitchen, buy fresh groceries at the local supermarket to cook your own cozy dinner. Complement your meal with a bottle of NZ wine, it will be cheaper than dining out.
Day 3: Twizel to Lake Tekapo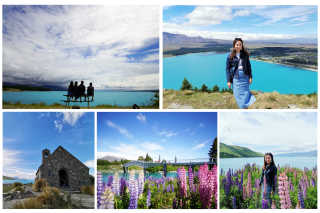 Images: (top L-R) Peter's Lookout over Lake Pukaki, view from Mt. John Observatory, (bottom L-R) Church of the Good Shepherd, Lupins by the footbridge, Lupins at Lake Tekapo
Woke up to a beautiful sunny day. The main plan for the day was to explore Lake Tekapo. Before heading to Tekapo, we popped by Peter's Lookout (15 min drive from Twizel) for scenic spot of Lake Pukaki. While driving on State Highway 8, we could spot fields of Lupin flowers along the roadsides. We stopped along the road shoulder near Pukaki airport where there were beautiful Lupin flowers scattered along the lake's coast line. The Lupins came in various shades of pink, purple and blue and certainly made a nice backdrop against which to take lakeside photos.
Once we were done at Pukaki, we drove to University of Canterbury Mount John Observatory. We could get a stunning view of Lake Tekapo from there, though there was a mandatory road fee of NZD 8 per vehicle (the road was privately owned). We had a simple brunch at Astro Café, just a minute walk from the car park.
After brunch, we drove to Tekapo town and visited the Church of the Good Shepherd, as well as the footbridge crossing over Scott Pond. We spent the rest of the day taking photos at this beautiful town before heading back to Twizel. If skies were clear at night, Lake Tekapo would be the perfect area for stargazing (don't forget to bring tripods)!
Total driving: 40 min (one-way)
Restaurant suggestions: Astro Café, Kohan Restaurant
Day 4: Twizel to Arrowtown > Queenstown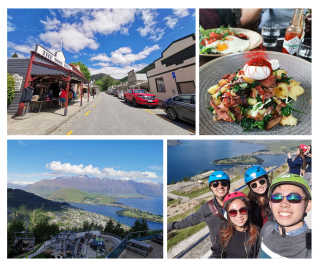 Images: (top L-R) Arrowtown, Brunch at The Chop Shop (bottom L-R) View from Skyline Gondola Viewing Deck, Group selfie at the luge
Moving day! We checked out of our AirBnb in Twizel and drove further south. Stopped by Arrowtown for brunch before driving another 20 minutes to Queenstown for our accommodation the next two nights.
If you're down for some thrilling adventure, Queenstown is known for their adventure sports and offer day tours from skydiving to bungee jumping. If you are not a fan of such extreme thrill, you can opt for a milder option of going for the Queenstown luge ride or enjoy a relaxing cruise on Lake Wakatipu while immersing with the awe-inspiring views.
Thankfully it was Summer and sun did not set till 9PM. We had ample daylight to go for Skyline Gondola and Luge ride in the evening after we checked into our accommodation. Though a little touristy, we would highly recommend visiting this as the view from the viewing deck was amazing.
Total driving: 3 hrs 20 min
Restaurant suggestions: The Chop Shop (Arrowtown), Patagonia Chocolates
Tip: Go for at least 2 luge rides to experience both beginners & advance race courses!
Day 5: Queenstown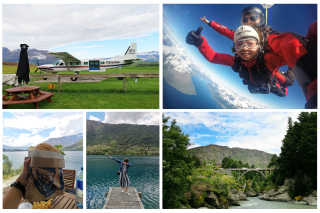 Images: (top L-R) Jet plane for skydiving, skydiving over Queenstown (bottom L-R) Fergburger, Bob's Cove Pier, Arthur's Point
Woke up really early today to get ready for our morning skydiving session. Do buffer some time for delay as the schedule varies by weather conditions. We had our skydiving scheduled at 7:30 AM but did not complete the skydive until 9:30 AM. After skydiving, we headed straight to Fergburger for lunch.
Since we did not arrange any other activities aside from skydiving, we visited Bob's Cove for a short 20 min trekking and took beautiful pictures at the pier. We then drove over to Arthur's Point for scenic picture of the Rapids.
Restaurant suggestions: Fergburger, The Bathhouse
Day 6: Queenstown to Te Anau
We set off early to drive to our next destination - Te Anau. After arriving, we grabbed brunch at a local pies store and mainly rested at our AirBnb before our Glowworm Cave tour in the late afternoon. We took a ferry (approx. 25-min ride) across Lake Te Anau and were then broken down into smaller groups of 8 before getting into a rowboat to see the glowworms. Photos were not allowed in the cave. Overall, it was an average experience because we did not get to see as many glowworms in the cave as we had expected. Still, it was interesting to learn about glowworm as a one-time first experience.
Total driving: 2 hrs
Restaurant suggestions: Miles Better Pies, Ristorante Pizzeria Paradiso
Tip: Get a sand fly repellent at the local supermarket and apply generous amount before heading to the Glowworm Caves if you do not wish to be bitten.
Day 7: Te Anau to Milford Sound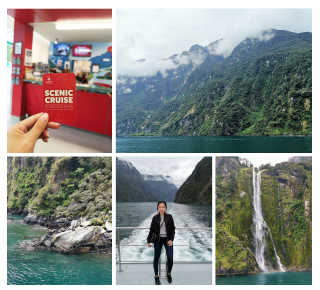 Images: (top L-R) Scenic Cruise Pass, View of Milford Sound (bottom L-R) Seals Rock, Photo on Cruise, Stirling Falls
We drove to Milford Sound and the most popular activity here is to take the Milford Sound cruise. If you're up for more adventure, there is a cruise option that includes kayaking. We booked a scenic cruise ride (approx. 2 hours duration) instead and the ride brought us to see some magnificent falls and cute seals. On our drive back, we stopped by The Chasm (approx. 10-min trek) to see a part of the river where powerful water gushes through like a dam.
Total driving: 1 hr 45 min
Restaurant suggestions: Habit Foods
Tip: Bring some snacks to eat onboard if you do not wish to pay for expensive meals or snacks on the cruise bar.
Day 8: Te Anau to Wanaka
Images (L-R): View from Mount Iron Summit, #ThatWanakaTree
Prior to the trip, two friends who had been to New Zealand mentioned they liked Wanaka the best among all towns. After spending a day at Wanaka, we could comprehend why they had said so. The town has a peaceful vibe with beautiful lake views and more things to do than we had expected.
After lunch, we drove to view #ThatWanakaTree. Frankly speaking, it was literally only a single lonely tree (nothing fancy). We visited Maude Winery after on a recommendation from a friend and did some wine tasting (NZD 10 for 4 tasting glasses). We also bought a couple bottles of wine (buy min. 4 bottles to waive off tasting charges) to bring back to Singapore.
Since the weather forecast said it was going to rain by the evening, we knew we had to forgo Roys' Peak and opted to trek the shorter Mt Iron Track (return 1.5 hr) instead. This was a relatively easy hike and we could get spectacular views of Wanaka town from the summit as well.
Total driving: 3 hrs
Restaurant suggestions: Burrito Craft, Maude Winery
Tip: If you have one more day to spare in Wanaka, hike the famous Roys' Peak track (return 5-6 hours) for some of the most amazing views over the region.
Day 9: Wanaka to Franz Josef Glacier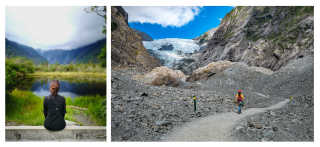 Images (L-R): Peter's Pool, Franz Josef Glacier Valley Track
Before we drove up the West Coast to complete our loop around the south island, we stopped by Lake Hawea for photos and hiked the Blue Pools Track (return 35-min). Arrived at Franz Josef Glacier in early afternoon hoping to get onto our helicopter ride. However, it started raining and the rain only got heavier. We rescheduled our timing twice but even after the rain had stopped, the winds were too strong and it was unsafe any helicopters to take off.
While the sun was out, we quickly took the opportunity to trek Peter's Pool (return 20-min) and Franz Josef Glacier Valley Walk (return 45-min) before the sun sets. Unfortunately, it continued to rain the next morning and the company provided us a full refund for the helicopter ride.
Total driving: 3 hrs 40 min
Restaurant suggestions: Alice May
Tip: If you're going for the helicopter ride, it is best to book for earlier time slots (10am-12pm) to buffer for possible delays due to bad weather.
Day 10: Franz Josef Glacier to Hokitika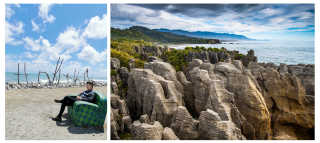 Images (L-R): Hokitika Beach, View from Pancake Rocks
Hokitika was the last stop of our south island road trip before heading back to Christchurch city. Since we had time before we could check into our accommodation, we visited the Wilderness Gallery (no admission fee, it's like a souvenir shop) and the National Kiwi Centre (NZD 26 per adult). Hokitika Beach was also just a few minutes' walking distance away and we snapped some Instagram worthy photos with the 'Hokitika sign'.
After checking into our accommodation, we decided to drive to Punakaiki (est. 50-min) to trek Pancake Rocks (return 20-min). However, luck was not in our favour once again as it started pouring rain when we arrived. We ended up having pancakes at the cafe by the carpark and drove back to Hokitika after.
Total driving: 2 hrs 30 min
Restaurant suggestions: The Hokitika Sandwich Company, Pancake Rocks Cafe
Day 11: Hokitika to Christchurch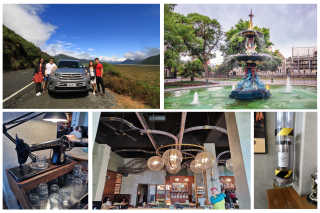 Images: (Top L-R) Group photo taken along Arthur's Pass, Peacock Fountain in Christchurch Botanic Gardens (Bottom L-R) C1 Espresso Cafe
Last full day in New Zealand, and it was time to head back to Christchurch. The drive back through the mountains was absolutely stunning! Upon arriving at the city, we grabbed food at a local brunch cafe before visiting the Botanic Gardens and Antigua Boatshed.
As it started to drizzle, we visited the Christchurch Canterbury Museum (free admission) to spend the rest of the afternoon till the museum closed at 5:30 PM. Since we still had time, we popped by C1 Espresso cafe to order some curly fries for snack before dinner. With a secret passage behind the bookshelves and a pneumatic delivery system for food (our fries were flown through the ceiling tubes!), this would certainly be a very interesting cafe to not miss if you're in Christchurch! Definitely worth a visit for its novelty.
Total driving: 3 hrs
Restaurant suggestions: Addington Coffee Co-op, C1 Espresso
Tip: Shop for local products (Hokey Pokey chocolates or Manuka Honey) at Pak'N'Save to bring as gifts back to family and friends!
Day 12: Christchurch to Airport
We checked out of our accommodation at 4:30 AM to drive to Christchurch International Airport and returned our rental car at the Valet & Rental Car Park. And… it's a wrap!
Total driving: 15 min
Tip: Duty Free Shops and cafes were already opened by the time (5:00 AM) we arrived at the airport. You may grab a bite or do your last minute shopping if needed!
💭 Final Thoughts
Overall, there was a fair bit of driving between cities but driving in New Zealand was definitely a lot more manageable compared to driving in the Americas. Parking was also relatively cheap as there were many free parking lots (with stipulated timings). Travelling during Summer was definitely ideal as the sun only set around 9PM - this means you could utilise the full day for exploration. While we might not have had the best luck in terms of weather throughout the trip, the New Zealand scenery was absolutely gorgeous with stunning views at every turn!
Feeling inspired?
If this post has inspired you to visit New Zealand, be sure to check out CheapTickets.sg for travel deals for return flights from Singapore!