Packing tips for a weekend getaway
Packing tips for a weekend getaway
Packing for any trip can be quite a challenge as you need to consider various factors, such as weather, environment, and not to mention the duration. So how about figuring out what to pack for a short weekend getaway? Am I overpacking? Am I missing something? What size suitcase do I need for a weekend trip? Fortunately you've found us and we have your covered with tips and helpful ideas that can come handy when packing for that upcoming weekend getaway!
What to think about when packing for your weekend getaway
---
Packing for where?
Of course, it's quite handy to keep in mind where you're going, in order to pack in a functional way according to your destination. Be sure to be aware of the season of the destination you're flying to (it might be different from yours!) and also check the weather conditions that you're going to find once you arrive. If you're travelling for a short amount of time, like a weekend for example, you don't want to end up overpacking with clothing items you clearly don't need and having to carry around weight for nothing.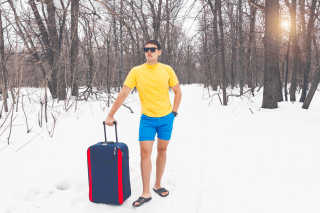 Finding that perfect luggage size
So what is the most adequate luggage for a weekend getaway? Travellers should choose: the right kind of suitcase, one that they feel most comfortable travelling with. Travelling mostly has to be about leisure and pleasure, so don't force yourself too much with choosing a kind of luggage that doesn't suit you. When it comes to packing for a weekend getaway, most travellers opt to use a smaller and compact-sized suitcase/trolley or a simple backpack. Remember: the less you take with you, the less hustle and struggle you're going to have to deal with when carring your luggage! Also travelling can teach that 'less is more'.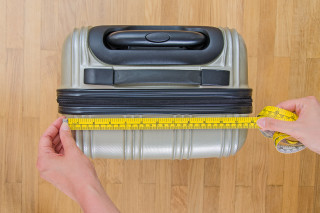 Travel packing list
In order to pack for your weekend getaway in the most efficient and smart way, here are some helpful and ready-to-use checklists for you!
Documents and money
Find a clever and safe place to save your documents and money: easy to reach and hidden!
❑ ID / Passport (if you're passport is not necessary for your trip, leave it home! You don't want to risk to lose it while abroad)
❑ Ticket (s)
❑ Booking confirmation of your hotel or hostel
❑ Cash
❑ Debit + credit card (unlocked for international transactions)
❑ Driver's License
Clothing
When packing for short trips, what could really help you organise your luggage is coordinating and thinking about what you'll be wearing. This way you'll already know which outfit to wear each day while avoiding bringing too many clothes you won't even wear. Always prefer items of clothing that you're comfortable wearing and avoid bringing brand new garments (like new shoes, that could hurt your feet).
❑ Outfits for the day + comfy shoes for walking
❑ Dressy outfits for the evening + dressy shoes
❑ Pyjamas
❑ Socks
❑ Underwear
❑ Hat / Cap
❑ Sunglasses
❑ Swimming suit
Toiletries
❑ Toothbrush and toothpaste
❑ Razor
❑ Deodorant
❑ Sunscreen
❑ Make-up
❑ Sustainable make-up pads
❑ Travel First Aid Kit
❑ Hand Sanitiser
❑ Facial masks (some airlines may have restriction on use which mask types are allowed)
Electronics
❑ Mobile Phone
❑ Power Bank
❑ Chargers
❑ Headphones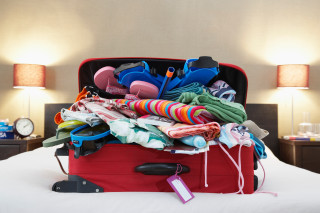 Smart tips to maximize your weekend getaways
If you want to become an expert packer, here are some very useful, yet clever tips for packing!
Always have a digital version of important documents (tickets, hotel confirmation, ID/passport): Nowadays, digital tickets and bookings are accepted everywhere, so you could have them saved only on your phone, but if you feel safer having also a hard copy, you can have both.

Make the best out of your phone: Your phone is one of the lightest objects that you will always have with you, so make the best out of it!
---
Take pictures and videos with it so you will not have to carry around a heavy and expensive camera.
Before you leave, take pictures of the travel guide for your destination to avoid taking up space in your luggage/bag with a heavy book.
Use travel apps that could make your trip easier and more interesting. Here are some free clever travel apps to download on your phone before your trip:
---
Buy things once you arrive:
Don't take up space in your luggage with items that you can also buy at your destination. Some amenities are available as a complimentary. For example if you are staying at a hotel, most facilities provide amenities such shower gels, shampoo, and conditioners.

Mix & Match:
Besides thinking about full outfits, try bringing single items of clothing that could be switched around and worn in different ways, so that you can have multiple options of wearing things but still with a reduced amount of pieces of clothing. Mix & Match!

Leave extra space for souvenirs
Having an extra light luggage can also be very convenient in order to have some extra room for souvenirs or any other item you bought while doing a little shopping during you're weekend getaway!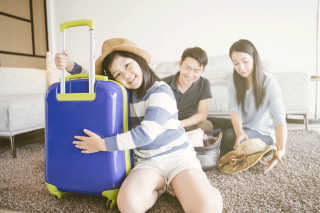 Thinking about leaving for a weekend getaway soon? We hope that our guide has provided some useful packing hacks and tips for your upcoming trip and makes the whole packing process more enjoyable.
Don't forget to compare our great flight deals and book your tickets with CheapTickets.sg for your next weekend getaway
---
Want to read more travel tips?