Do you need a certain mask to fly?
*Article written as of 2 September 2021
New face mask requirement when flying
The act of flying is no longer as simple as it was before the Covid-19 pandemic struck the world. Not only do you have to think and fully understand the vaccination requirements needed for every step of your travel, but now add another thing on your checklist:
Which mask are you taking with you on the airplane?
Yes, that's right, it's not just any mask that you can take with you. So if you're thinking of travelling soon or at least you know someone who might be boarding a flight in the near future, be sure to understand or inform that person about the new rule on wearing masks onboard the flight.
---
Common questions about mask wearing on the airplane: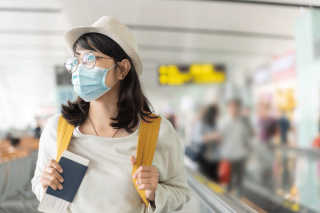 Wearing masks on the airplane before the pandemic
'Why is she wearing a mask?'
Back in 2017, my friends were perhaps a bit curious when they saw me with a mask onboard the flight; however, in some countries in Asia, wearing face masks in the public have been considered somewhat of a 'normal' practice. Prior to the pandemic, although it depended solely on the traveller, the reasons for wearing a masks for a flight included:
allergies
protecting your throat and skin from the dryness
or simply for hiding (you're a famous celebrity or perhaps you didn't feel like putting any make-up on for a 10+ hrs flight)
At least, this act of wearing a mask onboard a flight wasn't a common practice for most travellers in the world until 2020. If you thought that checking for the validity of your travel documents, the weight and what to take with you in your hand luggage were already something to 'look out for', now we have to think of what masks you can wear on the plane.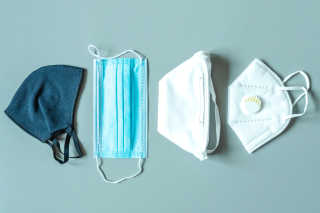 Does it matter what kind of mask you wear during the flight?
Yes. Airlines are also taking an extra precautionary step in regards to safety measures for their passengers and staff. Therefore more airlines are now requiring passengers to wear 'disposable/surgical masks' or the FFP2, N95 or KN95 masks (without valves) during the flight.
Currently, airlines that have recently called for this ban on certain types of masks, include the following:
More airlines may soon join the list by adopting this extra requirement for their passengers. Therefore, it is very important that you understand the most updated information of the covid safety requirements set by the airline prior to your departure. So keep your cloth masks in your checked luggage or handcarry for the duration of the plane and swap it with a disposable type.
Why aren't cloth masks allowed in the airplane?
This is mainly due to the fact that surgical masks have provided more protection. The effect on how droplets and particles can easily pass through depends on the material used for cloth masks. Although some may be tigthly woven, there are no guarantees that all fabric-woven masks are the same. Especially in such an environment when travellers are congested and social distancing is limited within the given space, such as on airplanes, buses, or trains, this subtle change may effect the overall spread.
Do you have to wear a mask to fly? What if I am fully-vaccinated?
Yes. Most major airlines require travellers to keep their masks during the flight, during boarding and disembarking, and also while at the airports. Even if you're fully-vaccinated, masks are still mandatory for travellers at all times, except during when being served for beverage and meal-service.
What if you refuse to wear a face mask in the airplane?
The airline has the right to deny boarding the passenger if they do not comply with the request. The traveller is also subjected to civil penalties with hefty fines if they refuse to wear the mask.
Do children need to wear a face mask for the flight?
At what age do you have to wear a mask on a plane?
Depending on the airline and travel route, the age requirement for face masks on the airplane may vary. For example, in the United States, most major airlines inform that young children who are 2 years or older are required to wear a mask on the plane. Other carriers may mention a higher age requirement, such children starting from 6 or 7 years old.
For toddlers, keeping a mask during the flight for an extensive long period of time may be a challenge for a parent. Despite the mask requirement, if your young child refuses to wear a mask, airlines may make an exception. If you're worried about how your child may feel or act about wearing the mask during the flight, try to allow them to feel comfortable about wearing the mask prior to your travel plans.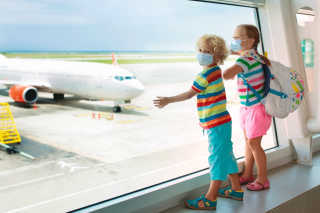 What if I have a condition and unable to wear a mask?
If there are other reasons why you or your child cannot wear the mask, such as for medical reasons, please ask and/or inform the airline(s) directly before your travel date. Some airline carriers also have exemption request forms available online, however, forms may need proper documents from your doctors and will require some time to be reviewed by the relevant airline.
If planning to travel within or to the US
The Transportation Security Administration (TSA) has proposed an extension of the mandatory mask mandate for anyone going to and taking public transportation, including airports, buses, and trains. Currently this requirement will be in place until 18 January 2022.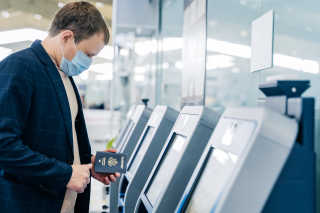 Other mask tips when travelling?
Good to know tips before heading to the airport:
Bring extras!: Keep a few extra for the plane ride
Filter inserts: Helpful especially since it will provide an extra layer of filteration
Bring a carrying case/storage for your mask when not in use: An envelope, a sandwich bag, a container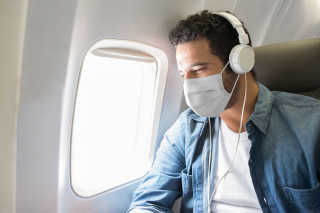 Despite the fact that most of the modern commercial airplanes are now equipped with high-grade HEPA filters while in air, insuring the safety of oneself, as well as, those around you should be properly taken especially while still being grounded.
So now on top of searching for cheap flight fares, understanding baggage allowances, or what items to add or not in the checked baggage, take a moment to also understand the new travel rules before being caught by surprise at the airport. Also, look through our list of essential travel items in the post-covid world.
When the time is right, please check and compare for cheap flight deals and book your next flight with CheapTickets.sg.
---
Want to read more travel tips?