Seoul Busan Itinerary For The Whole Family
7D6N Seoul & Busan Itinerary for the Whole Family
Need to plan a trip for the whole family? How about a trip to South Korea? Here's a 7D6N itinerary that is packed with a good mix of shopping, food and fun sites for all ages in the family.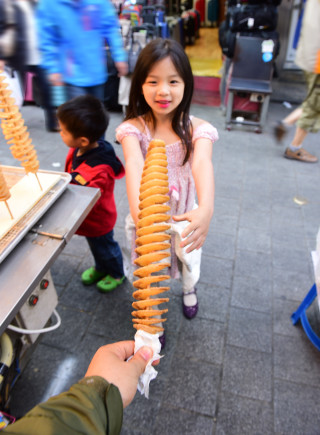 Day 1: Seoul
Start your first day in Seoul with a bang by exploring the heart of the city.
AM & Lunch: Cafe Hopping (for millennials)
Seoul is jam-packed with lovely cafes in Garosugil, Myeongdong, Hongdae, and many more. Why not start your Seoul adventure full-swing checking out all the latest coffee and dessert haunts among the locals? You're guaranteed to be stuffed with delectables by the time you are done. Grab the list of 10 Instagram Worthy Cafes in Seoul>> and start exploring!
AM & Lunch: Cha Masineun Tteul Traditional Tea House (for adults and grandparents)
While the hours away at this cosy traditional tea house tucked in the Bukchon Village. It's housed in a quaint little 'hanok' (traditional Korean house). Sit back, relax and admire the beautiful garden while enjoying a nice cup of flower tea and signature steamed rice cakes. Take a walk around the village after you're done. There's a lot of food choices in the village itself for lunch.
Address: 26 Bukchon-ro 11na-gil, Jongno-gu, Seoul, South Korea
Nearest Subway: Anguk Station (Line 3, Exit 1)
Opening Hours: 11AM-10PM
PM & Dinner: N Seoul Tower (for the whole family)
The best way to get up to the N Seoul Tower is by cable car from Myeongdong Station. No matter which season, day or night, the tower never gets old, even when you've been to it before. So, gather the whole family and make a trip up Namsan to the tower. Once up in the observatory, enjoy the panoramic views of the city while enjoying a cup of coffee.
For dinner, there are a few eating places up in the tower and around the Namsan park. Look for the famous Tonkatsu restaurant on Namsan itself.
Address: 105, Namsangongwon-gil, Yongsan-gu, Seoul
Nearest Subway: Myeongdong Station (Line 4, Exit 3)
Opening Hours: [Observatory] Sun-Fri: 10AM-11PM, Sat: 10AM-12MN
Search cheap flights to Seoul>>
Day 2: Seoul
Day Trip: Seoul Grand Park (for millennials, parents, children and grandparents)
How about exploring the great outdoors? Seoul Grand Park is situated about 45 minutes from the city centre and has a direct subway station leading to it, so it's pretty easy to get to. Covering a whopping 9.1 million square-metres, you can spend an entire day exploring the Seoul Grand Park Zoo, Children's Zoo, rose garden, Seoul Land amusement park, and the National Museum of Modern and Contemporary Art, Gwancheon. From strolling among the gorgeous scenery, to seeing the almost 3,000 animals, to hopping onto a roller coaster—there's something exciting to do for the whole family!
Address: 102, Daegongwongwangjang-ro, Gwacheon-si, Gyeonggi-do
Nearest Subway: Seoul Grand Park Station (Line 4)
Opening Hours: Mon-Fri: 9AM-7PM, Sat-Sun & Holidays: 9AM-9PM, [Zoo]: 9AM-7PM (Mar - Oct), 9AM-6PM (Nov - Feb)
Day 3: Busan
Take the morning train from Seoul to Busan via the KTX. (Approx. 2.5 hours) Put your bags down at your hotel and you're good to go!
AM: Haeundae Beach & Haeundae Market
Soak Up The Sun, Sand and Sea (for millennials, parents and kids)
Make your way down to one of the most famous beaches in South Korea—Haeundae Beach. In the summer, the sand would be lined with beach chairs. Undoubtedly, this place is a hit with families, especially those with young children! Of course, a resident instagram post lazing on a float in the blue waters is a must for the younger crowd. During the colder months, it makes for a pleasant stroll along the sand while watching the seagulls fly over the crystal blue waters.
Relax at a Beachfront Restaurant (for grandparents)
Grandma and Grandpa, or those who do not fancy the sun, sand and sea, why not take it slow at one of the beachfront restaurants? Sit down for a meal while you wait for your family. There're so many types of cuisines available, ranging from traditional Korean and Japanese food to American grills, you'd be spoilt for choice!
Address: 264, Haeundaehaebyeon-ro, Haeundae-gu, Busan
Nearest Subway: Haeundae Station (Line 2, Exit 5)
Lunch at Haeundae Market (for the whole family)
The whole family can reunite for lunch at Haeundae Market's Gukbap Alley for Busan's signature 'dwaeji gukbap' (pork soup with rice). One of the most famous stalls is Kim Hee-dae Halmae Wonjo Gamasot Gukbap (Granny Kim Hee-dae's Original Cauldron Gukbap) just four minutes walk from the beach.
Address: 612-2 U-1-dong, Haeundae-gu, Busan
Nearest Subway: Haeundae Station (Line 2, Exit 5)
PM & Dinner: Shinsegae Centum City
Shop Till You Drop (for shopaholics, young and old)
Just three stops from Haeundae Beach, make your way down to the Shinsegae Centum City Department Store. It is registered in the Guinness World Records as the largest shopping complex in the world. We're talking about 10 whole floors (including the basement) of shopping, food and entertainment under one roof! You can easily spend the whole day exploring the hundreds of shops, selling both local and international brands.
Go Ice Skating, Play Golf, Relax at a Spa or Watch a Movie (for kids and non-shoppers)
For the non-shoppers, there's loads to do in this behemoth of a shopping mall complete with a gym, ice rink, driving range, spa, cinema, art galleries, and cultural centres.
After a day of shopping and fun activities for everybody in the family, gather either at the food market in the basement, or the food park on the 9th floor to conclude your day with a sumptuous dinner!
Address: 35, Centum nam-daero, Haeundae-gu, Busan
Nearest Subway: Centum City Station (Line 2, Exit )
Opening Hours: Regular hours 10.30AM-8PM, Extended hours 10.30AM-9PM, Restaurants 11AM-9.30PM (Last order at 9PM) Hours are subject to change and vary by stores.
Day 4: Busan
AM & Lunch: Gamcheon Cultural Village
Enjoy the Breathtaking View (for adults)
Gamcheon Cultural Village is dubbed as "Korea's Lego Village". As you step off the bus and head into the village, you start to see why. Seeing the multi-coloured houses set atop a hill come into view, you feel like you've been transported to a quaint little town in Greece. Every corner you turn, you'll see either a mural or a sculpture. Warning: Some parts can be quite a steep climb. Luckily, there are many benches along the way, so do sit down, have a cup of coffee and just admire the breathtaking view. Don't forget to snap photos at those iconic spots—The Little Prince, Birds, and Fish Mural.
Take the Housing Project Tour—Visitation Stamp Challenge (for kids)
This activity can be fun for the whole family, especially the younger ones. Head to the Tourism Office near the entrance of the village and purchase a map for 2,000 won. Once you've purchased the map, ask for the card for the Visitation Stamp Challenge. Use this to explore the village and collect all nine stamps! The reward? Two Gamcheon Village Postcards. Somehow, it's usually the younger children who locate the places first, so feel free to send them as an advance party!
Lunch at The Plate (for the whole family)
Once you've reached the centre of the village, this tiny cafe in a bright blue building is hard to miss. It's essentially a fish and chip shop with burger, pasta and even fried rice! So, there's quite a decent selection of food—enough to satisfy all the hungry stomachs after exploring the village. The sitting area is on the second floor but the ceiling is quite low, so watch your head. Despite the low ceiling, the ambience of the place is very cosy with a huge window overlooking the main street of the village. The fish and chips was quite yummy but surprisingly, the fried rice was really quite good! Coupled with the ambience, it's definitely worth the experience if you haven't been.
Address: 203, Gamnae 2-ro, Saha-gu, Busan
Nearest Subway: Toseong Station (Line 1, Exit 6), Take Bus 2 or 2-2 to the top of the hill, and alight at the bus stop in front of Gamjeong Elementary School
Opening Hours: Visitors can tour the village all year round, but please keep as quiet as possible as the village is a residential area.
PM & Dinner: Jagalchi Market
Explore and Dinner (for the whole family)
Busan is famous for the freshest, and some say the cheapest, seafood in Korea. Naturally, you can't visit and not go to Jagalchi Market—the largest fish market in Korea. So get your sashimi, raw octopus, flounder, crabs, whatever you fancy! The place is huge, so give yourself some time to explore! The second floor is filled with restaurants where you can cook up the seafood that you've bought from the first floor. A great place to have a delicious seafood meal with the whole family. It's best to check the prices before you walk into one!
Address: 52, Jagalchihaean-ro, Jung-gu, Busan
Nearest Subway: Jagalchi Station (Line 1, Exit 10)
Opening Hours: 8AM-10PM
Search cheap flights to Seoul>>
Day 5: Seoul
Take the morning train from Busan back to Seoul via KTX.
After placing your bags at the hotel, you can be on your way to take in more of Seoul!
AM & Lunch: Visit A Broadcasting Station—MBC World or KBS On (for the whole family)
Whether you're a Korean drama fan or not, a trip to one of Seoul's largest broadcasting stations is quite an interesting experience. Both stations offer immersive experiences—KBS On is a museum dedicated to the history and evolution of the Korean broadcasting industry, and MBC World allows its visitors to participate in hologram K-pop concerts, virtual reality drama sets and more. Finish the visit with lunch around the stations.
Address: [MBC]: 267, Seongam-ro, Mapo-gu, Seoul, [KBS]: 13, Yeouigongwon-ro, Yeongdeungpo-gu, Seoul
Nearest Subway: [MBC]: Digital Media City Station (Line 6, Exit 9), [KBS]: Yeouido Station (Line 5, 9, Exit 3)
Opening Hours: [MBC]: 10AM-6PM, [KBS]: 9.30AM-5.30PM
PM & Dinner: Insadong
Alive Trick Eye Museum (for millennials)
Go nuts and get creative in this quirky exhibit space by posing for out of this world photos using optical illusions. You'd be surprised how trigger happy you become once you step inside!
Traditional Tea Houses and Art Galleries (for grandparents)
While the younger people go on their own way, Grandma, Grandpa and those with old souls can take in Korean traditional fine art and culture right in the heart of Insadong. There are about 100 galleries and tiny tea houses hidden in the small alleys, so take your time to meander around the many twists and turns inthe area. On the weekends, the streets are blocked from traffic and is transformed into a cultural space with booths selling traditional Korean goodies and also showcasing performances and exhibits.
Gather at one of the restaurants here for dinner with the family. There are quite a few famous ones, so take your pick!
Address: 62, Insadong-gil, Jongno-gu, Seoul
Nearest Subway: Anguk Station (Line 3, Exit 6)
Day 6: Seoul
AM & Lunch: Deoksugung Palace
Take a walk around the palace (for the parents, children and grandparents)
Seoul has four palaces each with its own unique history and design elements. Deoksugung Palace is known for its iconic Seokjojeon Hall—a Western style building in the centre of the palace and used as an audience hall and sleeping quarters of King Gojong. Take a nice stroll around the different buildings within the palace and admire the rich history behind its unique blend of architecture. Parents! Don't miss this great opportunity to learn more about Korea's history as a family.
Royal Guard-Changing Ceremony (for the adults)
Deoksugung Palace is also famous for its Royal-Guard Changing Ceremony that happens daily (11AM, 2PM, 3.30PM) in front of Daehanmun Gate. The most interesting part? You can try on the traditional guard uniform or hanboks for free! Just approach the booth near the gate, sign your name on the list and wait your turn, then the staff will help you try on the item of your choice.
After you are done with your tour of the palace, head for lunch at one of the restaurants around the palace of near City Hall.
Address: 99, Sejong-daero, Jung-gu, Seoul
Nearest Subway: City Hall Station (Line 1, 2, Exit 2, 12)
Opening Hours: Tue-Sun: 9AM-9PM, [Hanbok experience]: Tue-Sun: 10AM-4PM, Closed during lunch break 12-1PM
PM & Dinner: Myeongdong (for the whole family)
Myeongdong shopping street is the place that most tourists have been waiting for the entire trip. It's the go-to place for Korean beauty products, fashion accessories, adorable knick-knacks (check out artbox and the LINE friends flagship store!), and not to mention, really good food! Most of the shops open around 10 in the morning, but the place really comes to life at night with rows of street snack stalls lining the road.
Address: Myeongdong-gil, Jung-gu, Seoul
Nearest Subway: Myeongdong Station (Line 4, Exit 6)
Day 7: Back to Singapore from Seoul
AM: Incheon Airport Terminal 2
If you still have some time in the morning before your flight, it's actually not a bad idea to head to Incheon Airport earlier. It's new terminal boasts over 7,800 square-metres of duty-free shopping, so it's perfect if you need to do some last minute shopping for souvenirs for friends or family. It also features a variety of food options, from Paris Baguette to American burger chain Shake Shack, to a wide selection of Korean traditional meals. So, you definitely can get your fill while waiting for your flight back to Singapore.
If this post has inspired you to visit Korea, be sure to check out CheapTickets.sg for travel deals including a $30 off instant discount for return flights from Singapore or $100 discount for flight+hotel deals!
This post is brought to you by CheapTickets.sg and Korea Tourism Organization